General Hospital Fans Are Ready To Be Done With Britt And Cody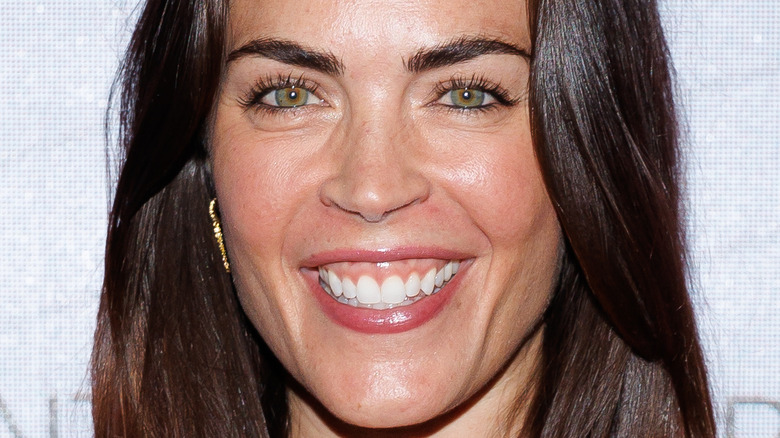 Rich Polk/Getty Images
On social media, "General Hospital" fans have strong opinions about Cody Bell (Josh Kelly) and Dr. Britt Westbourne (Kelly Thiebaud). Since accidentally knocking Britt into a pool during a publicity stunt, the two have attempted to start a romantic relationship, despite her reluctance. 
Britt had inherited a $35 million necklace from her family that may have originally been owned by deceased criminal mastermind Leopold Taub (Chip Lucia), per Soap Dirt. It was eventually revealed that Cody's mother was the late Dominique Stanton (Shell Danielson), who once had a relationship with Mac Scorpio (John J. York). The question arose about who Cody's father was — Mac, or Dominique's late husband, Leopold Taub. Cody eventually agreed to take a DNA test. But, when the results came through that Mac was indeed his father, Cody lied, telling everyone it was Leopold (via Celeb Dirty Laundry). 
Cody then tried claiming the necklace as his inheritance, causing an embittered Britt to break up with him. Only a few people know that Britt has Huntington's disease, with a short amount of time left to live. She's been going crazy planning her own birthday party to say goodbye to her friends. Per Soaps, Cody doesn't know about Britt's plight yet feels remorseful for using her to get the necklace. He realized he had feelings for her and, at Mac's urging, attempted to see if there was one last chance for them to be a couple.
Cody wants to start over
Per TV Season Spoilers, the clock is ticking for the ailing Dr. Britt Westbourne on "General Hospital." Many fans have been previously vocal that they don't want Cody Bell to be part of Britt's end-of-life storyline. However, "GH" recently posted a picture of Cody looking remorseful on Twitter, with the tagline, "Cody wants Britt to give him a second chance. Can he convince her to rethink their relationship status?"
Fans continue to be divided, with the majority of Team Britt responses hoping the answer to the question would be "No." One fan replied, "No! Run, Britt, RUN!" Another viewer reminded everyone of Cody's grifter ways, writing, "Cody is a fraud. I don't like him." A fan also commented emphatically, "CODY HAS OUT WORN HIS WELCOME." Many feel that Britt has more chemistry with Dr. Austin Gatlin-Holt (Roger Howarth). One person said, "Britt should have been paired with Austin. KT had more chemistry with RH than she ever had with anyone [she's] been paired with."
On Team Cody, there were such posts as, "I like Cody. I don't understand why most fans don't give him a chance." A viewer who adores Cody replied, "I think he's the cutest one of the bunch!" Finally, one Cody fan hilariously responded, "I hope so, I like Cody, But I do have notoriously bad taste in men."