Vanilla Perfumes Are Bringing All The Nostalgic Feels To Fragrance In 2023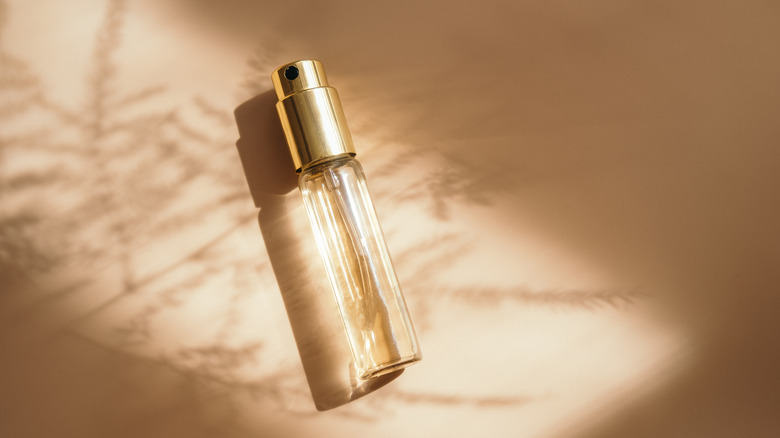 July Prokopiv/Shutterstock
Clean, sterile, and subtle have been the foundations of product aesthetics for the last few years. As we continue to navigate a world where COVID-19 can feel like a constant threat, we've become more comfortable and, as a result, more bold — a trend that's being reflected in all aspects of fashion.
In clothing and makeup, we're seeing a spectrum of light, airy styles mixing with the bold palettes of Rom-Comcore. Surprisingly, scents are following this trend, with experts predicting 2023 will be the year of "big, bold florals and creamy, textured vanillas," per InStyle. Texture doesn't necessarily mean complex, however. Just like the other '90s trends that have been given a muted, minimalist millennial makeover, vanilla perfumes feel more like slipping into a cashmere sweater instead of biting into a too-sweet cupcake.
For many of us who grew up in the '90s and '00s, Warm Vanilla Sugar Body Spray from Bath and Body Works and homemade birthday cakes are the scents of our foundational memories. Rosie Jane Johnston, the founder of the perfume brand By/Rosie Jane, told Allure that people usually pull towards what they feel an emotional connection to. When it came to creating her own vanilla perfume, she drew inspiration from the simplicity of her childhood. "Everyone was wearing vanilla and everything smelled like it," she said.
As we continue to navigate a post-pandemic world and re-settle in our hybrid lifestyles, it only makes sense that we reach for comforting scents in a storm of change.
Vanilla has a long history of being a popular scent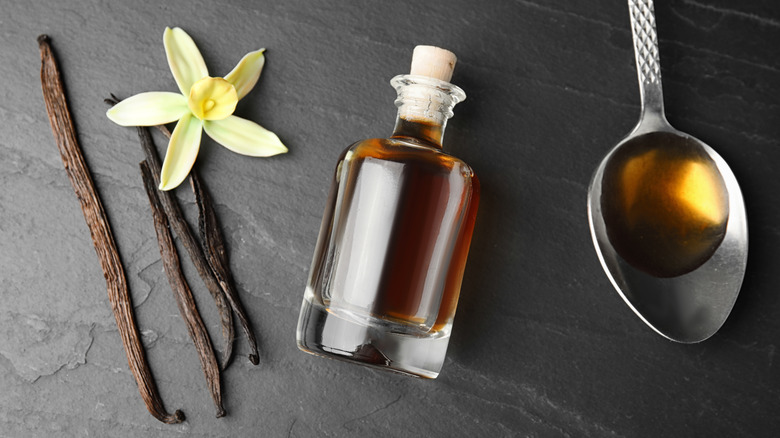 New Africa/Shutterstock
Vanilla may be the scent profile of our collective innocence, but the history of the scent is anything but bland. Not only is the spice a suspected aphrodisiac, but the ingredient was also so prevalent in love spells during the medieval era that it was banned from sale in Europe at the time, per Allure. Gabriela Cherlariu, a senior perfumer at Firmenich, told Bustle that vanilla was originally discovered in Mexico and arrived in Europe in the early 1500s. Since then, the scent has been the foundation of many fragrances, gaining peak popularity in the early 1990s.
According to The Smell Report, vanilla's long association with warmth, softness, and purity made its post-1980s popularity make sense. Society's embracing of vanilla, just like 1990s fashion, was their way of overcorrecting the overpowering masculinity of the 1980s.
The first gourmand perfume to soak the public consciousness was Thierry Mugler's Angel, available through Sephora, whose star-shaped blue bottle adorned the dresser tops of many friends' mothers of our childhoods, per Allure. With praline, patchouli, and bergamot notes, Angel and scents like it brought warm spice to the end of the century. The scent is described as heavy and heady — one that Bee Sharpio, founder of Ellis Brooklyn, told Allure was a perfume that "you didn't wear, it wore you."
The vanilla perfumes popular today are more about balance, says Bustle, with scent profiles that are equal parts timeless and complex.
The best vanilla perfumes to try in 2023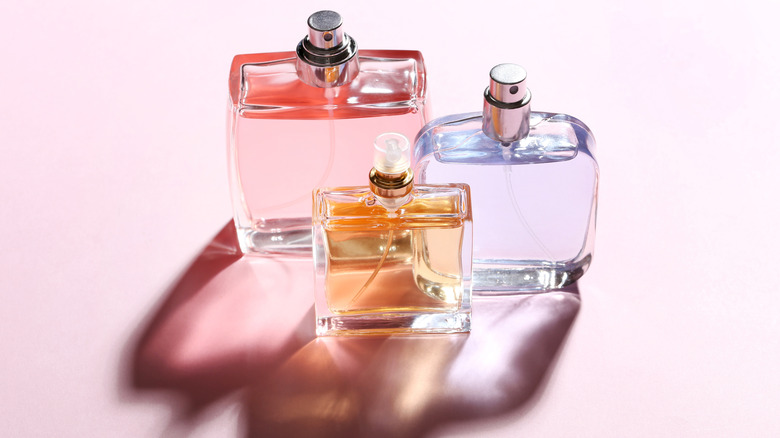 5second/Getty Images
When it comes to choosing the right vanilla perfume for you, Brian Jeong, co-founder and CEO of Hawthorne, says to consider what scents you associate with good feelings (via New York Times). If your shampoo is a mix of vanilla and coconut and evokes feelings of confidence and calm, look for a perfume that has similar base notes. Linda G. Levy, president of The Fragrance Foundation, told the Times that vanilla fans will want to look for fragrances that have "other gourmand noted like honey, candy or chocolate."
If you're looking for a vanilla-based eau du parfum, we'd recommend Vanilla Milk by Ellis Brooklyn, available at Sephora, which has a scent that is described as warm and sultry, with hints of "unexpected elegance," per Bustle.
Or if you're looking for a perfume that falls more on the androgynous side of the spectrum, give DedCool's 01 "Taunt" Eau de Parfum a try. We also highly recommend Dead Writers Perfume by Immortal Perfumes, which has notes of vanilla, clove, tobacco, vetiver, and black tea — a great scent for wearing to hide in a library or bookshop all day.
But if you're looking for a vanilla perfume that's more nostalgic and food-based, we'd recommend trying Maison Margiela's Replica Coffee Break Eau de Toilette. Since the scent is a toilette, not a parfum, the scent won't be as concentrated, making the scent feel more like the ghost of a warm memory instead of a weighted blanket.