Prince Harry Confirms Rumors About Potential Reconciliation With King Charles And Prince William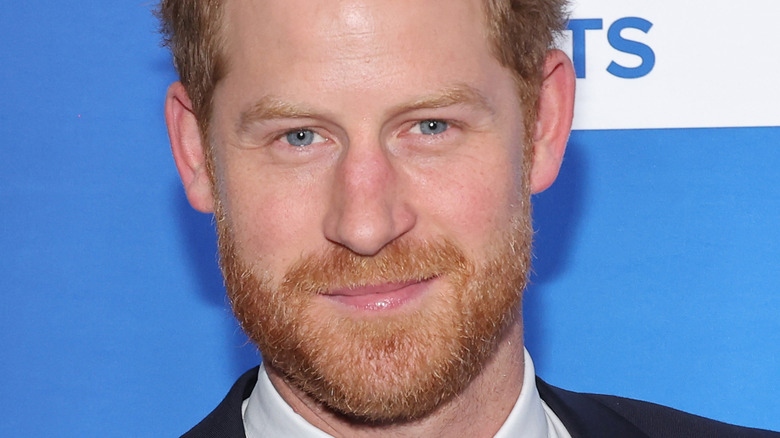 Mike Coppola/Getty Images
Ever since he defected from the royal family in January 2020, alongside his wife Meghan Markle, King Charles and Prince Harry's relationship has gone from bad to worse. Likewise, the Duke of Sussex has grown increasingly estranged from his older brother, Prince William, too. As The Independent reported at the time, during the infamous Oprah Winfrey interview, Harry asserted that both men remain "trapped" in the institution from which he was ultimately able to break free. 
The royal defector contended, "They don't get to leave. And I have huge compassion for that." Royal biographer Robert Jobson subsequently told the "Royally US" podcast (via The Mirror) that Charles and William weren't too impressed with Harry speaking for them, arguing that he was "maybe making an assessment based upon his feelings." According to Jobson, "They were both very angry about that." 
In fact, there's reason to believe Charles might not allow Meghan and Harry at his coronation because he's concerned about what the prince will reveal in his memoir "Spare," which is due for release later this month, as royal author Katie Nicholl explained to the Daily Beast. Likewise, an insider informed The Times that Harry takes aim at his brother in the book, and they may never reconnect as a result. Although it's unclear whether the relationship can be fixed, we finally know whether Harry would willing to try. 
The Duke of Sussex is open to working things out
Prince Harry's highly-anticipated British TV interview ahead of "Spare" will be with an old friend, journalist Tom Bradby, per The Times. The Duke of Sussex is on the promotional trail, with his book set to hit shelves on January 10. In an emotional clip, shared on Twitter, Harry seemingly makes a desperate plea to put his family back together, arguing, "It never needed to be this way ... The leaking and the planting." Harry also notes, "I want a family, not an institution." 
The prince even claims, "They feel as though it's better to keep us somehow as the villains" and confirms, "They've shown absolutely no willingness to reconcile." However, despite it all, Harry also makes it abundantly clear, "I would like to get my father back. I would like to have my brother back." We'll have to wait until January 8 to get the whole story, when the interview is broadcast in full, but this seems to suggest there's scope for reconciliation.
In "Harry & Meghan," the celebrity couple opened up even further about how tough their time with The Firm really was, particularly towards the end when it became clear their only choice was to leave. One of the biggest bombshells came in the fifth episode, when Harry revealed that someone from his father's office had allegedly sold him and Meghan Markle out to the press, forcing them to announce their defection much sooner than expected (via People).