The Reason King Charles Might Not Allow Meghan And Harry At His Coronation Has To Do With Camilla
Chris Jackson/Getty Images
With details of the coronation of King Charles III finally being confirmed, royal watchers are looking forward to the May 2023 event. The king's event is expected to be different from the coronation of his late mother, Queen Elizabeth II. Not only will it be smaller in scale — with only 2,000 guests as opposed to the queen's more than 8,000 attendees (per The Telegraph) — but it will also be just an hour-long ceremony, instead of the typical three, per The U.S. Sun.
Another change that many are looking forward to is the pivotal role William, Prince of Wales, will play at his father's coronation, where he will pay allegiance to his father. According to the Daily Mail, this will be the first time an heir will play a part in the proceedings in three generations. In addition, Prince George of Wales and Princess Charlotte of Wales are also expected to be in attendance, with the belief that it is a good training opportunity for the children, who are second and third in line to the throne. "The ceremony will likely highlight the line of succession, with William, [Catherine, Princess of Wales], and their children featured more prominently than other members of the family," royal author Katie Nicholl wrote in Vanity Fair.
But while William and his family will be front and center during the coronation, there is speculation on whether Prince Harry and Meghan Markle, Duke and Duchess of Sussex, will even be in attendance.
Harry's memoir might determine if he and Meghan are in attendance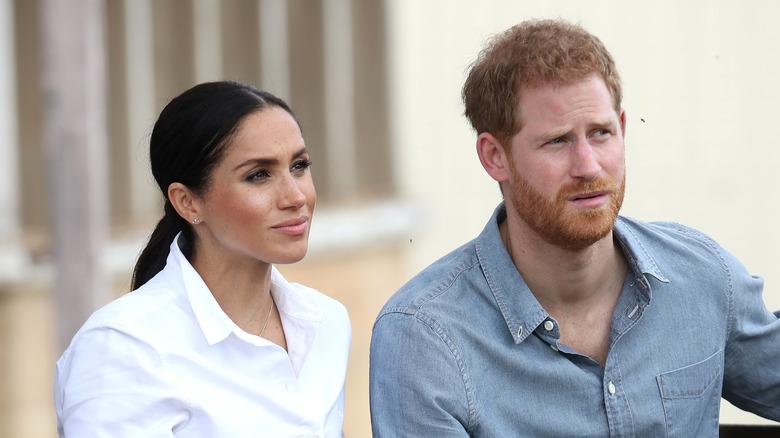 Chris Jackson/Getty Images
The guest list for King Charles III's coronation is still being set, and he might be waiting to see what the memoir of Prince Harry, Duke of Sussex, reveals — especially regarding Camilla, Queen Consort — before extending an invite to his youngest son and his wife, Meghan Markle, Duchess of Sussex.
"There is no doubt that Charles would like Harry and Meghan to be at his coronation," royal author Katie Nicholl told the Daily Beast. "But he does expect respect in return, and a problem is going to arise if, between now and then, Harry repays him by attacking him, Camilla or the institution. He is not going to put up with inaccurate and unfair attacks."
Charles is said to be waiting specifically for the release of Harry's memoir before he gives the duke's children, son Archie and daughter Lilibet, prince and princess titles. They are currently listed as "master" and "miss" on the royal website. "And I'm told that that is a very clear signal from the king," Nicholl told True Royalty TV's "The Royal Beat." "He's willing to give those titles, but it comes with a caveat, and that caveat is trust."
Royal biographer Tina Brown agrees, explaining that if Harry and Meghan want to have any role in the royal family moving forward, they will have to toss aside the memoir "and these tell-all documentaries and stop doing the interviews."
Harry might be having second thoughts about his memoir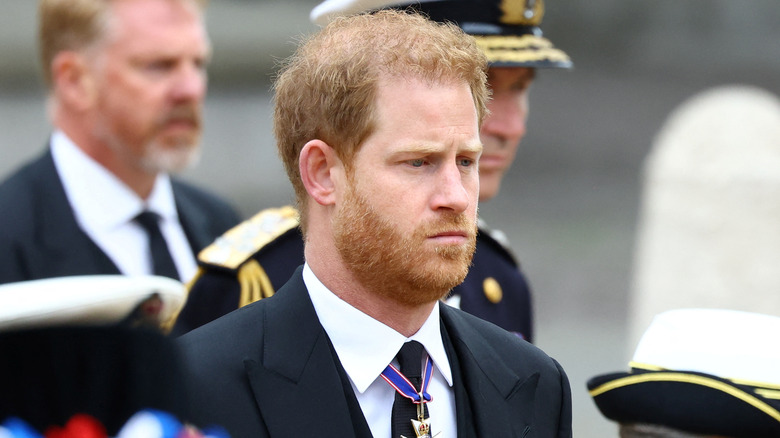 Wpa Pool/Getty Images
With the death of Queen Elizabeth II and the ascension of his father, King Charles III, Prince Harry might be having second thoughts about the release of his memoir. Royal biographer Tina Brown told The Telegraph that the Duke of Sussex realizes that the upcoming book would ruin his chances of rejoining the royal family in the future. "They're now in this bind, where they've taken all this money and Harry has made this book deal where he's supposed to spill everything about his horrible life as a royal," Brown explained. "But now he's actually tortured about it because he understands there is no way back if he does it."
Brown thinks that if Harry decides to back out of the book deal, his father will have to step in to pay back the advance. In the meantime, it has been reported that Harry is rewriting certain chapters in the book, and he and Meghan Markle, Duchess of Sussex, are also editing parts of their upcoming Netflix docuseries. The couple also reportedly wants its release to be delayed until later on in 2023.
"A lot of conversations are happening. I hear that Harry and Meghan want the series to be held until next year, they want to stall," a source told Page Six. "I wonder if the show could even be dead in the water at this point, do Harry and Meghan just want to shelve this thing?"