Prince Harry Argues Betrayal Has Fueled His Decision To Speak Out Publicly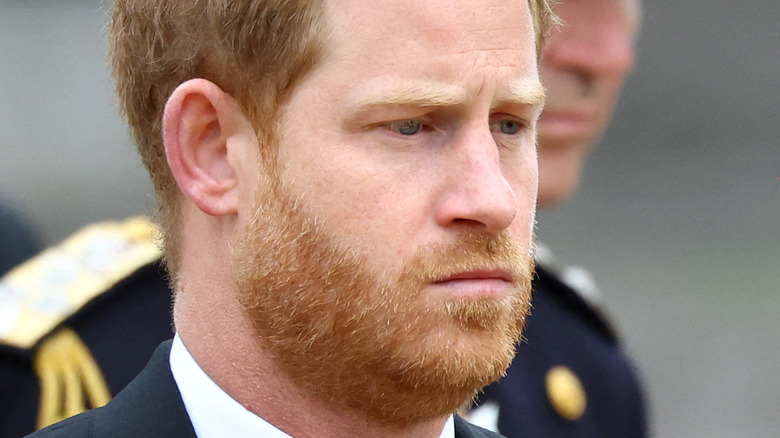 Wpa Pool/Getty Images
It's safe to say that Netflix's docuseries about the famously rebellious royal couple, "Harry & Meghan," has made quite a splash. Not only did the Duke and Duchess of Sussex's documentary spark a huge public reaction and political debate, as reported by The Guardian, but it also clearly created some tension on Prince Harry's home turf and within the royal family itself. 
In fact, there's speculation Harry won't be welcomed back into the UK at all as a result. Although the Sussexes attempted to set the record straight with their docuseries, Harry is about to speak out on his own behalf once again, ahead of the release of his memoir, "Spare." According to CBS News, on January 8, "60 Minutes" will air an interview with the Duke of Sussex. 
And, from what we've seen of the chat so far, it seems like Harry has no regrets about coming clean in "Harry & Meghan." Moreover, he's got a whole lot more to tell the world about what it's really like being a core part of the royal family, and it seems more than likely that the rest of The Firm isn't going to be too pleased. 
Why the Duke of Sussex felt he had to go public
In a clip from his upcoming interview, shared on Twitter,  Prince Harry explains that going public with his and Meghan Markle's struggles wasn't their first choice, but ultimately, it became the only one. As the Duke of Sussex told interviewer Anderson Cooper, "Every single time I've tried to do it privately there have been briefings and leakings and planting of stories against me and my wife." 
Later, he discussed how the royal family typically deals with the press, revealing that although journalists claim to have "reached out to Buckingham Palace for comment," the story is actually fed directly from them in the first place. Thus, "When we're being told for the last six years, 'We can't put a statement out to protect you,' but you do it for other members of the family ... There becomes a point when silence is betrayal." 
According to CBS News, the interview will be Harry's first appearance on American television to discuss his upcoming memoir, "Spare." The Independent confirms the book will be released on January 10. It's clear that with the interview premiering, followed by the release of Harry's memoir, the next few weeks will be hugely exciting. They'll also likely reveal even more of the real story behind Meghan And Harry's cries for privacy.