Prince Harry Offers Definitive Answer About Return To Royal Fold In 60 Minutes Preview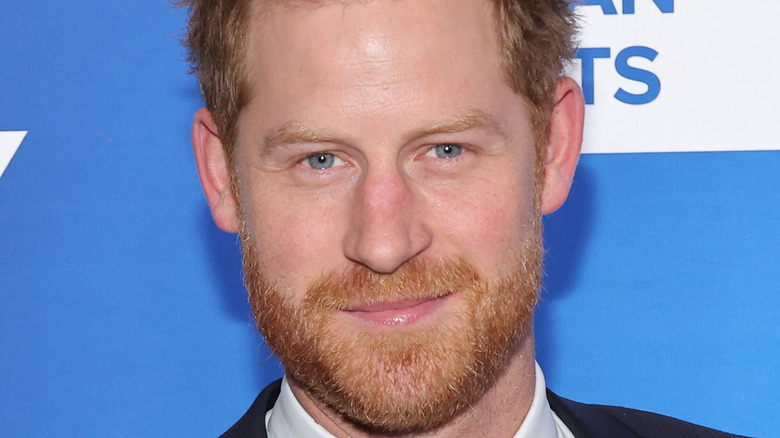 Mike Coppola/Getty Images
With the premiere of Prince Harry and Meghan Markle's Netflix docu-series "Harry & Meghan" — which included several emotional moments — now wrapped, attention has turned to the highly anticipated release of Prince Harry's memoir, "Spare." You can finally read Prince Harry's memoir on January 10. The book has allegedly been a source of contention between Prince Harry and his brother William, the Prince of Wales, who will reportedly not speak to Prince Harry until he reads the book for himself.
When Prince Harry and Meghan Markle, the Duke and Duchess of Sussex, left their duties behind as full-time members of the royal family — a mission Prince Harry has said he initially tried to do privately –  their relationships with other senior members became strained. Then, their explosive, tell-all interview with Oprah Winfrey, which spurred a rare comment from Buckingham Palace, perhaps exacerbated wounds.
While there was speculation that Harry and Meghan were planning a second Oprah interview, Prince Harry will go solo in two new interviews, one with Anderson Cooper on "60 Minutes," and another with Tom Bradby on ITV, ahead of the release of his new book. And, if the interviews are anything like the trailers, viewers might expect further revelations. 
Prince Harry responds concisely to Anderson Cooper
In a trailer for Prince Harry's "60 Minutes" interview with Anderson Cooper, the prince addresses criticism that he is hypocritical for wanting privacy and yet sharing publicly his experiences both during and after his departure from royal life. "And every single time I've tried to do it privately, there'd be briefings and leakings and plantings of stories against me and my wife," Prince Harry said. "The family motto is 'never complain, never explain.' But it's just a motto." Prince Harry continues that behind the scenes, royal correspondents are fed information to be aired out in public. "There comes a point when silence is betrayal," the Duke of Sussex explains. 
Anderson Cooper then asks Prince Harry in another trailer, posted by "60 Minutes" on its Twitter account, if he would ever return to Buckingham Palace as a full-time royal member. He answers with a concise, "No." 
Twitter users responded to the trailer in the comments. "If it's a no, give up your title and move on. Many are getting tired of the whining," one user commented. Another replied, "Why would he? I hope the royal reporters can stop dreaming about it and writing about when he returns cause it isn't happening."