Days Of Our Lives Teases First Glimpse Of Bo And Hope In 2023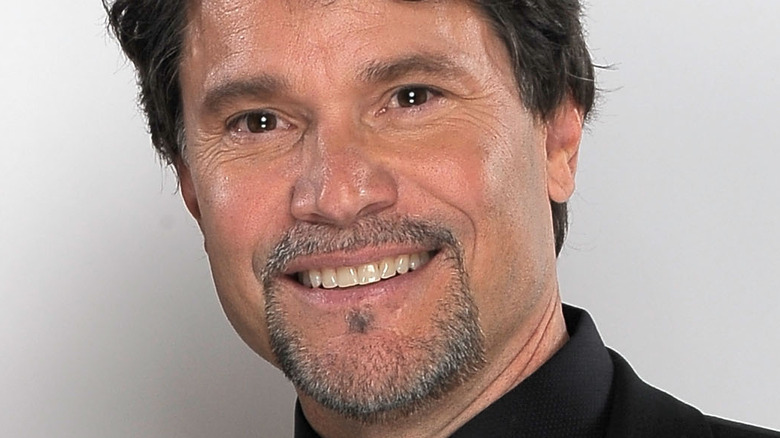 Charley Gallay/Getty Images
The much-anticipated return of Bo Brady on "Days of Our Lives" is upon us! Peter Reckell left the show in 2015 when Bo died from a brain tumor. But many beloved soap opera characters don't stay dead for long. Per Soap Hub, the heroic Bo solved many mysteries and battled various evildoers over the years, but cancer was one enemy he couldn't defeat. However, as Entertainment Weekly reported, he was still watching over his beloved wife, Hope Brady (Kristian Alfonso), from heaven — as seen in the streaming series, "Days of Our Lives: Beyond Salem." 
According to Soaps, Bo and Hope's love story was epic, spanning decades. The fan-favorite couple has been embroiled in numerous adventures and often worked with the International Security Agency. Hope has been through a lot in her life, including being replaced by a doppelganger, and at one point was presumed dead — only to return years later believing she was a princess. It seemed permanent when Bo finally died in Hope's arms, per Michael Fairman TV. While Alfonso also left the sudser in 2020, she returned for the second season of "Beyond Salem" and is poised to make a comeback on the main show as well (via Soap Opera Network). 
In 2022, "Days" posted a teaser video that ended with the revelation that Bo Brady is indeed alive, and fans are beyond thrilled.
Fans are over the moon
"Days of Our Lives" star Peter Reckell retweeted co-star Kristian Alfonso's post, stating, "Safe and Loving New Year!" Alfonso had shared a picture of Reckell, herself, and fellow soap actor Steve Burton on set with the caption, "Happy, Happy." Fans were overjoyed with one replying, "2023 is going to be a great year!!! Can't wait for you and Peter to return to Days." Another wrote, "Can't wait to see you all soon!!" The viewers were anxious to find out when Reckell and Alfonso would be reunited on-screen. 
Despite the fact that some viewers aren't happy that "Days" has moved from NBC to the Peacock streaming app, others have embraced it, saying things like, "You all look FAN-tastic, but I absolutely love @peterreckell 's shorter hair! He looks amazing! Can't wait to see what Days and @peacocktv have in store for us fans in 2023!"
Fans were happy to see Steve Burton joining the "Days" crew full-time, as someone exclaimed, "You all look amazing! I can't wait to see Hope, Bo, and Harris in Salem!" However, "General Hospital" fans were still bemoaning the fact that Burton is no longer playing Jason Morgan on the show. 
Yet one "Days" fan didn't know who Burton was, asking, "Who's the other guy?"