Alpine Blonde Is The Latest Winter Hair Trend That Will Suit Anyone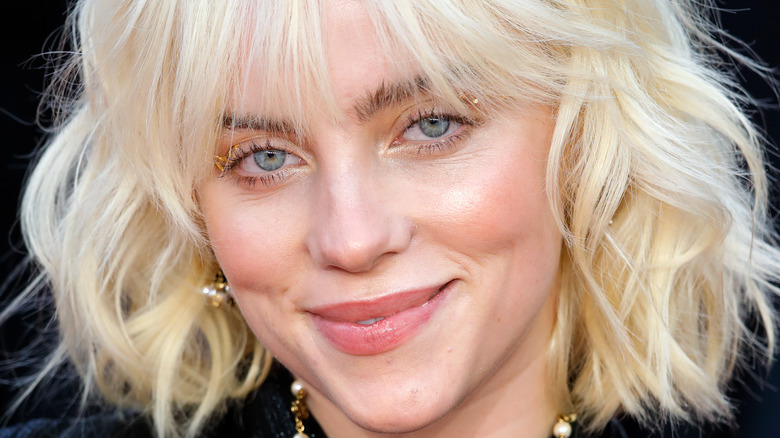 Max Mumby/indigo/Getty Images
If you're ready to find out if blondes really do have more fun, the chilly months ahead just might be the perfect time to do it. Per Hair, cool-toned blonde shades can be perfect for wintertime. Luckily, there's a new wintry twist on blonde bombshells, and it's here to literally lighten up your look. Sure, most of us think about lightening our locks when the days are getting longer, and spring is coming rather than when temps are dropping. These days, though, something beauty gurus are calling "Alpine hair" has arrived. Not only is it pretty much a hair color trend that suits everyone, unlike basically every other shade of blonde out there, but it also works for the cooler months (via Glamour). 
Its cool undertones make this blonde different, fresh, and fit for a snow day. Yes, if you're getting flashbacks to HBO's "House of the Dragon" and Daenerys Targaryen of "Game of Thrones" fame, you're definitely on the right track. According to Bblonde brand educator and hairstylist to the stars Jason Collier, "Alpine blonde is a totally cool-toned shade of blonde that suits all skin tones, hairstyles, and lengths. Think Scandi vibes. It's chic, minimalistic, and stands out even against the white of the slopes." Get ready to see this cool twist on a classic color everywhere this season.
Why we love the Alpine Blonde look
Per Vogue, we've recently seen Kim Kardashian, Anya Taylor-Joy, and Billie Eilish boldly go bleach blonde. Plus, it's hard to think of Alpine blonde hair without getting flashbacks of how effortlessly Milly Alcock and Emma D'arcy seemed to pull off this fit-for-fantasy look in "House of The Dragon." These days, though, super light, cool-toned blonde isn't solely for stars and Targaryens to rock. According to Glamour, this new twist on Marilyn Monroe's signature shade is for those who aren't afraid to make a statement with their locks, but its icy undertones allow it to work surprisingly well with varied skin tones.
Still, while now is a great time to start your journey to frosty blonde locks, it's important to keep in mind that you won't go from dark to super blonde overnight. "It can take a bit of work if you have dark hair," Jason Collier explained. "Sometimes this can take multiple sessions, so I would advise that you take extra care for your hair during and after these sessions." He recommends masks for keeping your hair strong and healthy, as well as a toner to stay icy instead of brassy. You may even try purple shampoos to maintain your blonde hair. If you're ready for a major change or a bold twist on already blonde hair, Alpine blonde is the perfect color update.