The Best Purple Shampoos To Maintain Your Blonde Hair All Summer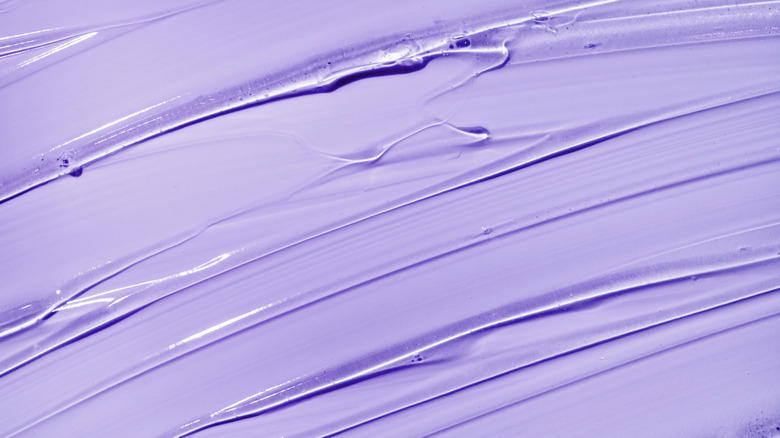 Shutterstock
Blondes know the struggle: one minute, your color looks salon-fresh and the next it falls flat. Enter: purple shampoo. The toning treatment helps keep brassy tones from taking over your tresses and brightens up even the dullest of colors. Essentially, the purple works to even out the saturation of your tone. Vulnerable to various chemicals in your shower water and stressors from the environment, your once-bright blonde can fade or oversaturate without proper care. 
"The main reason it is purple is because on the color wheel, it is the direct opposite color of yellow, which means purple and yellow will cancel one another out," colorist Richy Kandasamy tells Vogue. "So, when using purple pigment on color-treated brassy or yellow tones, it color-corrects your hair's hue, restoring it to its former natural or neutral brightness with cooler tones."
To use your purple shampoo, consider diluting it slightly with a regular cleanser after you've wet your hair in the shower. Be careful not to leave it on too long to avoid making your hair shine too bright. The outlet suggests letting the product sit on your strands for anywhere between two to four minutes and rinsing thoroughly. To choose the best shade for you, it's wise to start by pinpointing the color you'd like to achieve. Vogue explains that the darker the shade of purple, the more striking your tone will be. If you only need a slight offset of your brassy hues, opt for a light blue product rather than a deep purple one.
Purple shampoo cools off your color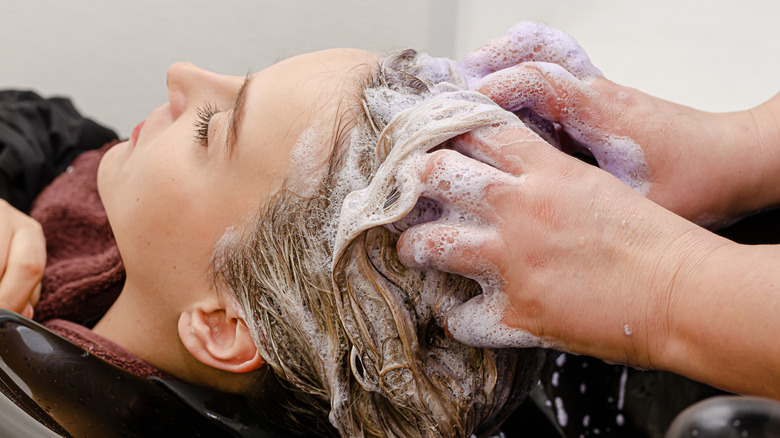 Shutterstock
Depending on how stark you want the results to be, start by finding a shampoo that fits the bill. Vogue notes that R+Co's Sunset Blvd Daily Blonde Shampoo works as a softer product that won't leave your strands looking overly bright. Instead of starting with a deep purple, this one will gently tone your strands back to their original post-salon look. You can also use purple shampoo to keep gray hair shining — R+Co's is a great option for this as well. Plus, it's made of natural ingredients, PureWow reports.
Oribe also makes a toning cleanser that focuses on toning while hydrating your locks. The outlet reports that this shampoo works a deeply restorative treatment with a heavy pigment. As such, you'll likely only need it every few washes, or you can mix it with your regular shampoo to create a softer toner. Sulfate-free, this option is more expensive than most, but you only need a small amount to do the trick.
On the more intense side of the spectrum, Bold Uniq Purple Shampoo works as a replacement for a salon visit. Made with a richer pigment than your regular treatment, this one can reinvigorate your hair while protecting your strands from UV damage and subsequent fading, according to the outlet. If you don't want to deal with the purple formula every time you shower, this may be the best choice for you.
Many blondes credit their purple shampoo as their secret ingredient to bright, toned locks. Don't miss out!