Prince Harry's Spare Reportedly Accuses Prince William Of Explosive Physical Attack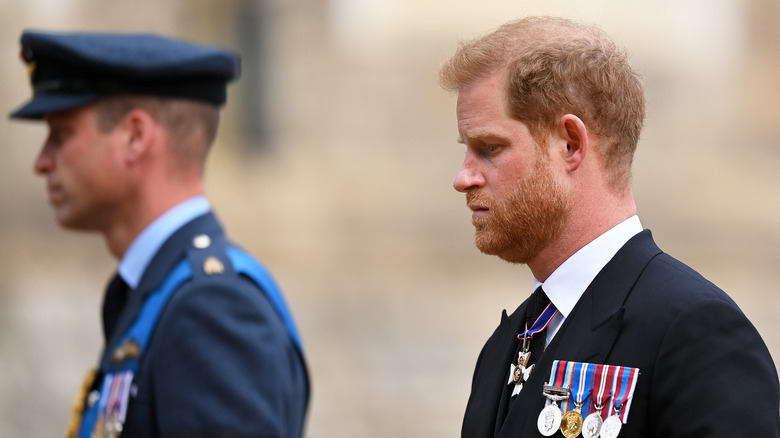 Justin Setterfield/Getty Images
You can finally read Prince Harry's new memoir, "Spare," on January 10 but in the lead-up to its release, royal watchers have been speculating about which scores he'll settle in its pages. When the book was initially announced, it was widely believed that the Duke of Sussex would mostly discuss his strained relationship with mother-in-law Camilla Parker Bowles, per Express, which royal expert Katie Nicholl warned won't go down well with King Charles III.
In fact, during an interview with Piers Morgan on TalkTV, Nicholl even suggested that this could be the final straw for Harry's relationship with his father. More recently, reports have circulated suggesting that the duke's biggest targets are actually Prince William and Kate Middleton. An insider told The Times: "Charles comes out of it better than I had expected, but it's tough on William, in particular, and even Kate [Middleton] gets a bit of a broadside."
They also admitted, "I personally can't see how Harry and William will be able to reconcile after this." Despite this, in an interview promoting "Spare," Harry confirmed rumors about a potential reconciliation with Charles and William. The royal defector informed Tom Bradby, "I would like to get my father back. I would like to have my brother back." However, judging by this latest revelation about an argument documented in the book, he may not get the chance. 
The brothers were arguing over Meghan Markle at the time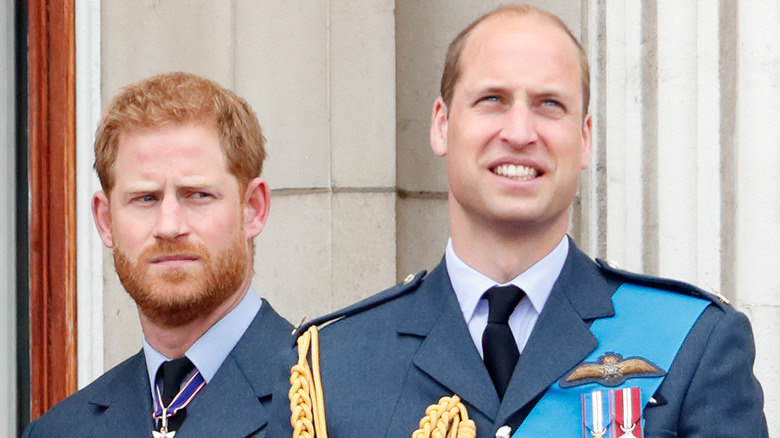 Max Mumby/indigo/Getty Images
In just a few days, we'll know exactly who the Duke of Sussex takes aim at in his highly-anticipated memoir, "Spare." But, if a new report is to be believed, Prince William gets the brunt of his anger. According to The Guardian, which obtained an advance copy of the book, Prince Harry alleges that his older brother physically attacked him following an argument over the Duchess of Sussex. "He grabbed me by the collar, ripping my necklace, and he knocked me to the floor," Harry recalls.
There have been rumors for years that William doesn't get along with Meghan Markle, and even warned his younger sibling that the couple was moving too fast in the early stages of their relationship, as an insider sensationally told People. Things got even worse when Harry expressed his desire to marry the former "Suits" star following less than a year of dating, which chafed against William's beliefs.
In "Spare," Harry details an explosive argument between the brothers, which reportedly took place at his house in London back in 2019, during which William described Meghan as "difficult," "rude," and "abrasive," which the Duke of Sussex saw as him simply repeating what the tabloids were saying about her at the time. Harry suffered a back injury as a result of the tussle, when he fell onto a dog bowl, shattering it. The Prince of Wales later apologized for his behavior, but clearly, the damage was done. 
Is there any hope for William and Harry in the future?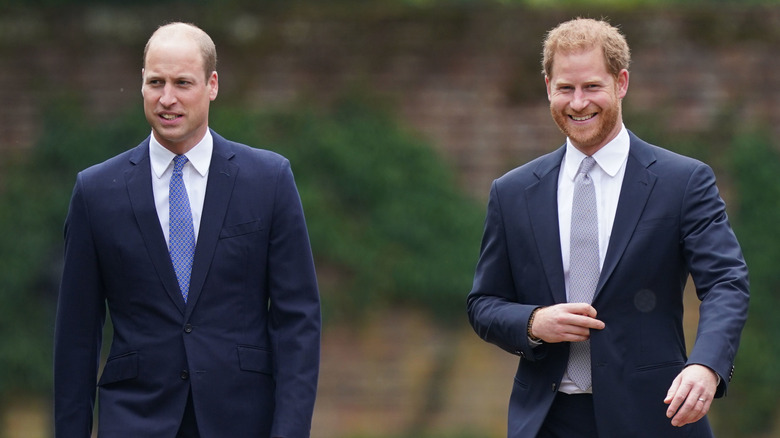 Wpa Pool/Getty Images
Suffice it to say, Prince Harry's rift with the royal family probably won't be fixed following the release of "Spare." It's especially disappointing considering, as royal biographer Andrew Morton pointed out during an appearance on "Loose Women" (via Page Six), Princess Diana would be heartbroken to learn her boys are no longer in each other's corners. Harry reunited with the Prince of Wales while grieving the loss of their beloved grandmother Queen Elizabeth II earlier this year, as People reported at the time.
However, insiders claimed the atmosphere was "awkward," especially during a walkabout at Windsor Castle, conducted with their wives. According to "Finding Freedom" co-author Omid Scobie, the once-close brothers are at a stalemate with Prince William still awaiting an apology from Harry while the Duke of Sussex continues to demand accountability from his older brother (via Yahoo! News). A family friend revealed, "People are desperate for steps to be made but behind the scenes there hasn't been movement." 
As far as Harry is concerned, William "was at the center of a number of painful moments, be it the actions of his own staff or turning his back when support was needed." Further, "It was a dark time and one that, so far, William has been unprepared to unpack." As the source noted, "When you look at the bare facts, it becomes obvious why it is pretty much the same state of affairs as years ago."