TikTok's 'Status Skin' Trend Will Simplify Your Makeup Routine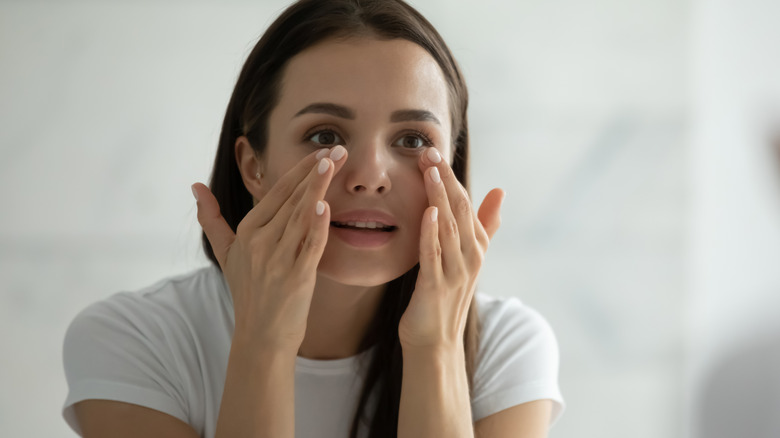 fizkes/Shutterstock
You're not alone if you scaled back your skincare routine during the COVID-19 pandemic. Referred to as skinimalism, the idea was to cut out unnecessary costs and steps to skincare while letting our beautiful, natural skin shine through. Pre-pandemic, makeup trends leaned heavily on all-over coverage, with airbrushing and contouring being everyone's favorite makeup hacks. But when lockdowns began, and we all started staying home, beauty priorities shifted. 
Not only did consumer focus turn to skincare, but we approached buying our products more intentionally, no longer just throwing money at the most expensive, most involved beauty must-haves. As board-certified dermatologist Dr. Loretta Ciraldo explained to CNN, "Not only was it time-consuming and potentially quite expensive, it also introduced a lot of irritants and conflicting formulations into people's skin routines." 
Conversely, consumers are now treating skincare products like makeup, prioritizing proactive measures rather than trying to cover up our supposed imperfections (via Harper's Bazaar Arabia). People are also more likely to skin-cycle than have a 10-step routine, and, according to PopSugar, we're also more likely to have cosmetic procedures or surgery as a preventative measure, rather than a corrective one. While perfect skin isn't always easily obtainable, influencers and dermatologists alike all swear by "status skin" — a makeup trend that is meant to be a more subtle filter for your face. 
What is skinimalism?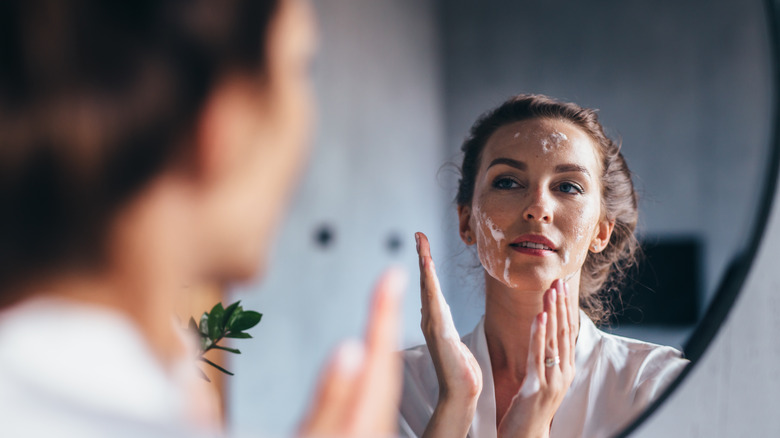 Undrey/Getty Images
Before you nail the "status skin" makeup trend, you must embrace skinimalism. Per CNN, skinimalism means cleansing your beauty routine to ensure you're only using products that actually improve your skin. According to celebrity esthetician Joanna Czech, using multiple products can be beneficial — just not all at once. Facialist Debbie Thomas told British Vogue she often sees clients with breakouts and flare-ups from using multiple products incorrectly. 
She explained that, too often, they're "using too many products, trying new formulas each day, layering incorrectly, or combining too many actives," which "overstimulates and confuses the skin." This essentially means your skin never has a chance to reap the benefits of the products you're using or even to breathe. CNN advises using a cleanser, moisturizer, antioxidants, and SPF every single day. Otherwise, it all depends on what your skin actually needs. 
Dr. Ana, a cosmetic doctor and skin expert, warns not to get too caught up in trying to obtain what's considered ideal skin, however. "Your skin doesn't need to look dewy, glossy, and completely clear in order to be normal and healthy," she told Refinery 29. "In fact, skin conditions such as eczema, acne, hyperpigmentation, and rosacea are much more common than most of us may realize." 
How to copy the 'status skin' makeup trend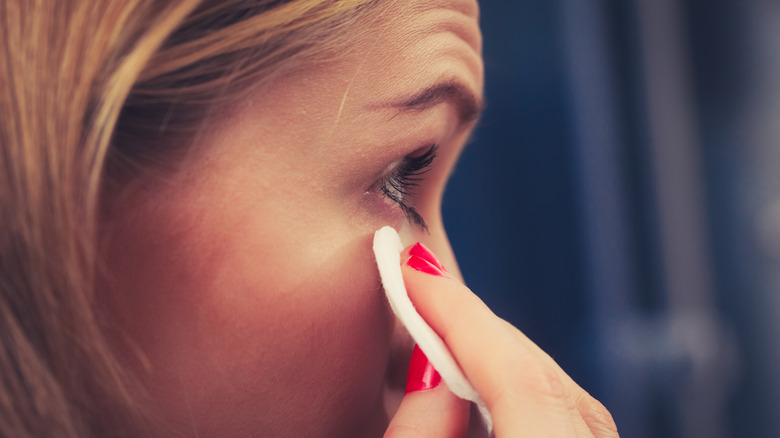 Voyagerix/Getty Images
The point of "status skin" makeup is to add a little bit of a glow to what's already naturally occurring. "Status skin" picks up where skinimalism left off, as Glamour UK notes. In order to copy the look, you'll want to start with something like a skin tint instead of a full foundation for your baselayer to make your face look more natural, as Harper's Bazaar Arabia advises. The goal isn't to hide your freckles, dark circles, or even blemishes, but instead, to minimize them while bringing attention to your natural beauty. 
Often you can find a skin tint SPF or other helpful ingredients like hyaluronic acid and glycerin that help your skin stay feeling hydrated and plump, like the Yves Saint Laurent Nu Bare Look Tint Hydrating Skin Tint Foundation, which has both, or the Saie Slip Tint Dewy Tinted Moisturizer, which contains hyaluronic acid, pansy flower, licorice root, and SPF 35. 
Blended together, these products create a smooth finish that not only protects you from the sun but keeps your skin looking bright too, per Allure. To finish off your "status skin" makeup look, we recommend heading over to Glossier to pick up some Lip Gloss and Haloscope, a highlighter ideal for brightening up your cheekbones and cupid's bow without overdoing it.