5 Hair Colors To Make Brown Eyes Pop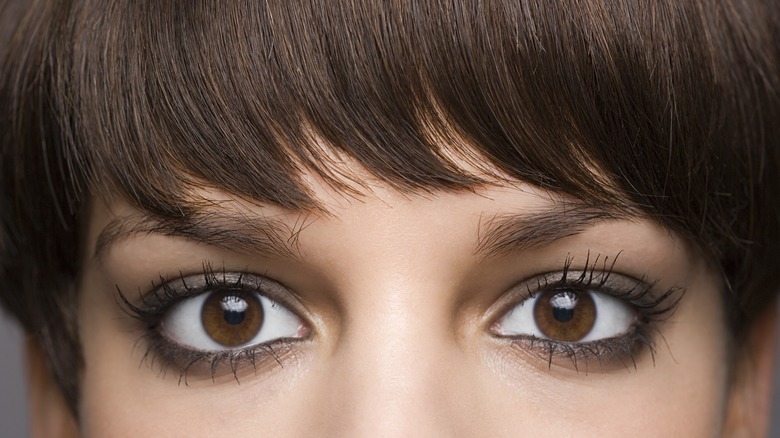 Image Source/Getty Images
We've all heard the saying, "eyes are the windows to the soul." But this age-old phrase might actually be rooted in science. According to Medical Xpress, researcher Matthias S. Keil found that our brain looks at a person's eyes for the most "reliable information" about facial recognition. In short, your eyes, both the shape and the color, make the best first impression.
While brightly colored eyes like blue and green tend to get all the attention, brown eyes are actually the most common eye color by far. According to Healthline, over 50% of people have brown eyes. Because brown eyes are so popular, they can be mislabeled as ordinary, but having brown eyes has surprising benefits. A study done by researchers at Charles University found that brown-eyed people are more often seen as trustworthy to others, therefore have an easier time making friends (via Scientific American).
If you haven't quite learned to love your brown eyes just yet, there are ways to make them pop that will help you embrace your status as a "brown-eyed girl." While you can't really change your eye color, you can color and style your hair any way you want to accentuate your beautiful brown peepers.
Have fun with highlights
Most of us with brown eyes usually have the brunette hair to match. But that doesn't mean we can't lighten up our gorgeous locks with tasteful highlights. If you've got light flecks in your eyes, caramel highlights will make them pop, according to Style Craze. Accentuate your eyes with a fun and natural looking highlights that are easy to maintain and never go out of style. If JLo is any indication, your brown eyes are sure to pop when your face is framed with golden highlights. 
Go bold with a super dark shade
If lightening your hair isn't your thing, try the opposite approach to make your eyes pop. One of the best ways to bring your brown eyes into the spotlight is to dye your hair an extremely dark shade of brown or black. For Demi Lovato, their eyes stand out light and bright in contrast to their midnight black hair. Paired with warm toned eyeshadow and a gorgeous set of lashes, your eyes will be the star of the show against the dark backdrop of your new 'do.
Move over, strawberry blonde, there's a new red in town
Auburn hair was all the rage in 2022, but this year, we are loving a strawberry brown moment. This hair color technique blends your dark brown roots with a vibrant red for a unique balayage that is sure to turn everyone's heads. Southern Living calls the strawberry brown trend the "coolest brunette color" of the year. Not only is this trend fresh and fun, but it is sure to pull your eyes front and center with it's warm tones, complimenting the brightness of your eyes perfectly. 
Consider all colors of the rainbow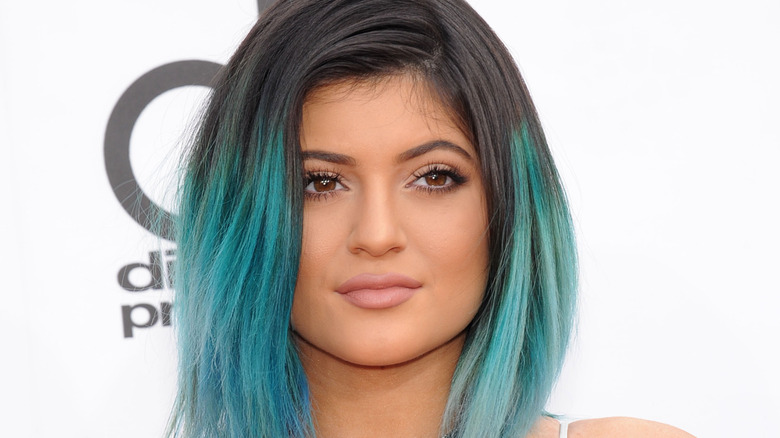 DFree/Shutterstock
Your eyes may be brown, but who says you have to have a neutral hair color? Having fun with bright colors is a great way to transform your style while highlighting the natural beauty of your eye color. We absolutely loved Kylie Jenner's blue hair phase because of how perfectly it let her light brown eyes shine. If you want a bold look that really stands out, tell your stylist to grab that color wheel and find your favorite vibrant shade. Don't be afraid to experiment with different colors and hues — brown goes great with practically everything! 
When in doubt, shake it up with a platinum do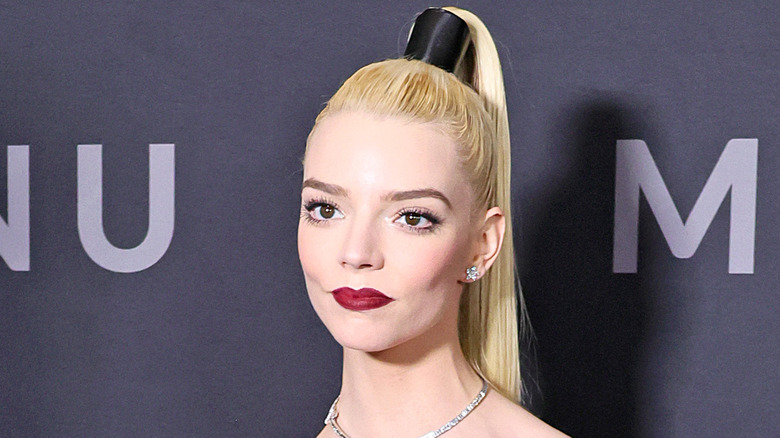 Theo Wargo/Getty Images
Us brown eyed beauties really want to know if Rod Stewart was right when he sang, "Blondes have more fun." According to Anya Taylor-Joy, blonde hair definitely makes brown eyes pop. Every fleck of gold and green is reflected in Taylor-Joy's complex brown eyes thanks to her light blonde pony. Going blonde, especially for the first time, is a big commitment, but we think it might be worth it for the chance to bring our brown eyes front and center.