How General Hospital Fans Wish Britt's Death Was Handled Differently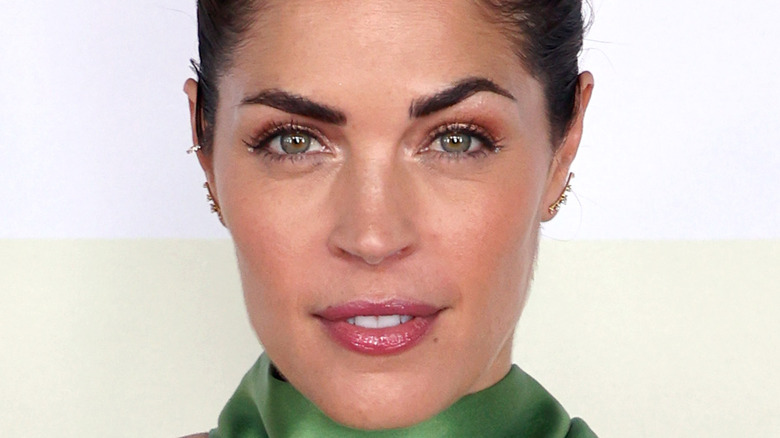 Kevin Winter/Getty Images
Near the beginning of their relationship, fans were ready to be done with the pairing of Dr. Britt Westbourne (Kelly Thiebaud) and Cody Bell (Josh Kelly) on "General Hospital." Cody was a grifter who initially had designs on a valuable necklace that Britt had inherited, but then developed feelings for her. Britt had defensive walls up after the death of her former beau, Jason Morgan (Steve Burton), per Soap Central. Because she secretly had Huntington's disease and had a limited amount of time left on this planet, she dumped Cody and decided to throw herself the birthday party to end all birthday parties on New Year's Eve. She wanted to see her friends and family one last time, and then planned to disappear into the dark hours, just after midnight.
However, fate stepped in when Britt witnessed The Hook killer attacking Josslyn Jacks (Eden McCoy) on the docks. Britt jumped into the skirmish, saving Joss' life. But in the process, the poisonous tip of the slayer's hook scratched her, and she made her way back to her party's venue, The Haunted Star. Britt seemed to stagger, and her mother, Liesl Obrecht (Kathleen Gati), thought it was her Huntington's acting up. However, it soon became apparent that wasn't the case. Britt told Liesl what happened as she died in her mother's arms (via Soap Hub).
While Britt's heartbreaking death left fans stunned and saddened, they were very vocal about the aftermath.
Fans weren't happy that the focus was on Cody
In the wake of Britt Westbourne's death on "General Hospital," Felicia Scorpio (Kristina Wagner) had the unpleasant task of informing Cody Bell about what happened, according to Soaps. The show tweeted about it, writing, "Cody hasn't learned of Britt's death yet and Felicia has the unenviable job of informing him. How will he handle the news?" Many fans were in an uproar as other characters, including Maxie Jones (Kirsten Storms), Brad Cooper (Parry Shen), and Spencer Cassadine (Nicholas Chavez) were told offscreen. An outraged fan replied, "Really? He gets an on screen reaction while everyone else who loved & knew her finds out off screen? He only used her to get the necklace! NOT cool!"
Several viewers expressed that they didn't care about Cody's reaction, with one writing, "Hey, #GH we don't care. Can we see Spencer, Brad and Maxie reacting instead?" and another saying, "Honestly, I am not caring at all what Cody thinks of anything!" 
On the flip side, one fan enjoyed the Felicia/Cody scene, replying, "They have good scenes together. They really do! Felicia has so much empathy! I'm glad she was the one to tell Cody." Another fan of Cody's posted, "I think Britt was the lucky one in that relationship." 
A viewer who felt Cody and Britt were a terrible couple from the beginning posed the darkly humorous question, "Why can't Cody be a victim of the Hook?"