TikTok Eyeliner Hack Makes It Easy To Get The Perfect Winged Look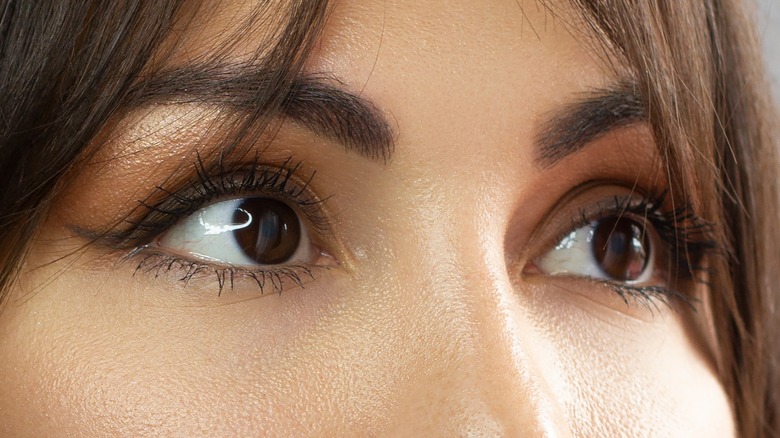 Shtennikova Evgenia/Shutterstock
Seen on beauty icons from Marilyn Monroe to Maddy Perez of "Euphoria," the winged eyeliner is a classic for a reason. The swoop elongates your lash line, making your eyes look wider, according to Vogue. It's a simple eyeliner shape that works well over most kinds of eyeshadow, and there are plenty of twists to put on the look, from double wings to the reverse cat-eye.
Of course, applying winged eyeliner comes with definite challenges. If your eyeliner's not symmetrically applied on each eye, you risk looking lopsided. Which has given rise to a whole host of tips and tricks for that perfect winged lid. Maybe you've used a makeup removal wipe like an eraser to get the shape right. A sticky note as a ruler to guide your pencil? TikTok's all over it that eyeliner trick.
But if you're focusing on speed above all, a new TikTok eyeliner hack has emerged.
For an easy winged eye, just drop and drag
Carefully hand-drawing your eyeliner on can be time consuming, especially if you're a perfectionist. Fortunately, beauty influencer Bex Campbell, aka bexcxmpbell, has a TikTok hack that couldn't be quicker. She simply draws a dot on her index finger with her chosen pencil eyeliner, then puts her finger on the side of her eye and drags it out to make a wing. If you're not quite sure where to press your finger down, Campbell clarifies in the comments, "When you put your finger into the outter corner you will be able to feel on your finger where the corner of your eye is underneath."
The result? A quick, delicate wing. Campbell's brown pencil makes the look understated and perfect for daytime, but a darker shade and some false lashes could elevate it for evening.
A number of commenters noted a similar eyeliner strategy they used. "I draw a tiny circle on the ends of my eyes and drag it with my finger," one noted.
Products to make the most of your winged eye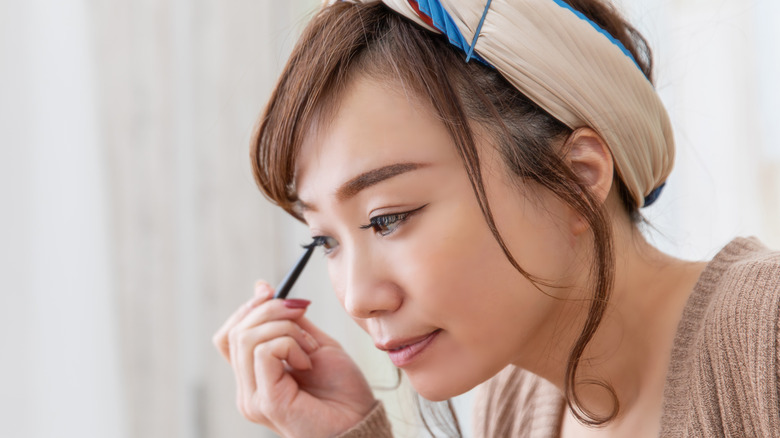 buritora/Shutterstock
Bex Campbell's finger dragging strategy might look easy, but it's not a universal fix. Some commenters noted that the trick didn't work if you had hooded eyes. Another noted that the hack is "easier said than done." And obviously, if you're looking for a classic Hollywood cat-eye, liquid liner does not apply.
Fortunately, if you're curious about giving this hack a try, you probably don't need to buy new products; just use any eyeliner pencil. Because the dragging technique shows up so lightly on skin, a more highly pigmented skin pencil will help you up the brightness. Try a pencil like MAC's Colour Excess Gel Pencil, which a reviewer describes as "pigmented and easy to blend." You could also alt for a gel or a kohl-style eye pencil; Ipsy notes that these smoother alternatives to a traditional pencil are ideal for someone who wants a blended, less precise look.
If the hack is a match with your eye shape, it's never been easier to just wing it.