Prince Harry Claims Kate Middleton Showed Subtle Sign Of Rage At Meeting With Meghan Markle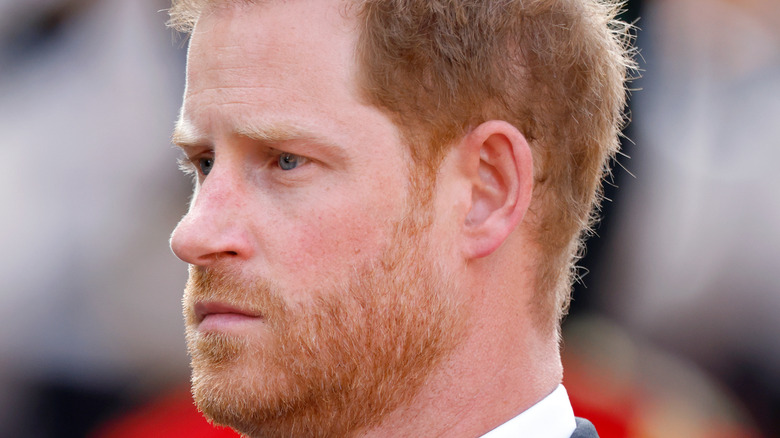 Max Mumby/indigo/Getty Images
With the launch of Prince Harry's memoir "Spare," the former senior royal is busy with his press tour. No doubt, this is launching the royal family into renewed terror. Not only did Netflix's "Harry & Meghan" drop some bombshells, but Harry's memoir and myriad interviews are leaving little to the imagination about the once-mysterious workings of the royal family. 
There is no shortage of startling revelations in Harry's memoir. He writes about a fight between him and brother Prince William, he opens up about retracing Princess Diana's last night, and he claims that William, Prince of Wales and Catherine, Princess of Wales, encouraged Harry to wear the infamous Nazi uniform.
Harry has also discussed his relationship with his sister-in-law, Catherine, and Meghan Markle's relationship with her. Not only did Harry write about this in his memoir, he also spoke about it with Tom Bradby in an interview for ITV on Jan. 8, 2023. Catherine gave birth to Prince Louis one month before Harry and Meghan's May 2018 wedding and during the wedding planning, the two women had that famous row. 
At the time, it was reported that Meghan made Catherine cry over the bridesmaids outfits, per Page Six. Later, during Harry and Meghan's interview with Oprah Winfrey, Meghan claimed Catherine made her cry. Harry told Bradby that the two couples were expected to unite, essentially creating the "Fab Four," as the British press dubbed them. However, Harry said that the term created "competition" and therefore a little tension.
Kate was gripping the edges of her chair, Harry claims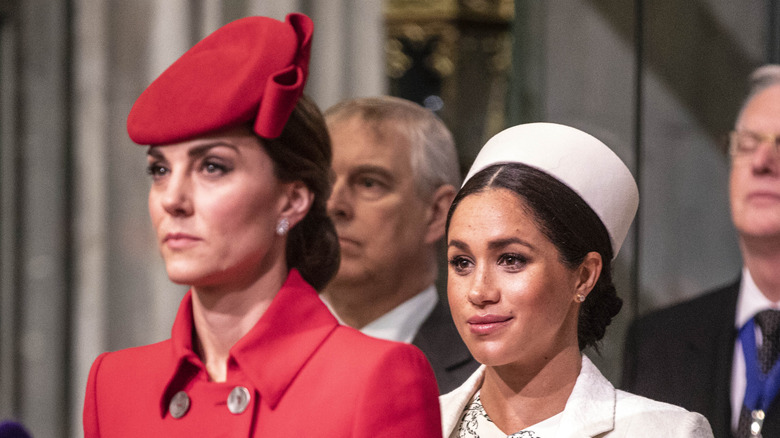 Wpa Pool/Getty Images
Following the 2018 incident between Kate Middleton and Meghan Markle, the two women, along with Prince Harry and Prince William, tried to patch things up. In a voiceover from Tom Bradby during his interview with Prince Harry, he says, "At one stage, Harry recounts a clear-the-air meeting involving him, William, Kate, and Meghan. It seems to have gone so badly wrong that he describes Kate as gripping the edges of the leather chair so tightly that her fingers were white." 
That account was recalled in the book. As Page Six reported, "Spare" quotes Kate as saying, "You talked about my hormones. We are not close enough for you to talk about my hormones!" 
Bradby went on to discuss the nature of their conversation. "Kate says she's owed an apology from Meghan who previously put a moment of Kate's forgetfulness down to so-called baby brain," he said. "According to Harry, Kate tells Meghan they're not close enough to talk that way and William says, 'That's not what's done here in Britain.' The meeting ends awkwardly, with a hug of sorts."
It certainly didn't sound like the air was cleared. Harry also spoke to Bradby about his family's reaction to Meghan. "I don't think they were ever expecting me to get into a relationship with someone like Meghan, who had, you know, a very successful career," he admitted. "There was a lot of stereotyping that was happening, that I was guilty of as well, at the beginning."
Is reconciliation possible for the Fab Four?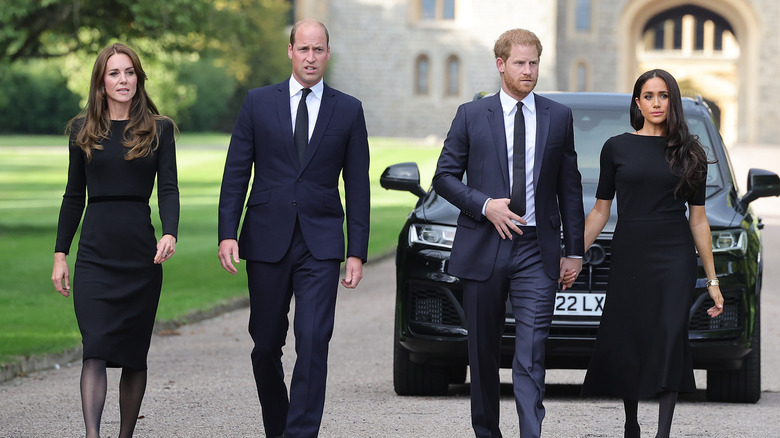 Chris Jackson/Getty Images
Things may be tense between the royal brothers and their wives, but Meghan Markle and Kate Middleton's relationship was not always a difficult one. Us Weekly reported that the Princess of Wales happily welcomed the new addition to the family when Meghan and Prince Harry got engaged, even offering the Duchess of Sussex a "crash course" on royal life. The two seemed to have a mutual respect for each other. Even still, the rumors of competition grew.
While many assume that Meghan caused the rift between the brothers, Harry has set the record straight: This feud started long before he and Meghan stepped down as senior members of the royal family. In a "60 Minutes" interview with Anderson Cooper, Harry shared that he hopes his memoir, "Spare," "squashes this idea that somehow my wife was the one that destroyed the relationship between these two brothers," per Vogue. 
In both his memoir and his Netflix documentary, "Harry & Meghan," Harry details his difficult past, disdain for the paparazzi, and difficult role within the royal family. Meghan and Kate's relationship — however strained it may have become — seems to be far from the reason the Sussexes left The Firm.
As for the future of the Fab Four's relationship, little is known about how the Prince and Princess of Wales feel about the Duke of Sussex's many claims. Per Time, the royal family has not responded publicly to the bombshell memoir, nor is it expected to any time soon.