Why William deVry Wasn't Surprised By His General Hospital Exit
In 2013, actor William deVry took on the mantle of mobster Julian Jerome on "General Hospital." The role had previously been played by Jason Culp in 1988 until Julian's supposed death in 1990, per Soap Central. When Julian returned to the "GH" canvas, the character picked up his old mobster ways — this time with long-lost sister Ava Jerome (Maura West). Julian quickly became a fan favorite, and it wasn't long before he entered into a relationship with then-attorney Alexis Davis (Nancy Lee Grahn). Alexis and Julian had a turbulent relationship over the years. The nail in the coffin for their romance was when Julian was forced to hold a knife to Alexis' throat (via Soap Hub).
Over the years, Julian would attempt to sever his mob ties, and made inroads with his estranged children. However, he eventually got pulled back into the mafia world. Under orders of drug lord Cyrus Renault (Jeff Kober), Julian planted a bomb at a restaurant called the Floating Rib, killing two people and severely injuring others. Rival mobster Sonny Corinthos (Maurice Benard) attempted to help Julian find redemption for his crimes, but the bad boy ended up meeting his demise when a footbridge collapsed beneath him and Sonny, per Michael Fairman TV. 
After his "GH" departure in 2020, the actor ruminated about why he was written off of the show.
William deVry felt there was more to Julian's story
According to TV Overmind, actor William deVry has worked in several films and TV shows, and was nominated for an Emmy for his portrayal of Michael Cambias on "All My Children." When his run on "General Hospital" was done, deVry discussed leaving the show with the Toronto Sun. Considering fans were expecting more with the character, deVry stated that he felt bad for them, "because, in a big way, they're right — Julian had a lot of story left to tell," adding, "[The "GH" writers] never did shake the tree of storyline potential for Julian, in my mind at least."
When asked about the changes that had been made for Julian, going from mobster to bar owner, deVry said, "Although I have to admit, when I first got the pub, I was excited as hell as to who could walk through the door ... from just watching the show as a fan, I felt the show was kicking on all cylinders. It's sad to think Julian won't be a part of that."
Because Julian's relationship with Alexis Davis had gotten beyond the point of no return, the writers tried pairing him with other women, but those relationships didn't work out. deVry saw the writing on the wall, saying, "Nancy and I were open to a reunion, but that never happened despite the fans pleading for it. At that point, I just felt I should prepare myself for not being re-signed." 
William deVry has no ill will regarding his General Hospital exit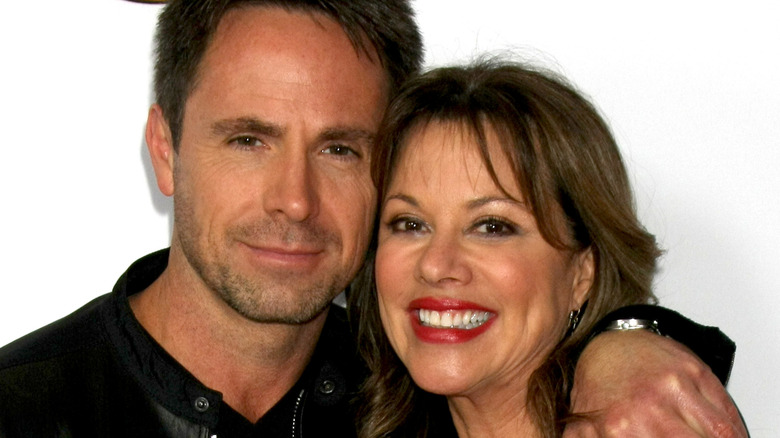 Kathy Hutchins/Shutterstock
Looking back at his time on the "General Hospital," actor William deVry told the Toronto Sun, "The only thing I wished I had done in hindsight is maybe whispered Alexis's (Davis, Nancy Lee Grahn) name as he was walking away from Sonny (Corinthos, Maurice Benard) after being shot. Like, now he knows he's dead and all he can think about is Alexis and that he'll never see her again." When asked if he thought the writers were looking to get him off the show by having Julian put a knife to Alexis' throat he stated, "In hindsight, after seeing everyone's shock and disgust about the exit, you may be on to something." deVry added that leaving despite Julian's popularity "did hurt a little."
He told the newspaper that fellow co-workers were stunned that he was leaving, but reassured them he was okay with it, and felt he had a good run. Regarding his fans, deVry stated, "I feel their pain, I watch the show and comment like they would about it from strictly a fan perspective. I think half the time they don't feel heard. And I think I show them I hear them. I am one of them." With no ill will, Devry forges ahead on his journey back to the fans' TV screens.
"I'll always be grateful for an amazing 7-year run. I really got lucky with GH. No regrets or bitterness."