Say Goodbye To Dry Lips With The Ultra-Hydrating Lip Basting Method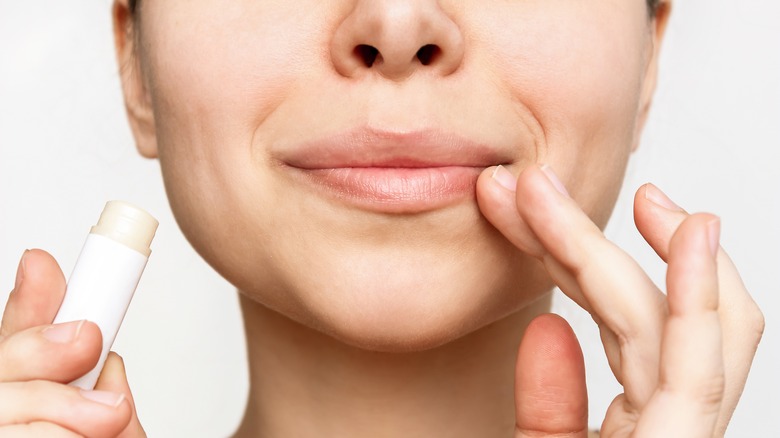 Marina Demeshko/Shutterstock
We may receive a commission on purchases made from links.
Dry skin seems to be an unavoidable evil during the winter months. But, while it's often associated with colder temperatures, that isn't the only cause. As the Mayo Clinic explains, if you have drier skin, it can be caused by "cold or dry weather, sun damage, harsh soaps, and overbathing." You might find that your skin is cracking, peeling, or just super itchy. These are all symptoms of that exposure to the causes listed above. 
If you have dry skin, don't worry — it's a pretty common occurrence for many people and can often have a simple solution, such as using a really great moisturizer (via Cleveland Clinic). You could also try the viral TikTok hack known as skin flooding.
The lips are one of the more likely areas individuals deal with being drier. Although it can sometimes be a rather painful experience, there's a new trend that will help solve your problem. 
Lip basting is the hack we've been searching for
If you've been known to pick at the dead skin coming off your dry lips, you are not alone. However, as Gisou noted, peeling the skin off your lips can actually cause more damage. So, how can you get super hydrated lips that you won't want to pick? Try something called lip basting. 
Coined by dermatologist Dr. Shereene Idriss, lip basting is a method that exfoliates your lips, creating "a plump canvas with loads of hydration," per PopSugar. Refinery29 explains this works better than scrubbing. 
You'll want to get a really great chemical exfoliant and a super hydrating lip product. The Ordinary's glycolic acid 7% toning solution is a good place to start. You could also use this L'Oreal glycolic acid serum. Then use "soothing ointment," as Refinery29 calls it. If you have more sensitive skin, InStyle recommends the Kosas lipfuel balm. Dr. Idriss swears by Weleda's cream. Aesthetic medicine expert, Dr. Tijion Esho's own skincare line also features products specifically formulated for lip basting (via TikTok).
Taking care of your lips should also be incorporated into your routine, just like skincare. Don't forget, there is such a thing as the perfect order for your skincare routine. Test out this lip hack and figure out which products work best for you. You'll wake up every morning with ultra-hydrated lips that feel and look good.