Body Language Expert Says Prince Harry Is Torn Between Worlds In Feud With Prince William - Exclusive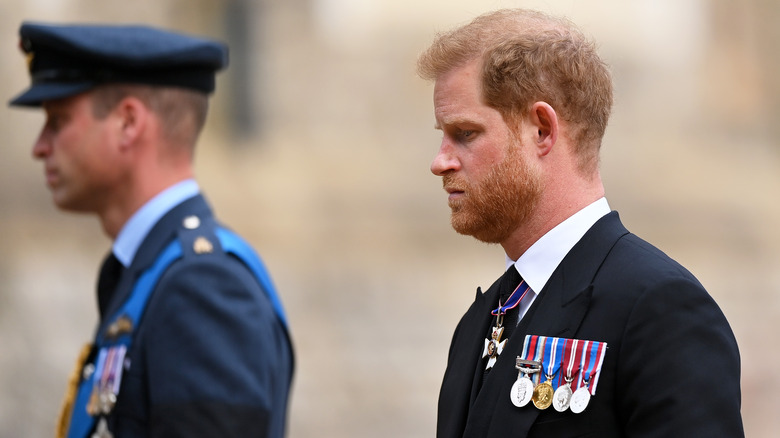 Justin Setterfield/Getty Images
Prince Harry, Duke of Sussex has been making the rounds to promote his memoir "Spare," set for release on January 10. Selections from the book have already leaked, and in it, he reveals a physical altercation between him and his brother Prince William, that Kate Middleton wanted an apology from Meghan Markle for a comment she made before the Duke and Duchess of Sussex's 2018 wedding, and that he and Prince William didn't want their father to marry Camilla Parker Bowles.
Prince Harry is no stranger to high-profile interviews; the interview he and Meghan Markle conducted with Oprah was watched by over 17 million people, according to Forbes. He was by himself, however, for his "60 Minutes" interview with Anderson Cooper, and in the U.K., he spoke at length with Tom Bradby for ITV. 
Of course, there are many layers to Harry's revelations, especially where it pertains to Prince William. To help us The List spoke with Jess Ponce III, body language expert, communication coach, and author of "A.W.E.S.O.M.E.: 7 Keys to Unlock the Speaker Within" about what Prince Harry's language in the "60 Minutes" interview said about how he's feeling about older brother Prince William.
Prince Harry sincerely loves his brother, but it's complicated
At the start of the interview, Anderson Cooper reads a passage from "Spare" in which Prince Harry describes his brother as having a "familiar scowl" and "alarming baldness." Cooper called the description is "cutting," but as Jess Ponce III exclusively told The List, Prince Harry "doesn't see it the same way," and noted that "Harry grinned when Anderson referenced the comment that William's hair was thinning more than his own." He surmised, "That's something brothers would comment and tease one another about."
Despite the teasing, Ponce senses a strong connection between them. "When he [Harry] indicated he [William] loves him deeply, his eyes and facial expressions emphasized it," he shared. "By all indications, he was sincere and honest [in] that moment." Taking the analysis a step further, the body language expert explained, "When speaking about the pains of their relationships (as would happen in all families) there's a difference [in] tone when referencing that pain as adults vs. as children. Although both are quickly mentioned, there's a difference in his voice between the two."
Another telling moment? When Harry shifted the conversation back to Meghan Markle. "That tone immediately, however, changed into a more serious, defensive tone when speaking about [Meghan]," Ponce noted. The tone he uses to speak about his wife shows Ponce "that she is what's most important to him."
Prince Harry and Prince William's dynamic is typical of siblings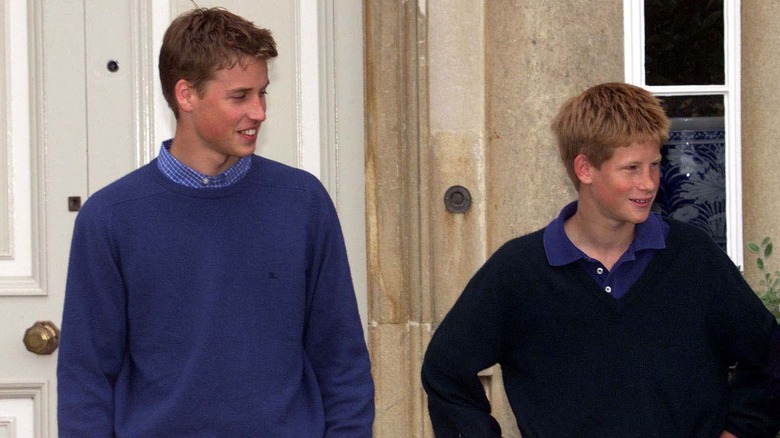 Anwar Hussein/Getty Images
In another part of the interview, Anderson Cooper brought up to Prince Harry the fact that in high school, Prince William supposedly asked his little brother to act like they didn't know each other. Jess Ponce pointed out to The List that even with the "sibling rivalry"— as Prince Harry described it — that "you can tell despite any current problems he, in fact, has brotherly affection toward William. And at the same time feels the pain of being in the shadow of his older sibling." And whether or not the relationship between Prince Harry and Prince William can be repaired, Ponce wonders whether the at times fraught relationship between the two brothers is "really more unique than any other sibling relationship".
Rivalries aside, one inherently pivotal moment in the brothers' lives was the death of their mother Princess Diana, which the brothers handled differently. Ponce observes Harry "is very passionate and expressive with his body" when talking about the subject, and that "his hands are gesturing and you can hear his voice become more deliberate." 
Sadly, Harry also noted in the interview it had been "awhile" since he'd spoken to either his brother or his father, King Charles III. Whether the healing Prince Harry seems to be hoping for happens or not, only time will tell.