Prince Harry's Book Claims One Comment Landed Meghan Markle In Hot Water With Kate Middleton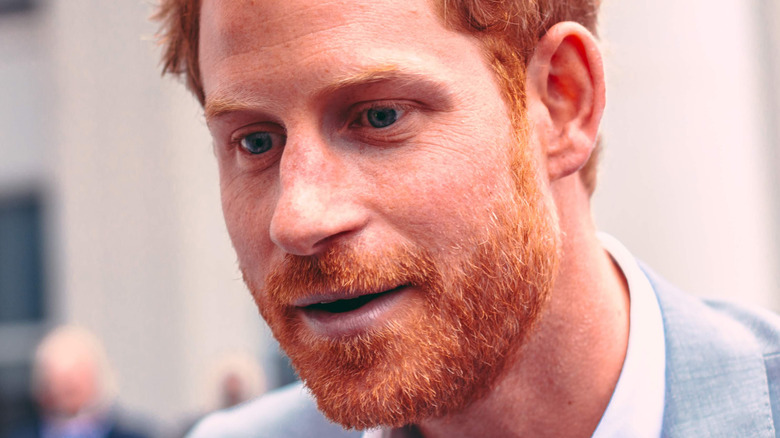 AU Media/Shutterstock
It's no secret that Prince Harry and Meghan Markle, the Duke and Duchess of Sussex, are caught up in a royal family feud with William, Prince of Wales, and Catherine, Princess of Wales. Things were rocky between Meghan Markle and Prince William from the beginning, with William forced to issue a statement confirming he was not against his brother dating the actress when they first went public in 2016 (via Glamour).
However, William allegedly told Harry that he thought the relationship was "moving too quickly" even after making that public statement, which deeply hurt Harry (per People). The issues were not limited to Meghan, either. In "Harry & Meghan," the duchess made some eyebrow-raising comments about her sister-in-law that even had Kate's uncle slamming the Netflix docuseries. 
The tension seems to be overflowing between the two royal couples. Now, Harry is dishing out some stories in his explosive memoir, "Spare," and one of them put Meghan in hot water with Kate when tensions were already high.
Meghan stepped on Kate's toes with a comment leading up to her wedding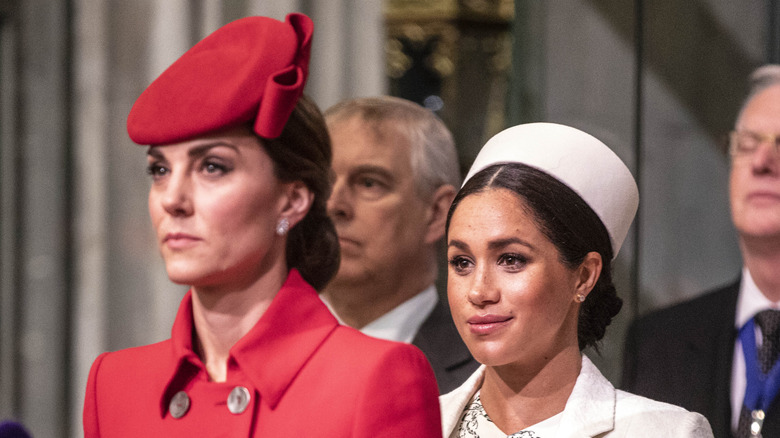 Wpa Pool/Getty Images
Prince Harry, the Duke of Sussex, is releasing a new memoir, "Spare," where he makes several interesting claims, the BBC reports. Harry shares stories about his life with the royal family, including the fact that he did not want his father to marry Queen Consort Camilla Parker Bowles. 
One revelation, in particular, is centered around his wife, Meghan Markle, Duchess of Sussex, and his sister-in-law, Kate Middleton. The story took place leading up to Harry and Meghan's 2018 wedding day (via the Daily Mail). Kate had just given birth to her third child, Prince Louis, and was incredibly stressed out at the time.
A source revealed to the publication that, in the memoir, Harry discusses a conversation that happened "about the timing of the wedding rehearsal and the flower girl dresses and Kate was very upset." Apparently, Meghan said Kate "must have 'baby brain' because of her hormones" when she was upset and confused about the situation. 
The source claimed that "Meghan was told that she wasn't close enough" to Kate to make comments like that. The duchess was in turn upset by this and it put her in hot water with her new sister-in-law. 
The wedding is a major sore spot between the two women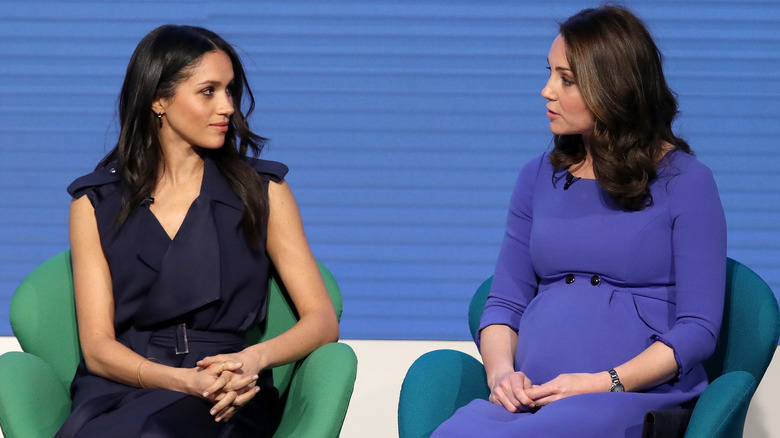 Chris Jackson/Getty Images
This latest revelation may open up old wounds for both Meghan Markle and Kate Middleton. One of the most infamous stories surrounding the reportedly frosty frenemies involves whether Kate made Meghan cry in the lead up to her wedding, or vice versa. As The Independent reported at the time, Oprah Winfrey brought up the topic during her groundbreaking interview with the Duke and Duchess of Sussex. 
The former "Suits" star clarified that, contrary to popular belief, she was the one left in tears. "I don't say that to be disparaging to anyone because it was a really hard week of the wedding and she was upset about something," Meghan clarified. "A few days before the wedding, she was upset about something." 
She took issue with the Princess of Wales not being more supportive during an incredibly stressful time, however, though Meghan confirmed that Kate made things right with an apology and a bunch of flowers. Likewise, "I think a lot of it that was fed into by the media — and, look, I would hope that she would have wanted that corrected, and maybe in the same way that the palace wouldn't let anybody else negate it, they wouldn't let her, because she's a good person." 
The duchess found it especially tough being blamed for something she didn't do, especially considering Kate was in the wrong, contending, "They really seemed to want a narrative of a hero and a villain."