Meghan And Kate's Supposed Text Exchange Over Charlotte's Bridesmaid Dress Oozes Tension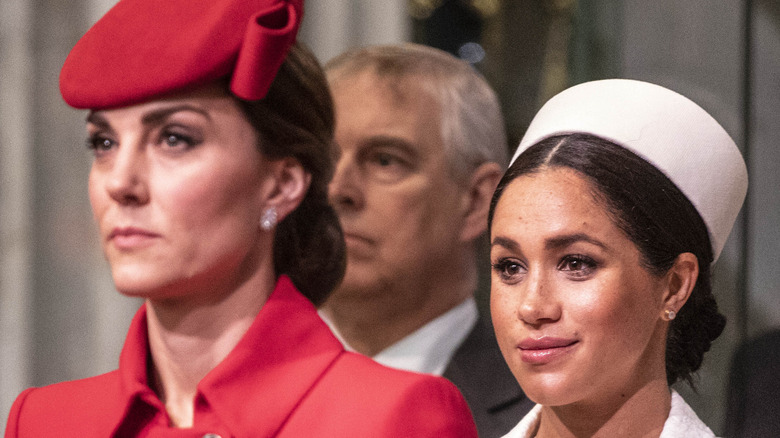 Wpa Pool/Getty Images
The "truth bombs" dropped by Prince Harry, the Duke of Sussex, in his book "Spare" are landing in some surprising places. The prince was expected to share details of his contentious relationships with King Charles III and his elder brother William, Prince of Wales. It was also not shocking that he threw some shade at his stepmother. Harry's conflicted feelings toward Queen Camilla go back decades, and there's no denying that she was partly responsible for driving a wedge between his parents. 
But "Spare" also doesn't, well, spare his sister-in-law, with whom Harry once had a good relationship. The memoir dredges up an incident that the prince and his wife Meghan Markle, the Duchess of Sussex, first discussed in their infamous Oprah interview. As Meghan prepared for her royal wedding, she reportedly had a disagreement with Catherine, Princess of Wales, over the bridesmaid gown her daughter, Princess Charlotte, was supposed to wear. 
The British tabloids had accused Meghan of making Kate cry, but the duchess countered that the opposite had actually happened. The incident was analyzed by a number of royal watchers, per Newsweek, but no one could quite decide whose story was more accurate. Now, "Spare" is offering apparent proof of how it all really went down, and it paints the princess as being insensitive to the feelings of a stressed-out bride. 
Princess Catherine reportedly demanded a dress re-do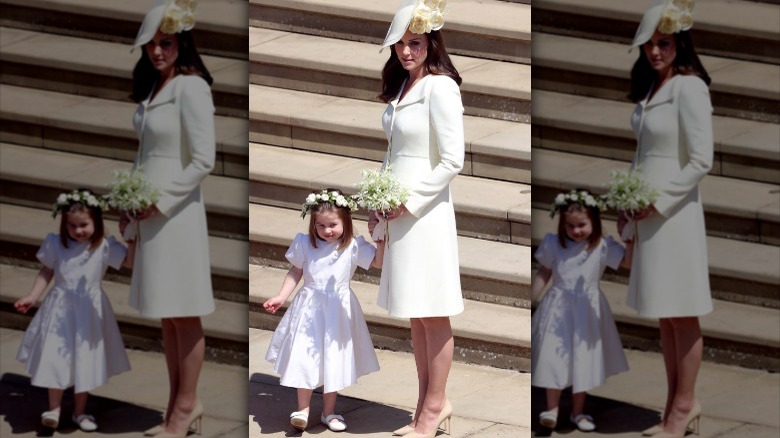 Wpa Pool/Getty Images
As is typical of British royal weddings, Prince Harry and Meghan Markle invited several young family members to serve as bridesmaids and page boys. Among them, per The Guardian, were Prince George and Princess Charlotte. But just days before the wedding, Harry alleges that Catherine, Princess of Wales, launched a text war with his fiancée. As Page Six detailed, the prince claims that Kate wrote, "Charlotte's dress is too big, too long, too baggy. She cried when she tried it on at home." 
Meghan sent a curt reply, pointing out that the royal tailor was on standby at Kensington Palace. "Can you take Charlotte to have it altered, as the other mums are doing?" the duchess suggested. This kicked off a lengthy exchange between them during which Meghan admitted to Kate that she was stressed because her estranged father, Thomas Markle, was too ill to attend the wedding. 
Kate was allegedly unmoved, even trying at one point to have all the girls' dresses totally redone. Their tense back-and-forth left Meghan so distraught that she collapsed to the floor and wept. Harry noted that he included this anecdote as an example of how the press has spun stories to make him and Meghan look bad (via the Daily Mail). Though several outlets claim the princess is furious over Harry's book, she is following royal protocol by refusing to comment. In fact, Kate just celebrated her 41st birthday amid support from family and fans.