Prince Harry Expresses Bitterness Over Prince Andrew And Royal Security Debacle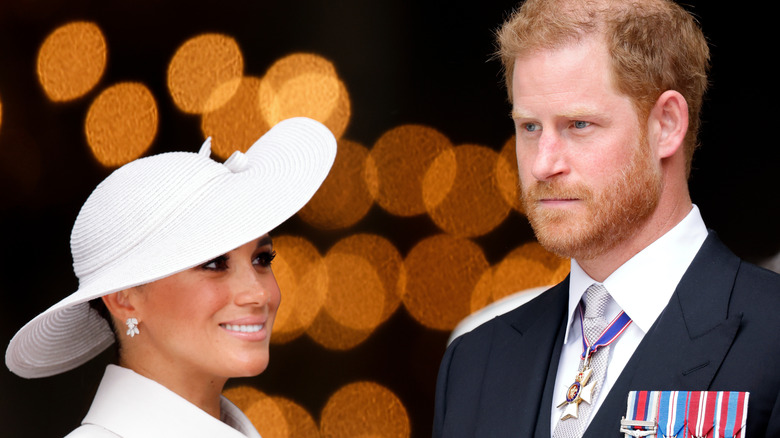 Max Mumby/indigo/Getty Images
Prince Harry and Meghan Markle's security battle with the UK police just keeps getting messier. The royal defectors took issue with the fact they were no longer protected during regular sojourns across the pond and sued the government as a result. As Harry's legal team explained in a statement, "The UK will always be Prince Harry's home and a country he wants his wife and children to be safe in. With the lack of police protection, comes too great a personal risk" (via CNN). 
Although they did receive police protection during the queen's Platinum Jubilee celebrations last summer, as Newsweek pointed out, the Duke and Duchess of Sussex attended far fewer events than they were expected to, with many commentators claiming it was due to their ongoing legal battle. During a subsequent visit to the UK, per the Daily Mail, the couple had to fund their own security detail accordingly. 
Harry ultimately won the right to challenge the Home Office over their initial decision to scale back his and Meghan's protection after they left the royal family, as BBC News reported at the time. But it's evident that he's still stung over the way the situation was handled in the first place — particularly considering Harry's father, King Charles III's, decision to reportedly pay for Prince Andrew's private security. 
The Duke of Sussex pointed out how innocent he was in comparison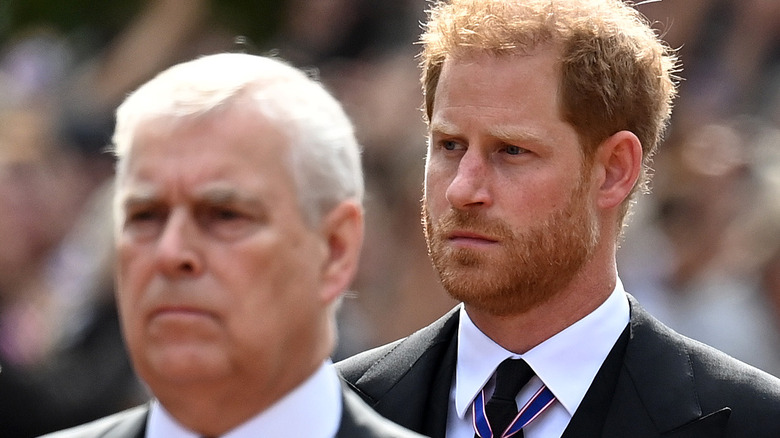 Kate Green/Getty Images
The Duke of Sussex isn't impressed that he's considered less worthy of police protection than his disgraced uncle, Prince Andrew. According to the Daily Mail, in his soon-to-be-released memoir, "Spare," Prince Harry tackles the issue head-on, decrying Andrew's sex abuse lawsuit, for which he ultimately settled out of court with accuser Virginia Giuffre (via People), and using it as further proof that he's been mistreated by the family. Harry admits in the book that he never even considered the possibility that his security detail could be taken away, even reassuring his wife when she worried the worst might happen. 
"Never. Not in this climate of hate. And not after what happened to my mother," the prince recalls telling Meghan Markle. He added, "Also, not in the wake of my Uncle Andrew. He was embroiled in a shameful scandal, accused of the sexual assault of a young woman, and no one had so much as suggested that he lose his security. Whatever grievances people had against us, sex crimes weren't on the list." 
The duke's comments notably mark the first time any member of The Firm has criticized Andrew publicly, which is sure to have Buckingham Palace scrambling, though they aren't expected to respond. Funnily enough, Page Six reports that Harry also wrote in "Spare" that Meghan assumed his uncle was the queen's assistant when they first met because Andrew was holding her handbag at the time.