How To Wear Gray Lipstick For A Look That's Anything But Dull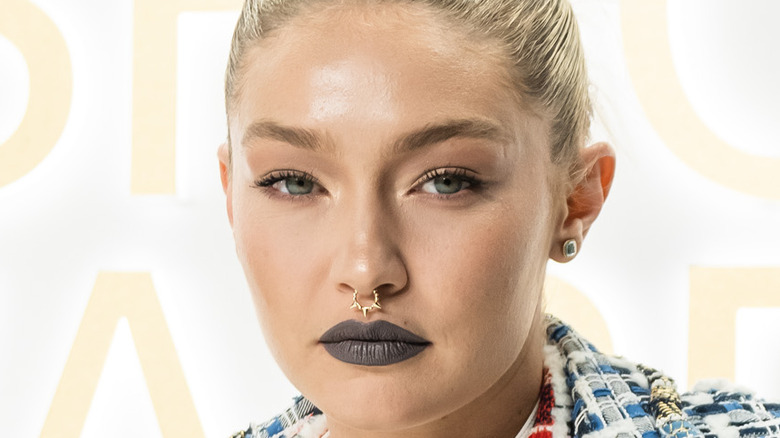 Gotham/Getty Images
We may receive a commission on purchases made from links.
Gray used to be known as a drab color that was either boring or basic but now the unassuming hue is making a comeback. Think about how popular growing out natural gray hair has become in recent years. Whether you're growing it out cold turkey or gray blending, gray hair has been all the rave in recent years (via Glamour).
Gray is also a popular color in fashion. It's become a go-to color, in part because of its neutrality, but also because of the chic looks you can create with a monochromatic gray outfit, as Vogue expressed. 
Surprisingly, gray can be a dazzling lip color, too. While healthy lips are often considered red or pink, according to Abreva, adding another color can be an art form. This is when bold colors come into play. Dark purple, black, or yellow lipstick can also be artsy choices but gray is a shade that has been gaining popularity over the past few years.
Pick a shade of gray that works for you
In November 2022, Gigi Hadid, a spokesperson for Maybelline, turned heads when she attended the CFDA Fashion Awards wearing a cool gray lipstick that somehow looked simultaneously both matte and glossy (via Allure). As Stylecaster reported, Hadid wore Maybelline's Super Stay Matte Ink Liquid Lipstick in Huntress, which you can find on Amazon for under $12.
Finding the best makeup colors for your skin tone is everything, and this extends to your lipstick. You must also consider how and where you want to wear the gray lipstick. For example, a dark gray may be too much for the office, but just right for a night out.
According to StyleCraze, a matte gray will provide a flawless finish and give off a velvety, sleek look: they recommend Anastasia Beverly Hills Matte Lipstick in Smoke. If you have a more neutral skin tone, a slate gray will suit you. While cool tones look great in a medium gray, a very light gray can give off a more nude, natural look ideal for everyday wear. Maybelline Color Sensational Lipstick in Grey Over It is a pick that's been popular for ages (per HuffPost) — a sign that it isn't going out of style.
Another option is to outline your lips in gray and fill them in with red or pink. Alternatively, you can use gray as a base and add a nude shade for the top layer.
How to complement your gray lips
You might wonder what to do with the rest of your makeup when you wear gray lipstick. Since gray can be drab, you want to make sure that your makeup doesn't look too dull or pale. The right eye makeup can keep you from looking lackluster.
When your lip color is dramatic, you'll want to keep the rest of your face simple. Wear thin eyeliner and basic lashes (via Beauty Places). Neutral blushes look best to warm up the face, or opt for a light pink to wear with your gray lips.
Hello Beautiful suggests wearing black eyeliner but adding a bright white pencil to your waterline. You can also slab on some light bronzer to keep your face looking healthy and vibrant.
It also helps to consider your clothing. As with your makeup, there are shades of clothing that work best with your skin tone. When rocking a gray lip, stay away from gray clothes which will look redundant and not provide any complementary color pairing. Instead, stick to dark purples and even black, and avoid bright colors.