Clear Lip Liner Is The MVP Beauty Product You've Never Heard Of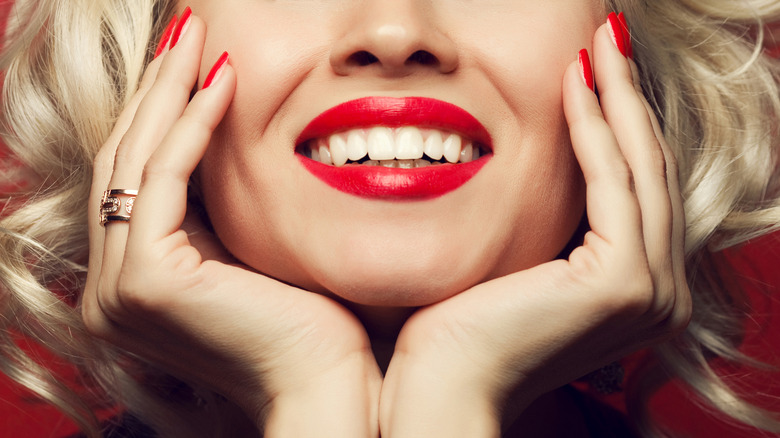 Augustino/Shutterstock
We may receive a commission on purchases made from links.
Getting your lipstick to stay put isn't an easy task. We typically swipe, dab, check the mirror, and then swipe again before heading out the door. And yet in the five minutes it takes to leave your home, somehow your lipstick has already smudged. Hence, lip liner. As one of the oldest makeup hacks to tame rogue lipstick, lip liner can help your pout stand out and simultaneously keep the color in place, per StyleCraze. 
The beauty outlet recommended applying either the exact same shade around your lips or going one darker if you prefer the contrast. But it's crucial to note that the order you apply your lipstick and liner is equally as important as the chosen color(s). Your liner should always come first. One of the biggest reasons why you need to apply lip liner before lipstick is because it will define your pout, as Southern Living notes.
But, for true longevity, a clear lip liner could be the magic beauty tool you didn't even realize that you needed. 
Say goodbye to lipstick smudges
Consider this a love letter to clear lip liner. Not only does this product create an even line around your pout, it automatically matches your lipstick of choice and doesn't stick out, according to Makeup.com. Plus, it's essentially mistake-proof for beauty newbies. Moreover, as makeup artist Jenny Patinkin told Byrdie, the biggest benefit of this unique liner is that it keeps everything in place. 
"A clear, waxy lip pencil is a no-brainer way to stop your lipstick from feathering," she explained. "Just [use it to] line all the way around your lips, slightly onto your skin. It creates a barrier so that the pigments can't absorb into any little creases." In her TikTok beauty tutorial, makeup expert Em put this hack to the test by showing the difference between their lips with clear lip liner and without. 
After carefully tracing a line around half of their lips, Em filled in the corners. They then proceeded to prep both sides of their lips with lip balm as normal to further prevent bleeding. The beauty influencer showed the results after seven hours of wear. At the end of Em's video, there was a distinct contrast in their lipstick's staying power on the side that had a clear liner compared to the one that didn't. 
Clear lip liners to save the day
Avoid the struggle to find the right lip liner shade entirely by investing in an invisible one. Maybelline's Color Sensational Shaping Lip Liner has a 4.2 rating primarily because of its soft, even application and long-lasting effects. Customers raved that the creamy texture helped hold their shade for hours even after eating. Elsewhere, CoverGirl's Farewell Feathering Lip Liner Pencil will make your lips feel moisturized and kissable with hydrating jojoba oil and Vitamin E.
Even though your new favorite lip liner is invisible — which makes for excellent layering, naturally — it's still important to choose the right one. According to customer reviews, Rimmel's Moisture Renew Lip Liner is just as effective as its luxury counterparts and doesn't call for multiple touchups throughout the day either. Still, one customer pointed out that applying too much left them with a white residue. 
Suffice it to say, once you find the right product for you, a clear lip liner will surely become a staple of your beauty routine.