How Often Should You Tone Bleached Hair?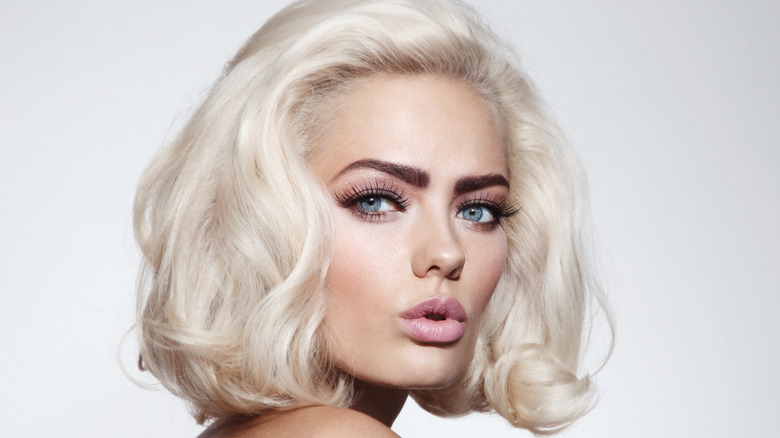 Olga Ekaterincheva/Shutterstock
No matter how you slice it, bleached hair requires a lot of upkeep. Bleaching your hair causes your delicate strands to endure harsh chemicals, which cause tremendous stress and damage. When color is removed with bleach, the proteins naturally found in your hair get broken apart (via Healthline). This causes a disruption in your hair follicles and can result in hair breakage, frizziness, and intense dryness.
One way to restore bleach-damaged hair is to bring moisture and nourishment back to the follicles, which can be easily achieved using natural oils, as per WebMD. Argan oil, olive oil, coconut oil, hair masks, and leave-in conditioners can help restore weak strands.
Yet while dry hair is a top complaint of bleaching, brassiness is another. Brassiness occurs in bleached hair because the hair's natural pigment is removed. Thankfully using the right toner can help keep hair from becoming too brassy or yellow.
Learn about the different types of toners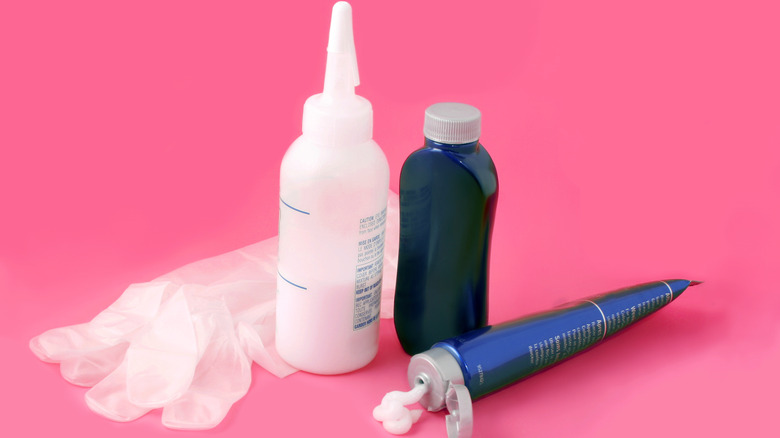 Gvictoria/Shutterstock
According to John Frieda, toning helps you get the exact color you want, meaning it corrects dyed hair that has become brassy or morphed into a shade you don't like. Toners are found in several products, ranging from professional toners at the salon to toning shampoos. Some hair glosses can also be used as toners. Yet the goal is the same — to correct your hair color and give you the exact hue you desire.
While they all tone the hair, professional toners give immediate results, and the process is similar to hair dye. Toning shampoos work very gradually over a period of time. They are much more gentle on the hair, whereas professional toners that are done at the salon, or sometimes at home, are much harsher.
Though it's commonly believed that only blondes can use a toner, other colors can benefit from it. It's important to get the right toning shampoo for your specific hair color. For blondes and grays, a purple shampoo works well at preventing yellow tones. Brunettes can use a blue shampoo to banish orange tones and keep brassiness away (via L'oreal).
Your bleached hair needs to be toned regularly but not too often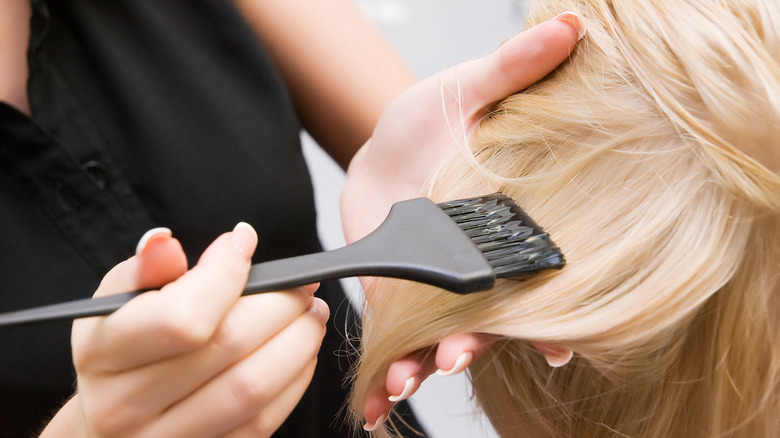 Lena Ivanova/Shutterstock
Using toning chemicals isn't easy, so if you aren't experienced, it's better to stick with getting a professional toner at the salon. Chemical toners should be applied every 6-8 weeks, depending on your hair texture and the health of your hair (via Restorbio). However, if your hair is dry, aim for 7-8 weeks. Even with hair in tip-top shape, it should never be toned less than every four weeks.
You can use purple shampoo in between professional toning treatments but ask your colorist about how often would be best for your type of hair.
"Purple shampoo can actually change the color of your blonde if you use it too often or too soon after your color session since the hair will be especially porous and absorbent," celebrity colorist Tabitha Dueñas tells Byrdie. "If you only wash your hair a couple of times a week, I recommend waiting two weeks before incorporating a purple shampoo to preserve your tone. Then only use it every few washes."