The Blush Technique Uma Thurman Taught A Professional Makeup Artist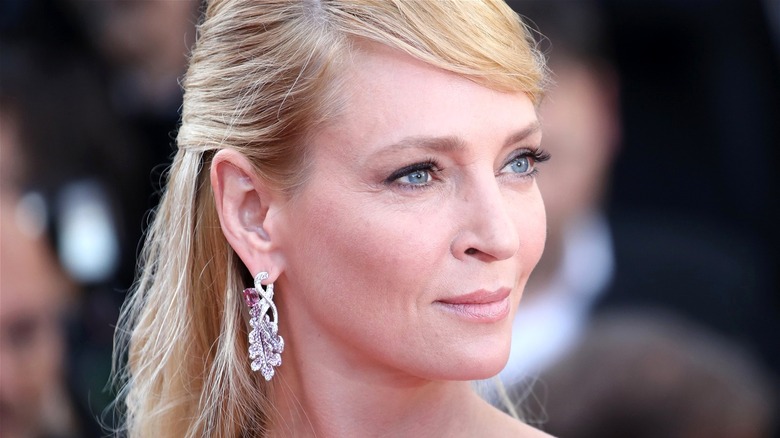 Chris Jackson/Getty Images
Applying blush is engaging in a delicate balancing act: Too little, and the rosiness you're going for looks faded, but too much, and your cheeks could look like actual apples (or tomatoes, if you prefer. You get the idea.) But even more than the pigmentation of the blush, the placement of it on your face can make a huge difference, too. There is a way to apply blush according to your face shape, should you want to get technical, or you could apply your blush based on pure vibes — what feels good and what looks good to you. 
But there is also a secret, third option that we are breaking down for you right here, right now: You could apply your blush like Uma Thurman. 
Now, you might think to yourself, why would I want to apply my blush like Uma Thurman? First of all, why not apply your blush like Uma Thurman — have you seen her cheekbones? Second of all, it's a technique that could be flattering on just about anybody. And third of all, she was indisputably iconic as Mia Wallace in "Pulp Fiction," whose makeup women everywhere have tried to emulate; we even found the exact lip color Uma Thurman wore in "Pulp Fiction." If this blush technique is good enough for Uma Thurman and her makeup artist, we think it could be worth trying. 
Apply high on the cheekbones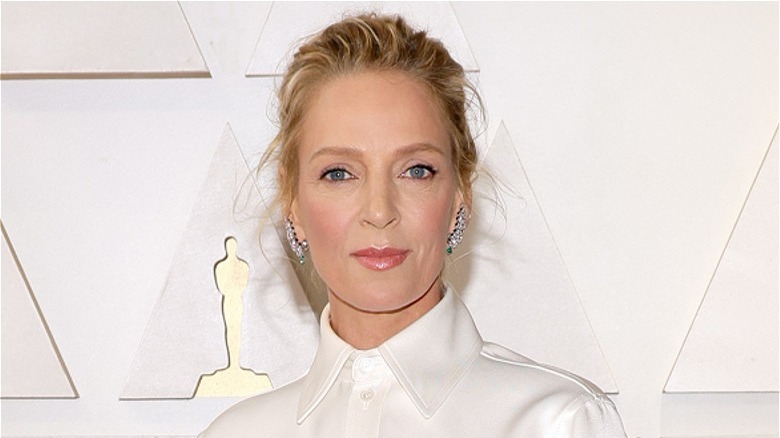 Mike Coppola/Getty Images
Makeup artist Benjamin Puckey was the blessed individual and makeup artist with whom Uma Thurman shared her technique, per Byrdie. He has worked with her on several occasions; he did her makeup for the Oscars in 2022, shared in an Instagram post, and also for her cover and spread in The Edit magazine in 2014, per Models.com. Thurman was first a model before establishing her career as an actress. She was nominated for a Golden Globe three times for her performances in 2004 for "Kill Bill Vol. 1," 2005 for "Kill Bill Vol. 2," and 1995 for "Pulp Fiction," before winning one in 2003 for her performance in the limited series "Hysterical Blindness," per The Golden Globes. As such, she is no stranger to makeup fit for the camera, even teaching her makeup artists a thing or two. 
"I learned this technique from Uma Thurman," Puckey told Byrdie. "Apply blush higher on the cheekbones to shape and optically lift your face." While Thurman's famous cheekbones might not be an illusion, they could definitely be enhanced by this makeup technique. 
And it seems that Thurman's advice has caught on. Speaking with The Zoe Report, makeup artist Camara Aunique describes that blush "just gives some type of dimension to the skin and face." In contrast, makeup artist Neil Scibelli affirms that it can "compliment the contours of the face by accentuating the cheekbones and the structures around them."
How to achieve the Uma Thurman technique
Here is how to achieve the Uma Thurman blush technique. Demonstrated by beauty Youtuber Alexandra Anele in her video tutorial, placing blush higher on your cheekbones instead of the center, or "apples," of your cheeks can significantly lift the appearance of your face (via PureWow). After locating your cheekbones by feeling around your face for the high point of your cheeks, place the blush there, then stipple it toward your temples. This focuses the pigment on a higher point of your face, rather than lower, which opens up the face and draws the attention upward. "It kind of creates this halo glow, as if there's a pretty color coming from the side," Anele says. 
And while there are some differences between cream and powder blush, this technique can work regardless of product type. You might prefer cream blush for its glowing, hydrating effect, or you might prefer powder blush for its more subtle enhancement. We have found a few incredible cream blushes you can pick up at the drugstore should you feel inspired to try something different. Just make sure you have a shot of adrenaline on hand, you know, in case your heart stops when you look at your beautiful face in the mirror, not because you went a little wild after having a $5 milkshake at a diner or anything!