Lisa Marie Presley's Exes Are Absolutely Devastated Over Her Tragic Death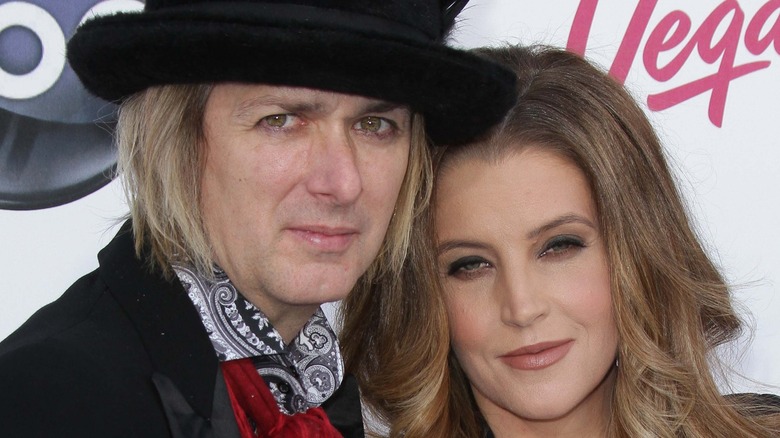 s_bukley/Shutterstock
The sudden, heartbreaking death of Lisa Marie Presley has stunned fans, family, and friends around the world. Presley, a singer-songwriter and only child of iconic singer Elvis Presley, died in the hospital after experiencing cardiac arrest at home, reported TMZ. Presley was living with her ex-husband, Danny Keough, and he administered CPR until paramedics arrived.
According to the Daily Mail, Keough and Presley were married from 1988 to 1994. The couple had two children together, daughter actor Riley Keough, and son Benjamin Keough. Following their divorce, Presley had a two-year marriage to pop legend Michael Jackson, before marrying two more times (via Metro).
All three of Presley's surviving ex-husbands had maintained a connection after their marriages ended. Keough and Presley enjoyed a lasting friendship, with Presley telling Rolling Stone in 2003, "He's my absolute best friend in the world," per The U.S. Sun. Five years later, she told the Star Tribune, (via Daily Mail) "There [are] others that I have pain or betrayal associated with that I won't have anything to do with. But he and I had a special thing. Unconditional." While Keough has not made a statement following Presley's death, her two other surviving exes have shared their feelings about the tragedy.
Ex-husband Nicolas Cage remembers Lisa Marie's laugh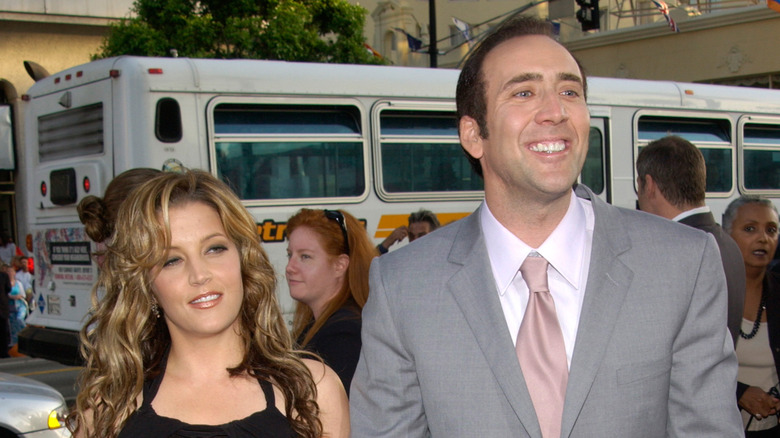 Featureflash Photo Agency/Shutterstock
According to People, actor Nicolas Cage was introduced to Lisa Marie Presley in 2000, and the couple married in August 2002. Their marriage was brief — after three months they began divorce proceedings.
In an interview with Barbara Walters in 2003, Cage described himself as "thunderstruck" the first moment he saw Presley. However, despite the symmetry of their backgrounds and personalities, Cage noted, "Sometimes you can have a hard time meshing." After numerous splits and reconciliations, the marriage ended. "I miss her every day," Cage told Walters, noting that he and Presley remained friends.
Now speaking out after Presley's death, Cage told The Hollywood Reporter, "This is devastating news. Lisa had the greatest laugh of anyone I ever met. She lit up every room, and I am heartbroken. I find some solace believing she is reunited with her son Benjamin."
Benjamin Keough was the second child of Presley and her first husband, Danny Keough. In 2020, Benjamin died of a self-inflicted gunshot wound, per BBC. Presley had a close relationship with her only son. In August 2022, she wrote about her grief for her son who she referred to as, "the sweetest and most incredible being that I have ever had the privilege of knowing, who made me feel so honored every single day to be his mother."
If you or anyone you know is having suicidal thoughts, please call the National Suicide Prevention Lifeline​ at​ 1-800-273-TALK (8255)​.
Michael Lockwood is focused on caring for their twin daughters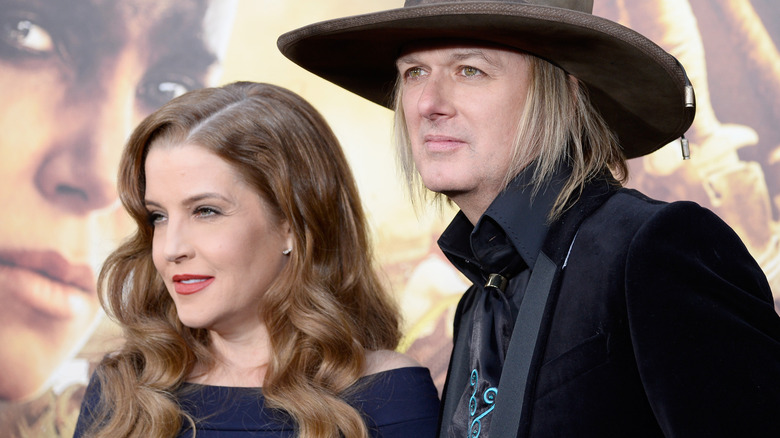 Frazer Harrison/Getty Images
Guitarist Michael Lockwood became Lisa Marie Presley's fourth husband when the couple married in 2006. The marriage lasted a decade and they had twin daughters, Harper and Finley, in 2008 (via Us Weekly). As reported by the Daily Mail, Presley and Lockwood had agreed split custody of their children 50/50. However, even after their divorce was finalized, there were still contentious details, such as Lockwood seeking $40,000 in monthly child support payments, rather than the $4,600 he was currently receiving. 
At the time of Presley's sudden health concern, parenting responsibilities weighed heavily on Lockwood's mind, and he was devastated by the news of her death. "Michael had been hoping for a speedy and complete recovery because her children needed her. It is very sad it didn't turn out that way," Lockwood's attorney Joe Yanny explained, per ET. "Michael's world has been turned on its ear. He is with both of his daughters now."
When the twins were born, Presley and Lockwood developed a strategy of actively sharing in their care. "Michael takes one, I take the other, and we switch off," Presley told People in 2008. "The important thing is to give equal time to each."