Sarah Ferguson's Devastating Tribute To Lisa Marie Presley Has Fans Revisiting Their Epic Friendship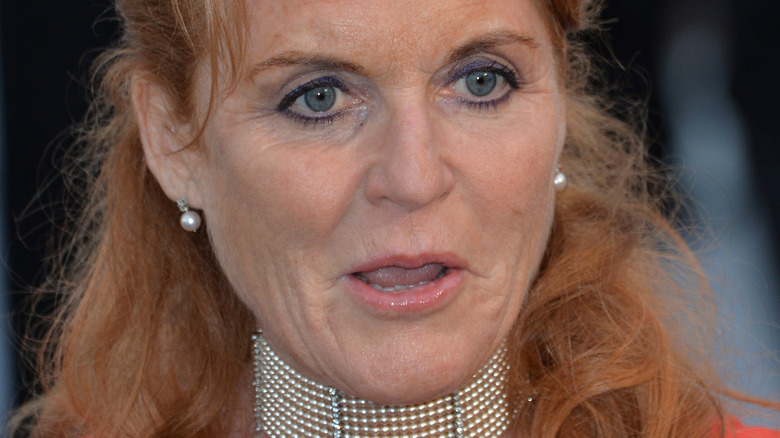 Featureflash Photo Agency/Shutterstock
Sarah Ferguson is mourning the death of Lisa Marie Presley. The only daughter of Elvis Presley and Priscilla Presley was found unresponsive in her home on January 12, according to TMZ. She was rushed to the hospital where she was placed on life support and into a medically induced coma. Reports indicated that she was in critical condition and that both her mother and her daughter, Riley Keough, were by her side. Priscilla Presley had shared a post on Instagram asking fans for prayers, but a few hours later, news broke that Lisa Marie Presley died at the age of 54. "It is with a heavy heart that I must share the devastating news that my beautiful daughter Lisa Marie has left us," Priscilla said in a statement to People, calling Lisa Marie "passionate," "strong," and "loving."
Since Lisa Marie Presley's death was confirmed, tributes have been pouring in from loved ones and fans alike. The Duchess of York has been friends with Presley for well over a decade. Ferguson posted an emotional tribute to Presley on social media, calling her "sissy" and sharing a sweet photo that the two had taken together years back. Ferguson and Presley have been through a lot together, as evidenced by Ferguson's heartfelt Instagram caption.
Sarah Ferguson and Lisa Marie Presley met in 2009
Lisa Marie Presley and Sarah Ferguson first crossed paths in 2009, according to the Daily Mail. Through the years, the two women were there for one another during the highs and lows. For example, when Presley's ex-husband Michael Jackson died later that year, the Duchess of York invited her to stay at her residence in Marbella so she could have some privacy to process and grieve, the Daily Mail reports.
The pain in Ferguson's Instagram post can easily be felt, and it is abundantly clear that Presley was someone she considered an incredibly close friend. "I say hello to you everyday and I love you my sissy and I will continue to say hello to you everyday. You were my sissy, an amazing mother to Ben, Riley, Harper and Finley and a superbly loving daughter to Priscilla. You have been my devoted friend for many years and I am here for your family to support and love them. I am deeply saddened my sissy, you are in my heart," the duchess wrote.
Dozens of social media users have filled up the comments section of the post sharing their condolences and offering their well wishes and prayers to Fergie and to the Presley family as tragedy has struck once more.
Sarah Ferguson has shown support for Lisa Marie Presley throughout their friendship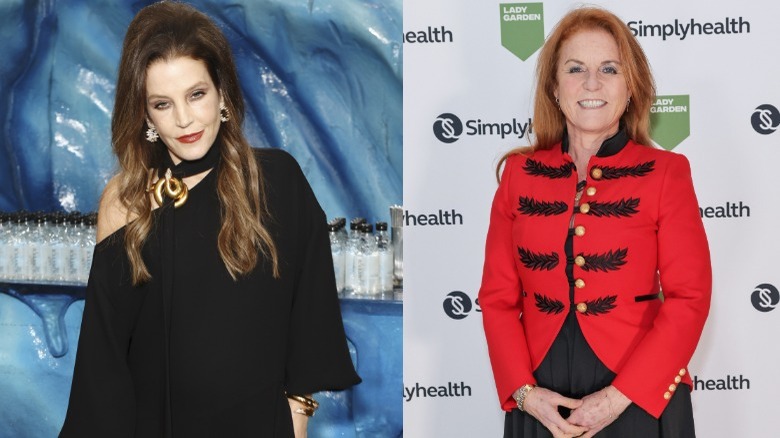 Joe Scarnici, David M. Benett/Getty Images
The Presley family has been inundated with tragedy over the past several years. From Elvis Presley's untimely death in 1977 to the tragic loss of Lisa Marie Presley's son, Benjamin Keough, in 2020, the Presley clan has experienced a lot of heartbreak and pain. Sarah Ferguson and Lisa Marie Presley weren't yet friends in the '70s, but the Duchess of York was left devastated when Keough died. According to TMZ, Keough died by suicide, leaving his mother absolutely gutted. "She is completely heartbroken, inconsolable and beyond devastated but trying to stay strong for her 11-year-old twins and her oldest daughter Riley. She adored that boy. He was the love of her life," Lisa Marie Presley's manager told TMZ at the time. 
Ferguson also felt that pain and grieved alongside her dear friend. "You stayed with me in my darkest moment & I am here in Yours. Love you my sister Lisa Marie ... wherever, whatever I am with you, in all steadfastness. Dearest Lisa Marie, Finley, Harper and Riley. You have a family here. I love you and will never stop loving my sissy," the duchess tweeted in July 2020 after learning about the death of her friend's son.
Lisa Marie Presley is survived by her three daughters: Riley Keough, Finley Lockwood, and Harper Lockwood.