What We Know About Priscilla Presley's Son, Navarone Garibaldi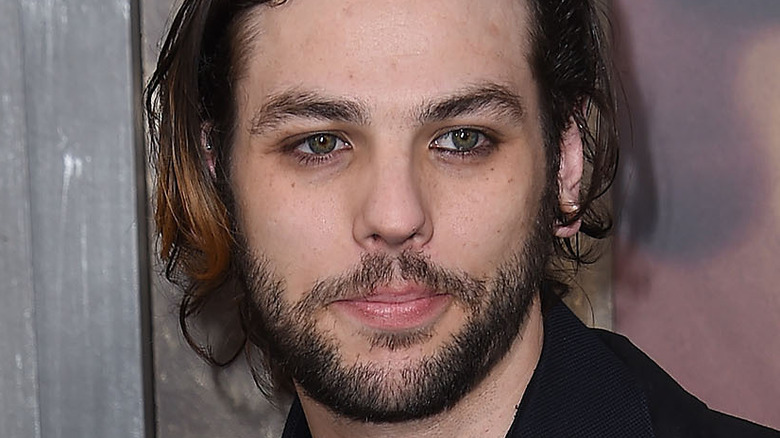 DFree/Shutterstock
The heartbreaking death of Lisa Marie Presley has devastated her family and friends alike. The only child of Elvis Presley is survived by her mother, Priscilla, three of her former husbands, and her three daughters. She also had one other family member who has opted to keep away from the celebrity circuit: her half-brother, Navarone Garibaldi. Garibaldi is Priscilla Presley's son by her long-time partner, Brazilian screenwriter Marco Antonio Garcia (also known as Marco Garibaldi, per Us Weekly). 
The half-siblings had a large age gap between them, so they grew up leading separate lives. Lisa Marie was absent from Navarone's 2022 wedding to Elsa Achilli, though Priscilla was there as the proud mother of the groom (via People). When Priscilla and Lisa Marie attended the 2023 Golden Globes to celebrate the Baz Luhrmann biopic "Elvis," Navarone wasn't there. Still, his sister's death was a shock to him as much as to the rest of the world, leaving him with grief and regrets. Shortly after the news broke, Garibaldi wrote a tribute on Instagram, which concluded, "I still can't believe this, I'm lost for words. Love you sis. Beijos ["kisses" in Portuguese]." 
Navarone and Priscilla Presley are a devoted mother and son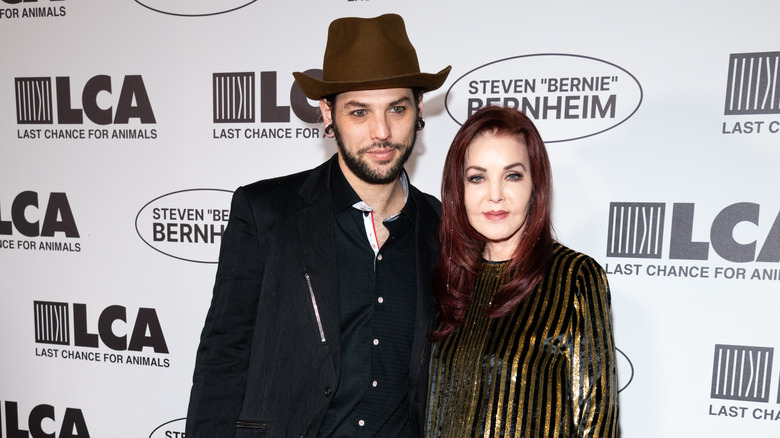 Amanda Edwards/Getty Images
Elvis and Priscilla Presley's marriage was rocky and lasted six years, but they parted on good terms and stayed connected until Elvis's tragic death in 1977. In a 2021 interview for British station ITV, Priscilla said, "We were very, very close after our divorce. There's no doubt, we were very loving." In 1984, Priscilla entered her relationship with Marco Garibaldi, and their son, Navarone, was born in 1987. 
Navarone actually made his entertainment debut before he was born; Priscilla was acting in the nighttime soap "Dallas" while pregnant with him (per The Express). Despite that auspicious start, he had no interest in being a big-name artist, and his mother was just fine with that. In an interview with The Guardian, she said: "My son Navarone is his own person. He wants to do his own thing and I'm really proud of him. He doesn't want to step into the spotlight, and he's always been that way." Still, he did pursue a music career, becoming a founding member of the rock group Them Guns in 2011. 
Around 2017, Navarone connected with his father's relatives after a cousin messaged him on social media. "[A] few weeks later I was in Brazil with my family. It was the best thing I've ever done... Brazilians have a whole different vibe," he recalled in an interview with the Brazilian talk show "La Noite" (per Instagram).
Garibaldi wrote a touching tribute to his half-sister
Navarone Garibaldi continues to remain close to his mother, Priscilla Presley, often appearing with her at charity events and movie premieres. However, he seems to have had a more distant relationship with his half-sister, Lisa Marie. She was already 19 when Navarone was born, and she married her first husband, Danny Keough, just a year later (per People). As Lisa Marie went on to raise her own four children — and cope with the tragic loss of her son, Benjamin Keough, two years ago — she and Navarone lived separate lives. He admitted in a response to an Instagram comment that "the only thing I have ever said about my sister in an interview is that we don't talk very much."
Navarone apparently regrets not having a better relationship with her, as he reflected in another post he wrote after her death. "Big sister... I hope you are now at peace and happy with your Dad and your son by your side," he wrote. "I know the past couple years weren't easy for you, and I wish things had been different between us. regardless, you are my sister and I'm sending love and prayers for your journey home." He included the photo seen here, showing the two siblings in a happier time. 
As of this writing, no details had been released about funeral arrangements for Lisa Marie. Many will be watching to see whether her half-brother will be there to say his final goodbyes.