The Telltale Sign It's Time To Retire Your Favorite Jeans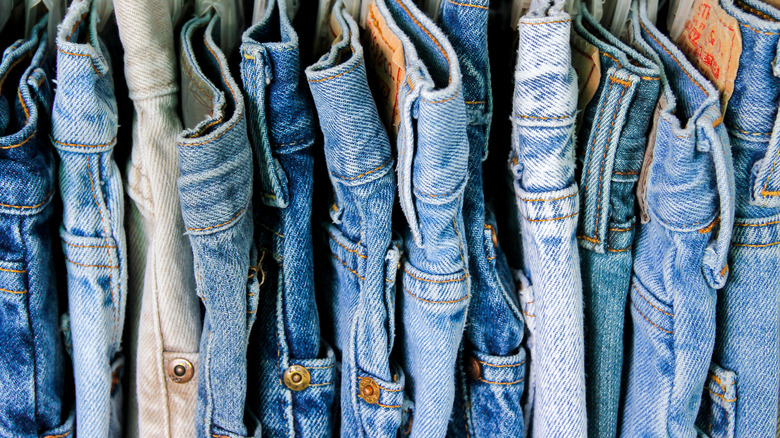 Tendo23/Getty Images
The average American owns seven pairs of jeans, according to Glamour, but most of us have that one particular pair that we'd quite literally wear to death if we could — and sometimes, we do. Whether you're a fan of trendy baggy jeans or classic mom jeans, it can be tough to accept that your go-to pair desperately need to be retired, especially if they truly do go with everything. 
Still, you don't want to jeopardize your oh-so-cool outfit with denim that has seen better days. Unlike shirts that display holes or shoes with the tongue sticking out, it can be considerably more difficult to discern when you should move on from a favorite pair of jeans. After all, jeans often come with trendy rips, tears, or baggy fits, all of which are key components of different styles.
Luckily, we know the tell-tale sign that means you need to bid a fond goodbye to your go-to pair and invest in some new ones, as well as tips on how to prolong your jeans so you can wear them that little bit longer. 
Your jeans should fit comfortably from the outset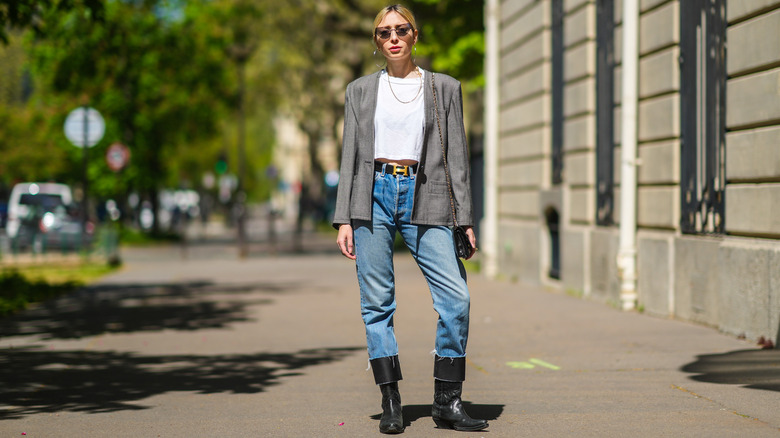 Edward Berthelot/Getty Images
When considering whether to bin your jeans, the main thing to note is the fit. Jeans can feel tighter after a big meal or when you're bloated for various reasons, but it's time for them to go if they consistently cut into you. If you're not sure how a good pair of jeans should fit, denim experts Sarah Ahmed, Beatrice Purdy, and Alexandra Waldman recommend only buying a pair that feels comfortable from the get-go rather than jeans you think you could stretch out (via PureWow). 
The finger waistband trick is also a useful way to assess if jeans fit well: For non-stretch denim, you should be able to fit two fingers into the waistband, and four fingers for stretchier styles. This covers when you feel bloated, for instance during your period, but won't feel too baggy on regular days. The same goes for jeans you love the style of but that simply don't fit right. 
Baggy jeans are trendy, but jeans that sag around the waist and the bottom area aren't flattering on anybody. You may love your jeans, but if the fit is more baby diaper than boyfriend it's time to ditch them for good. 
Prolong your favorite pair of jeans with these tips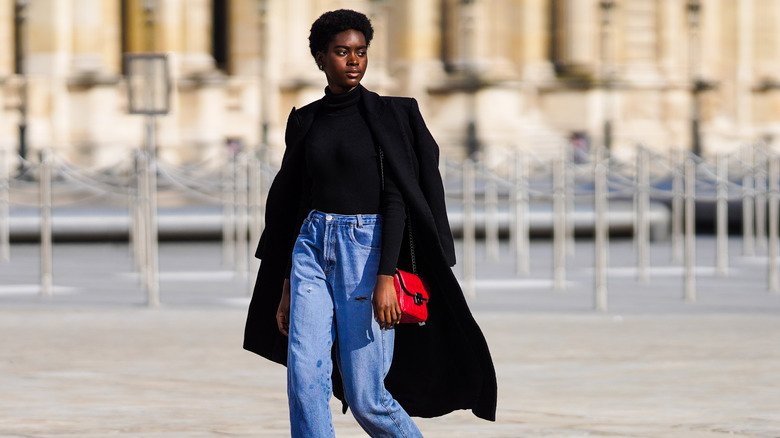 Edward Berthelot/Getty Images
Can't bear to let go of your jeans or they're not quite at the tossing-out point yet? There are several ways to prolong their lifespan so they last even longer. The first thing is washing. If you have been washing your jeans every couple of wears, that could be causing them to wear out faster. Though, obviously, you want your clothes to be clean clothing care experts Clothes Doctor clarified on Instagram that you should actually only be washing your everyday denim once a month.
When you do need to clean them, turn your jeans inside out and make sure to get them out of the washing machine as soon as the cycle ends, as Good Housekeeping warns. This will prevent fading, especially with black jeans, and will also stop awkward wrinkles from appearing in the denim. 
If your jeans are still in passable condition, why not sell or donate them? You could even make some money to buy a new pair if you sell on Poshmark or Depop. If not, recycling is always an option. There are several denim recycling programs that will make sure your jeans don't end up in a landfill — just research whether you need to remove the buttons and zips first.