Why Applying Eye Makeup Before Your Face Is The Safer Way To Put On Dramatic Makeup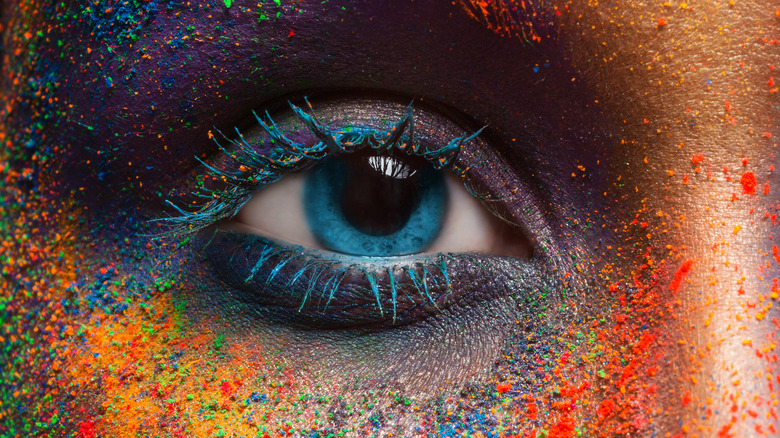 Prostock-studio/Getty Images
Eye makeup can completely transform your look depending on the liner, shadow, and mascara you use. It feels great switching things up every so often with a dramatic look for a night out or a big occasion. You may want to try out the trending invisible glitter makeup look or start using bolder, brighter colors instead of your usual neutrals. Perhaps you feel worried about making mistakes when attempting a smokey eye and have avoided dramatic eye makeup partly because of this. 
Either way, a dramatic eye look brings more than its fair share of mess. There are a few methods people swear by for creating a less messy makeup routine, like taping your eyes, but putting on your eye makeup before you start on your face properly is a major one. It may sound contradictory, but this switch-up could be what you need to take your makeup to the next level. Whether you're intrigued or confused, we've got all the info on why you should tackle your face after your eyes. 
A bold eye look can cause fallout and flaking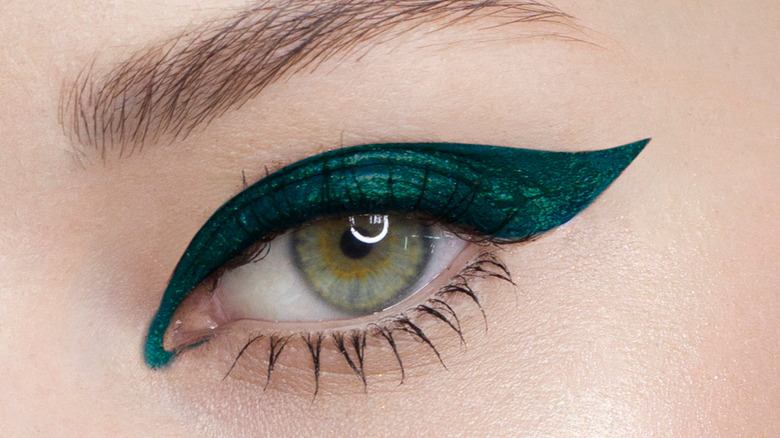 Shtennikova Evgenia/Shutterstock
Per Byrdie, applying your eye makeup before starting on the rest of your face is the best way to ensure you can clean up any mistakes without spoiling your look and having to start over. Winged eyeliner or cut-crease eyeshadow looks can be tough to get right the first time, and all the rubbing at your face is guaranteed to make your base makeup come off. By finishing your eyes first, you're saving yourself the hassle of reapplying your expensive primer, foundation, concealer, and everything else. 
Huda Kattan, a makeup artist and the owner of Huda Beauty, also recommends starting out with eye makeup first, as she advised Glamour. This way, you can clear any shadow fallout easily and without fuss (glitter eyeshadow, we're looking at you). 
If you still find yourself with smudged eyes and fallout due to the darker colors typically used for a more dramatic look, Kattan has a tip for cleaning up — simply: "Hold a tissue under your eyes as you apply your eyeshadow, and make sure to tap out your brushes once you've picked up product." 
Glitter gets everywhere and can be frustrating to remove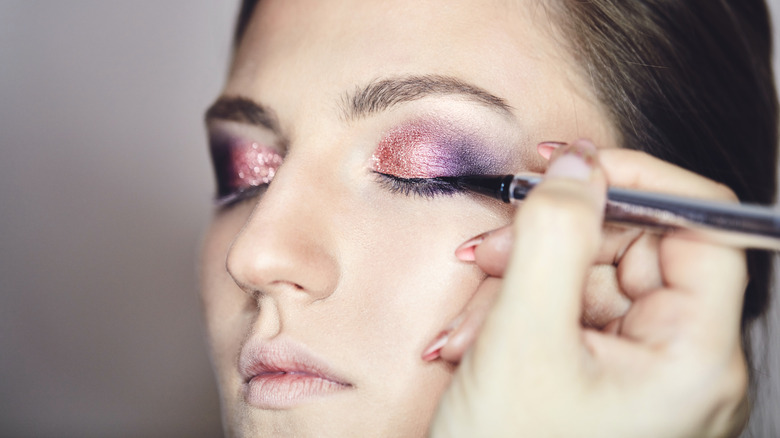 Kristinajovanovic/Getty Images
Still not convinced? Speaking to Vogue India, makeup artist Mitali Vakil gave their perspective on starting with your eyes, arguing, "If it is an eye makeup look that I know will have fallout, then I do the eyes first." Fellow makeup artist Daniel Bauer agreed, with his reasoning being, "When doing eye makeup, especially smoky eyes or very graphic eye makeup, small particles can drop and fall onto the skin. This can be a pain to remove if the foundation is already done, even more so if you are using eye glitter." 
If you have ever used glitter for arts and crafts, you'll know how bad the clean-up is, and glitter eyeshadow is no different. To get rid of it quickly and thoroughly, makeup artist Namrata Soni recommends using surgical tape to get the tiny specs off in a clean and efficient manner. Alternatively, Bauer suggests Sellotape, which will collect even the trickiest of glitter particles. 
Suffice it to say, if you're adamant about putting your face on first, using either of these products will likely ruin your base makeup — but they won't make a difference to your skin without anything on it yet. So, next time you're planning a dramatic eye makeup look, try out the above tips and see what a difference they make when you're getting ready.