Get Your Sparkle On With The Trending Invisible Glitter Makeup Look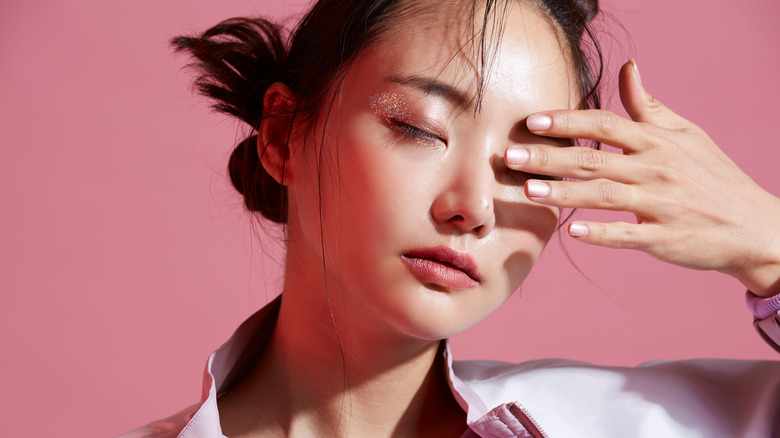 K-Angle/Shutterstock
It might be comforting to think that Y2K fashion never truly left us — the better elements of this era, like extra glitter and butterfly clips, have been in our hearts and minds all along. Though TikTok's 2023 obsession with the aughts exposes the difference between the Y2K revival and actual 2000s trends, we're here for all of the glossy and sparkly looks we can get. Whether it's the glazed lips trend or foregoing mattes in lieu of latex lips, change is afoot, and nostalgia is our guiding compass.
As is the case with many of the things we love, it's hard not to go overboard with glitter. But when you grab your new favorite shimmer, you might find yourself feeling more ready for a rave than everyday glam. Thankfully, the invisible glitter makeup look is here to help, and its flexible vibes and popular multi-purpose products can take your simplest glam choices to the next level.
The look's subtlety is its strength
Style queen Hailey Baldwin has been leading the charge with the invisible glitter look, and a recent Instagram post paired her sparkly, yet subtle, eyeshadow with a glossy latex lip. The invisible glitter trend appears to be more of a wash than a proper shadow — think of it as a nail polish with specks of sparkle rather than an opaque paint for your face's canvas. 
Byrdie's expert makeup artist Kate Synnott describes the multi-step process as most successful when it includes cream-based products, since they won't flake off throughout the day the way other glittery products might. After your chosen eyeshadow color or base is applied to the lid, applying your glitter product with the fingers is most effective, according to Synnott, who recommends Mood 4 Ever's palette to achieve an understated shine. 
One user on TikTok vouches for a glitter from NYX, demonstrating that a small dab on the lid and spreading a thin layer is all it takes to add subtle highlights below the eye and in its inner rim. Of course, makeup artistry depends on the products involved as well as your own artistic choices, so you can use the best invisible glitter strategies as a base for your own interpretation.
These products are frontrunners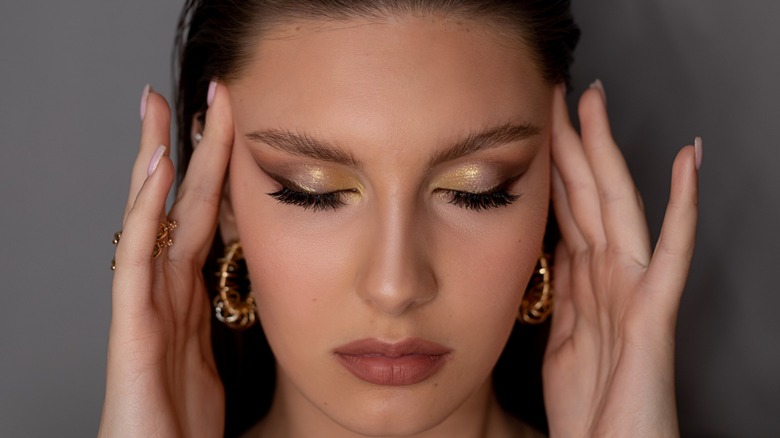 Tatsiana Volkava/Getty Images
Plenty of products are leaning into the invisible glitter trend in both their composition and range of uses. She-Glam's glitter wizard invisible jelly can leave a magical glint on the eyelids, cheekbones, and even collarbone since it's technically both face and body makeup. Elf's liquid glitter is also a multi-use winner, which the brand demonstrates on Instagram by applying the quick-dry formula seamlessly to the cheekbones, under the eyebrows, and the inner eyes. 
A dab of lustrous liquid eyeshadow from R.E.M. Beauty can give your glam a spacey vibe, and you can choose among shiny metallics, colors, or shades that match your skin tone more closely to achieve your subtle sparkle. Getting creative with Rare Beauty's liquid luminizer highlight could also give you the glow you seek while layering well with other face products, as long as you use it sparingly and toward the end of your beauty routine.
Finding your perfect light-catching look might also include other glitter gels or even loose glitters, as long as you decide how much or how little you'll need to complete your look. And though visibility levels may vary, it's clear that glitter is back and better than ever.