Why You Should Use The Tape Method When Applying Eyeliner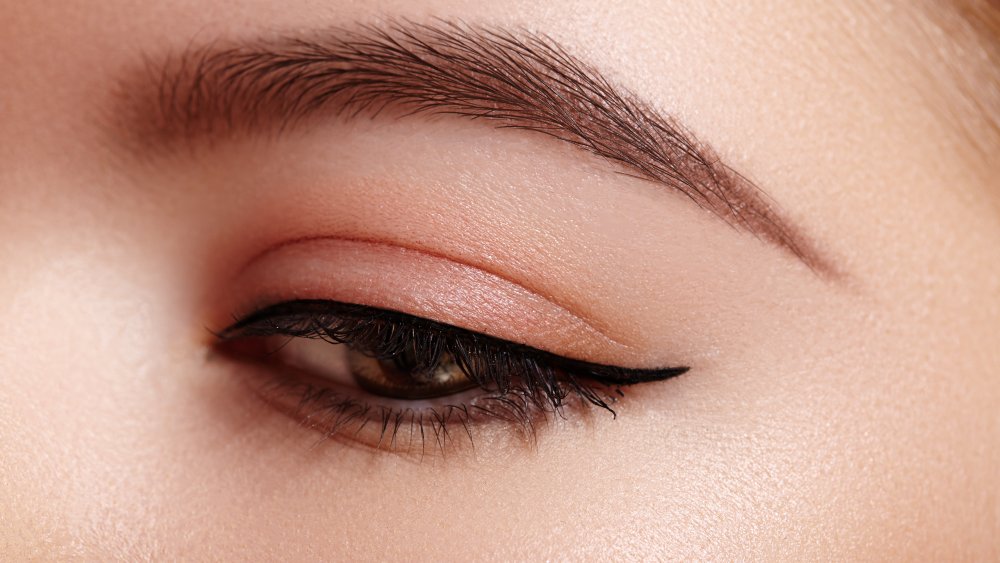 Shutterstock
Applying the perfect coat of eyeliner, especially for a cat eye look takes not only artistic ability and a steady hand but the flexibility of a Cirque Du Soleil contortionist. Even if you get one eye looking good, the other one always ends up a disaster. The problem is, skipping liner isn't really an option, because as professional makeup artist, Jenna Treat, explained to Get The Gloss, "What the perfect frame does for a picture, the right liner can do for the eye. It can make a small eye appear bigger, a narrow eye wider and can add smoke where a little smoulder is required."
According to influencer and makeup tip guru, Jennifer Chiu, the liner and shadow look of your dreams isn't actually all that hard to achieve if you stop trying to freehand it and use a little piece of Scotch Tape as a stencil. She details exactly how to do it on her YouTube channel, and with over 860,000 subscribers and over 1.1 million views on her tape method tutorial, she clearly knows what she's doing!
The tape method creates crisp lines and symmetry for your eyeshadow and liner
In the simplest terms, the tape method allows you to wobble, smudge, and smear with impunity and still create a perfect, mess-free, winged liner look. If you've ever painted a room and used painter's tape for a perfect edge, it's the exact same concept. The first step is simple enough — get some tape. The tape you use for wrapping presents is perfectly fine, but according to Bustle, if you've got medical tape, use it to guarantee no skin irritation. Regardless of the type of tape you use, the beauty editors at Elle recommend sticking it to the back of your hand before placing it on your delicate eye area to make the tape less adhesive and easier to remove.
Once your tape is ready, Chiu demonstrates holding the piece parallel to your eyebrow and then placing it directly under your lower lashes so it's angled towards your temple. Next, apply your base shadow color and then a second richer tone in the corners of your eye for some subtle smokey depth. Using either a black or dark brown shadow, brush on the outline of your eyeshadow wing and as Chiu explains, "You can totally go over the Scotch Tape; that's what it's there for!"
Next, take your liquid or gel liner and go over the outline using the tape as your "safety zone" as Chiu calls it. Then follow the lash line to the inner eye as you normally would. Finally, hold your skin taut by the temple and pull off the tape in the direction of the wing, and you're runway ready!