Why Brown Eyeliner Is A Must On Natural Makeup Days
There are so many different beauty looks out there, but natural makeup is typically one of the most highly desired. Applying makeup with subtle shades helps enhance your natural features. After all, makeup should give a boost to your face, not change the way it looks entirely — though there are, obviously, exceptions. If you're going to a club, party, concert, or another late-night event, you can generally go darker, brighter, and bolder.
However, when aiming for a casual, everyday look, natural, barely-there makeup is still your best bet. Legendary makeup artist Bobbi Brown recommends using a soft brown eyeshadow, tinted moisturizer, and faint blush only, and to make sure your eyebrows are filled in too (via Masterclass). Eyeliner is also vital. But, instead of lining the whole eyelid as normal, you can opt to create a slightly angled look instead. 
"Use a cream eyeliner and a thin eyeliner brush and create a V shape from the corner of your eye to just above your socket line," makeup artist Amy Barrington advised Byrdie. No matter which shape you prefer, one of the best colors for more natural-looking eyeliner is brown. Here's how to adapt it to your everyday routine. 
Why brown is so good for a natural look anytime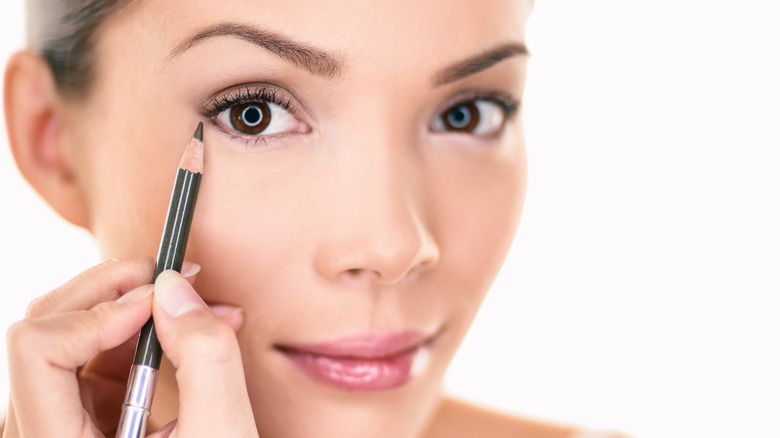 Maridav/Shutterstock
Generally speaking, any brown eyeliner gives off a softer and more mellow look than black, according to All Day Chic. Black is dramatic and can look a bit harsh, especially in the daytime. On the other hand, brown is classy, neat, and more subdued. Further, brown also looks great on any skin tone and works well for any eye color, too. 
Eyeliner is meant to enhance your eyes. You want people to see their beauty first, not eyeliner coming at them from a mile away. Though brown is naturally understated, it's this subtlety that makes it so captivating. Brown eyeliner looks great when paired with a light brown matte eyeshadow, but you can also add a brush or two of shimmery light brown to make it really pop. 
Despite the common notion that only black eyeliner outlines the eyes perfectly, you can still give them a good deal of definition using brown eyeliner (via Maybelline). 
Other benefits of wearing brown eyeliner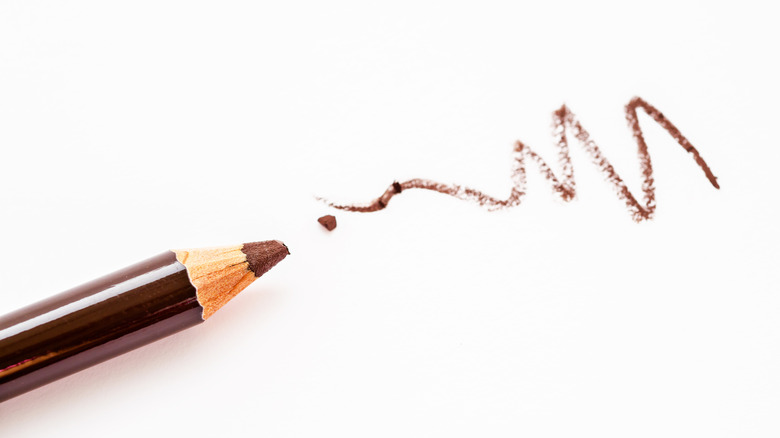 Gam1983/Getty Images
Another major benefit of brown eyeliner is that it can open up your eyes and make them actually appear bigger, as L'Oréal Paris points out. On the other hand, black eyeliner can make eyes seem smaller than they really are, which is one of the top eyeliner mistakes. Brown eyeliner can also help contour the eyes and make the whites appear brighter as well, especially if you add a little white liner to your waterline. 
According to Bondi Beauty, brown eyeliner not only creates a subtle yet defined look but it can also help elongate the eyelashes. For a natural look, you can pair clear mascara or match the liner with a similar brown selection. An added advantage of brown eyeliner is that it softens the eyes as you age. 
"Sometimes black eyeliner can be very harsh on mature eyes and draw attention to dark circles and lines around the eye, " Iris Smit, the founder and CEO of iconic eyeliner brand The Quick Flick, warns (via Better Homes & Gardens). "Experiment with color for a softer look that compliments your eye or hair color." A complimentary shade of brown can provide a powerfully youthful glow while also accentuating your eye color.