Royal Family Reportedly Planning Peace Summit With Prince Harry Ahead Of King Charles Coronation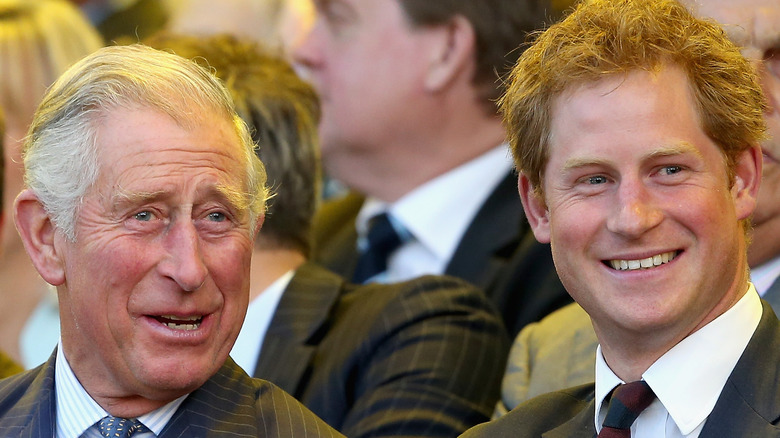 Chris Jackson/Getty Images
Recently, Prince Harry confirmed that rumors about a potential reconciliation with King Charles and Prince William were true, in the wake of their ongoing family rift, but many fans found it difficult to believe. Between the premiere of his and his wife, Meghan Markle's, tell-all Netflix docuseries, and the release of Harry's no-holds-barred memoir, "Spare," the Duke of Sussex hasn't held back when it comes to telling the world how he feels about his family. 
Consequently, it's safe to assume that the notoriously media-focused group is reeling over the bad press. From accusations about William physically attacking Harry to anecdotes about Kate Middleton allegedly giving Meghan a less-than-warm welcome to royal life, there are plenty of things for the senior members of The Firm to be unhappy about (via TIME). In particular, one royal writer speculated that King Charles III is livid over Harry's nicknames for royal aides. 
While the newly-crowned monarch has remained tight-lipped about the allegations leveled against him and his family, many believe that they are fuming. In spite of all the bad blood brewing, it seems that a regal reconciliation may just be coming down the pipeline. Yet, while we can hope that impending rapprochement means one big happy royal family is forthcoming, there's likely some less-than-genuine reasoning behind the potential peace agreement. 
There's a reason for the planned royal reconciliation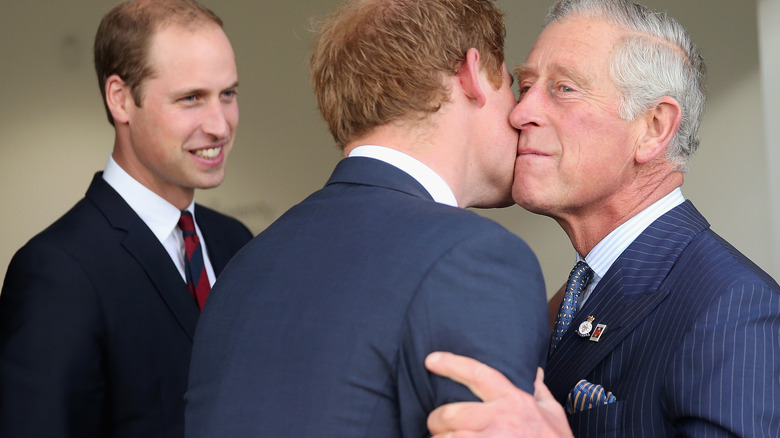 Chris Jackson/Getty Images
According to NBC News, during his recent interview with long-time friend Tom Bradby, the Duke of Sussex claimed that his family has "shown absolutely no willingness to reconcile." That may be about to change, however, thanks to a looming deadline. King Charles III's coronation is due to take place on May 6. The Times reports that a source close to the royal family has revealed that the months leading up to the historic event will likely bring a reconciliation. 
The source explained, "We've got to move on it, and get it done by April. Then, we need to get the wives in. The king needs a clear run for the coronation." They added, "It's going to take flexibility on all sides, but it can be done, it's fixable." At the same time, the insider also warned, "Both sides need to hold their hands up and admit we didn't get everything right, and we got a lot wrong, and we have to say to him 'we understand the pain you've been through.'" 
This will certainly be a difficult task amidst this historic family feud — especially for Prince William, who is reportedly raging over his brother's accusations. Although the insider acknowledged wrongdoing on both sides, they argued that Prince Harry must also take accountability for his actions if he wants to move forward. Finding common ground may ultimately prove too difficult for people whose "family motto is 'never complain, never explain,'" though.