The Royal Wedding That Ended Harry And William's Relationship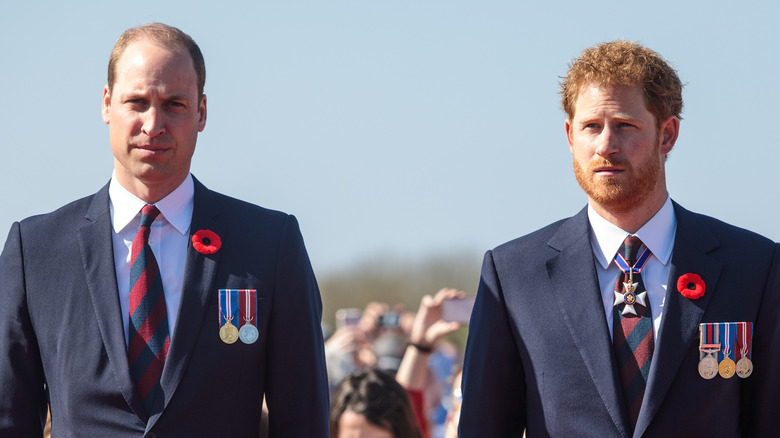 Jack Taylor/Getty Images
Prince William and Prince Harry's tumultuous relationship has been a perennial topic in the news as the royal rift between the brothers shows no signs of being resolved. Harry's memoir, "Spare," has laid out even more details of the conflict, including a physical fight where William, the Prince of Wales, knocked down his younger brother.
In the memoir, Harry refers to William as his "beloved brother and archnemesis," emphasizing the extreme dichotomy of love and conflict in their relationship, per Vanity Fair. In an appearance on "Good Morning America," Harry explained this word choice. "There has always been this competition between us, weirdly. I think it plays into this heir-spare," he said.
Judi James, a body language expert, noted this competitiveness between the brothers in a 2009 interview clip. "William sounded like the parent who uses jokes that sound playful but which can diminish their child in the eyes of their peers," she told Express. "And with the existing royal status imbalance tilting in William's favor, his more parental tone here, even praising his brother might inwardly rankle at a moment when Harry might be feeling he has achieved the role of equal."
These tensions only escalated over the years as William and Harry grew older and had different life experiences. Now, as Harry, the Duke of Sussex, has revealed in "Spare," there was one particular royal wedding that caused a break in the brothers' bond.
Prince William and Kate Middleton's wedding changed the brothers' relationship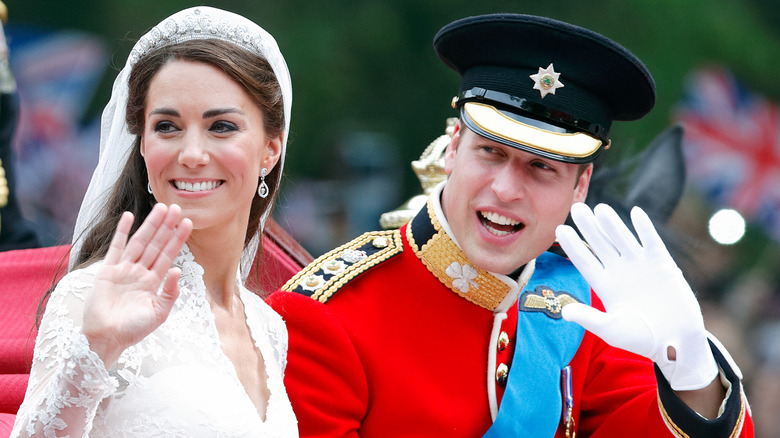 Max Mumby/indigo/Getty Images
In "Spare," Prince Harry wrote of his conflicting feelings during the 2011 wedding of Prince William and Princess Catherine, the Prince and Princess of Wales. On one hand, Harry wrote of his affection for Kate, calling her "the sister I'd never had and always wanted, and I was pleased that she'd be standing by Willy's side forever," per Insider. "They made each other visibly happy, and therefore I was happy too."
On the flip side, Harry also experienced darker emotions during the ceremony, per Us Weekly: "The brother I'd escorted into Westminster Abbey that morning was gone — forever. Who could deny it?" However, rather than blaming Kate, Harry accuses "life" itself of severing their sibling connection.
As the ceremony ended, the Duke of Sussex felt left behind. "As they disappeared through the door, into the carriage that would convey them to Buckingham Palace, into the eternal partnership they'd pledged, I recall thinking: Goodbye," he wrote.
It was a life-changing experience, and, indeed, William wasn't the same after marrying Kate. In 2013, after Prince George was born, the brothers lived very close to each other, and Harry was eager to embrace his role as an uncle. "I assumed they'd have me over any minute now, any day. But day after day it didn't happen," he wrote, per Independent. While he appreciated they were busy new parents, he felt like an outsider and possibly a third wheel.
Harry says he wasn't the best man at the wedding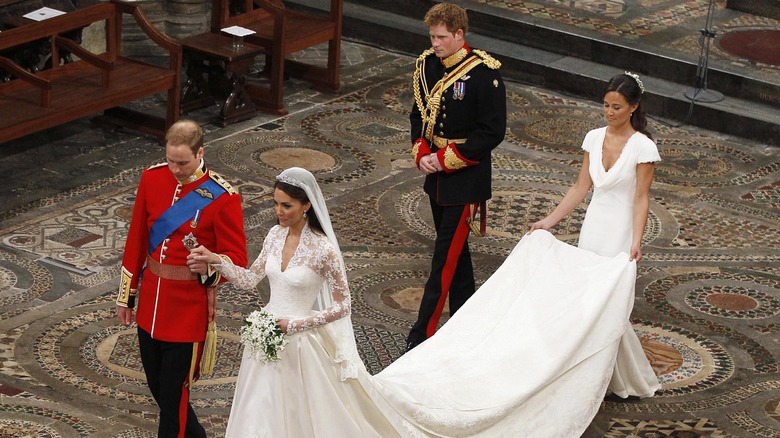 Wpa Pool/Getty Images
Prince Harry, Duke of Sussex, is setting the record straight about his role in Prince William and Kate Middleton's wedding. In his memoir, "Spare," he noted that, although he was officially deemed best man, this wasn't his actual role. "The public had been told that I was to be best man, but that was a bare-faced lie," he wrote, per Hello! 
William was concerned about Harry giving a best-man speech, he wrote. "He didn't think it safe to hand me a live mic and put me in a position to go off script. I might say something wildly inappropriate." Instead, James Meade and Thomas van Straubenzee, two friends of William, jointly served as best man. Harry claims that the palace kept this detail quiet to prevent the media from intruding on their privacy.
However, one guest at William and Kate's wedding is convinced that Harry was truly best man, despite the book's assertions. "The speech was a three-way. Harry MC'd it. James and Thomas spoke, with Harry bringing them in, doing the banter," the source told The U.S. Sun. Despite William's concerns about Harry's speech, this guest believes his remarks were comedic gold. "Harry was the funniest of the three. He had the guests in stitches." 
A 2011 Daily Mail article also praised Harry's reception speech, including his references to William as "dude" and a comedic impression of William and Kate talking on the phone.