What Happened To Leanna Love On The Young And The Restless?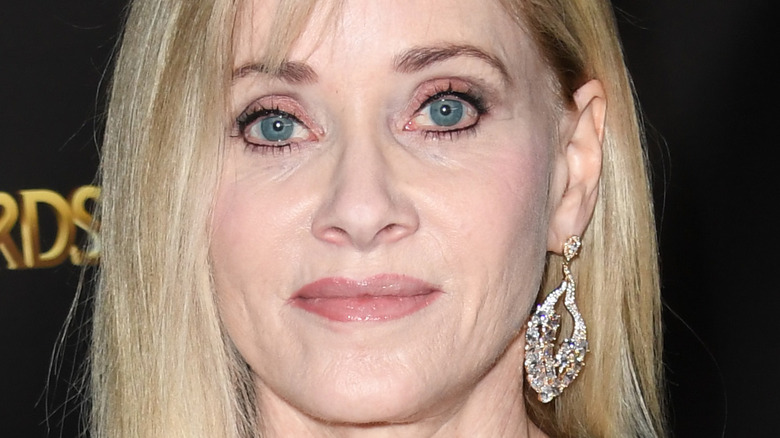 Albert L. Ortega/Getty Images
Some might know actor Barbara Crampton as a beloved Scream Queen for her appearances in horror films such as "Chopping Mall," "Re-Animator," and "You're Next," but others will always remember her as the one and only Leanna Love on "The Young and the Restless." Crampton actually got her start in soap operas, first appearing on "Days of Our Lives" as Trista Bradford in 1983 before jumping to the role of Mindy Lewis on "Guiding Light" (per IMDb). However, it wasn't until she portrayed the conniving Leanna on "The Young and the Restless" that Crampton left her mark on daytime television. For years, Leanna proved to be a thorn in the side of many Genoa City residents, including Ashley Abbott. 
Crampton told The Daily Grindhouse she loved playing the character, whom she described as a "very colorful, psychotic, almost borderline schizophrenic woman." She added, "When it first started, that role was only supposed to be for three months. Then they cast me in it, and after two months they said, 'You know, it's kind of working. We'd like to keep your character for another year.' So I said OK and I worked on it for a year. Then they said, 'You know, it's really working. We want to hire you on for another three years.' I did it for another three years, and then I did it for another two or three years after that. She had a good long run for somebody who wasn't married and in a family on a soap opera."
Leanna Love wrecked havoc in Genoa City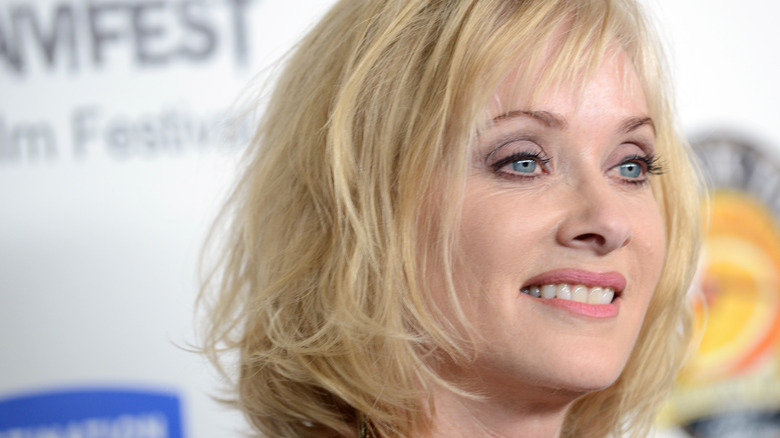 Albert L. Ortega/Getty Images
Leanna Love first appeared on "The Young and the Restless" in 1987 as Leanna Randolph, a former patient of psychiatrist Steven Lassiter, according to Soap Central. Stephen was treating Ashley Abbott for amnesia after she ran away to New York. Ashley, who'd had an abortion after her lover Victor Newman left her for his ex-wife Nikki Newman, then fell in love with her doctor. However, Leanna believed she belonged with Stephen — which led her to attempt to murder Ashley on numerous occasions. After Ashley and Stephen married, Leanna followed them to Genoa City and fell into a relationship with Ashley's brother, Jack Abbott — losing all interest in Stephen. 
Jack conspired with Leanna for her to write a tell-all book about Victor using the pseudonym of Nora Randall. However, at the same time, Victor also hired Leanna to write his biography, allowing the two to become close. Jack was furious when Leanna included a chapter about Victor's affair with Ashley, and Victor was equally upset and assumed his ex-wife Nikki was behind it all. Unaware that Leanna was Nora Randall, Victor eloped with Leanna to Las Vegas to get revenge on Nikki. Eventually Victor learned that Jack and Leanna had been lovers and were behind the tell-all book, and he divorced her. By that point, Leanna had become an advice columnist under the name Leanna Love, which earned her a talk show called "The Leanna Love Show."
Leanna tried to ruin Ashley's life again
After her failed relationship with Victor, Leanna launched a man-hating campaign, which she quickly abandoned when she met Rex Sterling. Soon after, she pursued John Abbott, but her television show was a national hit. Leanna first disappeared from Genoa City in 1993, but she has returned on multiple occasions to cause trouble for her former lovers and rivals. In the early 2000s, she returned to coax Victor's ex-wife Diana Jenkins into appearing for a tell-all session on her show, which prompted Victor to purchase the company that owned "The Leanna Love Show" and cancel it. 
Although Leanna disappeared for years, she did return in 2006 to torment Ashley again. As a journalist, she came back to Genoa City to interview Ashley, who was accused of killing Tom Fisher. Leanna lied about her intentions to gain Ashley's trust and then wrote a story that made Ashley look guilty even though Ashley was innocent. Since then, Leanna has only returned once more, to report on the death of Carmen Mesta. 
Barbara Crampton said she would be happy to return to the show again if asked, explaining to The Daily Grindhouse, "She's still around, actually. Maybe as few as three years ago, I popped in for a day or two, here and there. So, every once in awhile, she comes back. She's just not part of the regular landscape anymore. Who knows? I could be back on there."