Everything You Need To Know About TikTok's 'Everything Showers'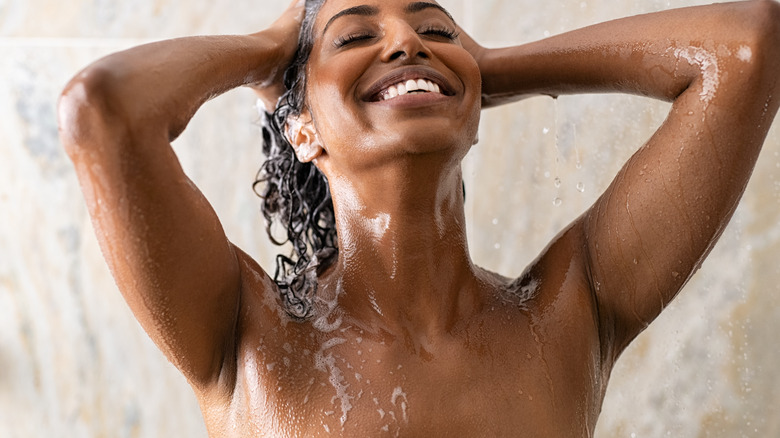 Ground Picture/Shutterstock
These days, if you are looking for the latest trends, you're going to want to make sure you're on TikTok. According to Iconosquare, while the social media platform is where you'll find a lot of dancing, it's also where you'll find the latest trends. Through branded hashtags and the use of influencers, brands have successfully used the app to promote their products without them seeming obvious. But beyond brand exposure, simple things like hairstyles, fashion trends, and even hygiene routines have become popular from the app.
The latest viral trend is what TikTokers have called "everything showers." This hashtag alone has over 30 million views, proving that people everywhere are interested in this type of shower. But what is it, exactly? At its core, an everything shower is simply a shower where you use all of your products. This could mean something different for everyone; whether it involves shaving, exfoliating, or deep conditioning your hair. But if you are interested in partaking in the viral "everything shower," here's what you need to know.
What is the 'everything shower?'
#ShowerTok is very much a thing and while we are used to seeing fashion and beauty influencers, this new generation of videos is unveiling the hygiene influencer. Before the hashtag became a trend, a shower was simply a daily task we had to do, like brushing our teeth, and there was no glitz or glamor about it. But with influencers posting videos of their long, luxurious shower routines — and the results that follow (you smell good all day) — people are changing their idea of what a shower actually is.
Scientists have already discovered the "right" way to take a shower and the "everything shower" closely mirrors that. The "everything shower" is something you should plan to do about once a week or so and during that shower, you should set aside a good chunk of time to do, well, everything (per Mind Body Green). One user recommends always starting with your hair, using a hydrating shampoo followed by a conditioner that you leave in while the rest of your shower is completed. Another user takes her "everything shower" a step further by setting the mood with a candle and her music of choice. She then washes her hair, does a hair mask, exfoliates, and shaves. Your "everything shower" is what you make of it, but there are certain products that can make it just a bit more luxurious.
Products to use to enhance your everything shower
Ready to take your shower to the next level? While you can use products you already own and use, in order to truly embrace the trend, there are some suggested products you may want to add to your routine. Yahoo! proposes adding dry brushing to your routine to brush away dead skin cells and leave that glowing, fresh look we all crave. A great dry brush to use is the Sisal Nordic Dry Brush. If you'd prefer to use an exfoliating cream, Mind Body Green recommends the Madagascar Soothing Vanilla Body Scrub, which not only cleans the skin but restores its natural shine.
They also say you might want to consider skipping your regular conditioner during this shower and instead opting for a hair mask. If you don't want to skip the conditioning, use the hair mask between your shampoo and your conditioner for the best results. Yahoo! speaks highly of the Ceremonia Mascarilla de Babassu Hydrating Hair Mask, which is great for all hair types. To complete your "everything shower" add a hydrating moisturizer that works best with damp skin, like the JLo Beauty Smooth + Seduce™ Contouring Body Cream with Caffeine, which firms and hydrates all in one application. So the next time you go to take a shower, level up a bit with some new products such as a nice-smelling candle, and finish it off with a fluffy robe — you'll feel good as new.