Tips To Make Experimenting With Colorful Makeup A Breeze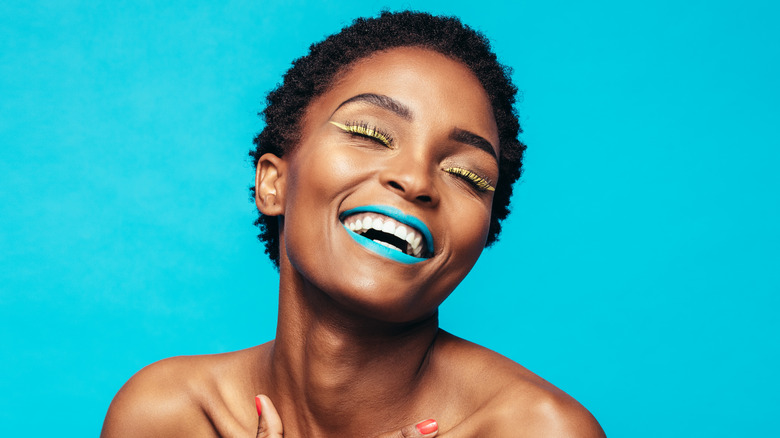 Jacoblund/Getty Images
Experimenting with makeup is one thing, but experimenting with colorful makeup is an entirely different ball game. It can be rather intimidating to try dipping your toes into the water of wearing newer, more unique makeup looks. 
Colorful makeup can suit anyone, but you need to make sure you're applying the right amount in the right places. You also want to know what colors look best on you. Everyone is different, which is why different shades of every color exist.
At the end of the day, all that matters is that you feel beautiful and confident in whatever you decide to put on your face. Below are some tips that make experimenting with colorful makeup, whether it's your first time or not, so much easier. Grab your makeup brushes, and let's get to adding a gorgeous pop of color to that face!
Try on before you buy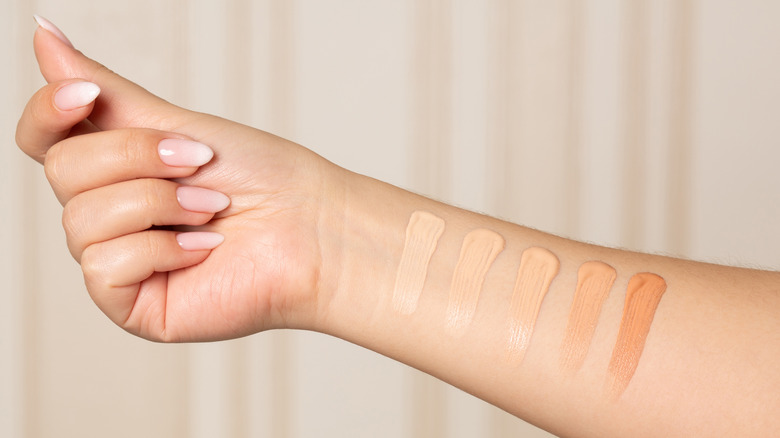 Viktoriya Pavliuk/Shutterstock
It's one of the most important things to do no matter what you're buying. Test the product. It seems so obvious, but, sometimes, it just needs to be said. Whether it be clothes, shoes, makeup, or something else, trying products is extremely important. The pandemic made this a bit more difficult, but most beauty stores are back to normal in terms of letting you try different shades and colors of makeup on yourself.
People might not think of trying different colors of eyeshadow or lipstick in a store as they're usually more drawn to trying shades of foundation to ensure the perfect match. And, although this is smart, it's important to try on different products as well. Imagine if you bought a new green eyeshadow just to go home and realize it makes your complexion look terrible.
Everyone has different skin tones and preferences, so take advantage of all that's available and try different colorful makeup products before you buy them.
Start small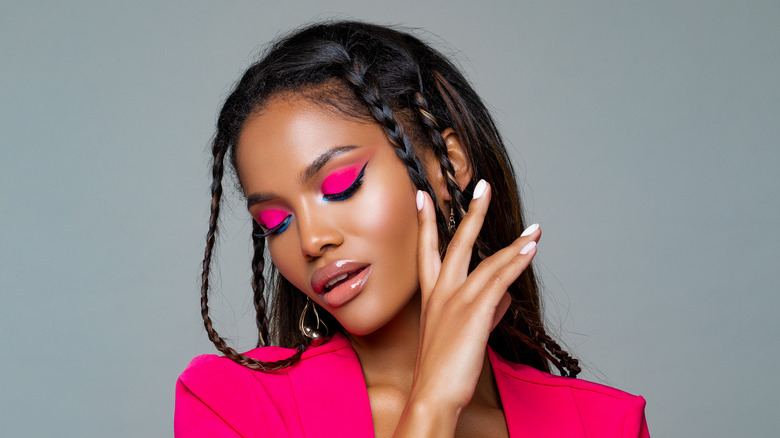 L Julia/Shutterstock
Once the purchase has been made and you know what color eyeshadow, lipstick, etc., you want to apply, start very small in terms of application. You can always add more, and it's a lot more frustrating to remove makeup that you've already applied if you deem it too much. 
If it's your first time applying a bold colorful shadow, maybe use it on just a fraction of your lid instead of the whole eye to make sure you feel comfortable and confident with the color first. Doesn't feel like enough? Perfect! Time to add more. 
The same goes for a lip look. If you're thinking about wearing a bright red lip, maybe try a gloss or a stain before committing to a full lipstick and lipliner application. That way you can gauge how you feel about the color.
Invest in good quality makeup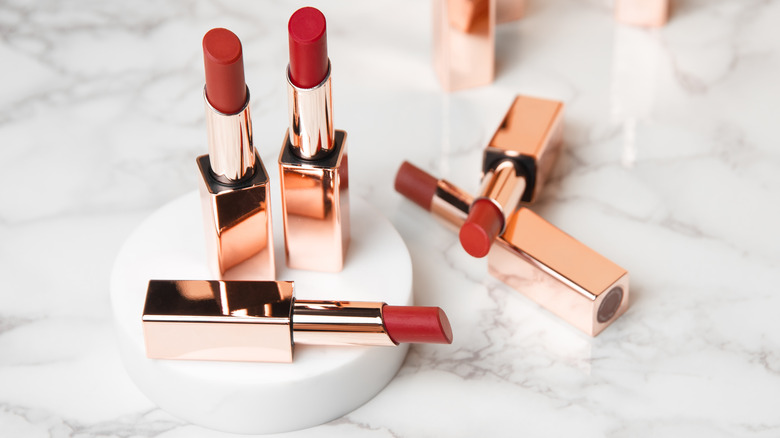 PearlWinchester/Shutterstock
ELF, Tarte, MAC, Benefit, YSL — you name it. There are so many great makeup brands out there, so be sure to invest in quality makeup that not only has a good reputation but also has colors you actually want to apply to your face.
That being said, it doesn't necessarily mean one should go out and spend hundreds of dollars on new makeup. There are some great inexpensive makeup lines that makeup artists rave about.
Keep in mind, however, that everyone has different skin types. If one brand works for a friend, it doesn't mean it will work for you.
Wear it at night first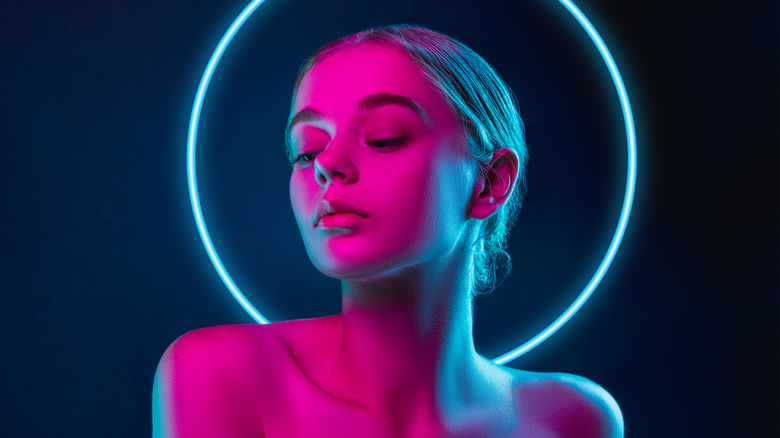 Master1305/Shutterstock
Powerful, bright makeup can be worn day or night. But, if it's your first time wearing colorful makeup, maybe stick to wearing it at night so it doesn't feel as intimidating and dramatic on your face, per Byrdie.
Plus, nighttime really is a perfect time to wear some bold and bright makeup, maybe with some sparkles and glitter. Going to a party or a night out in a big city? Embrace your inner "Euphoria" moment with glamorous glitter eyeshadow.
Once you're comfortable with your new look, you can rock it any time of day!
Finish off your look with a natural face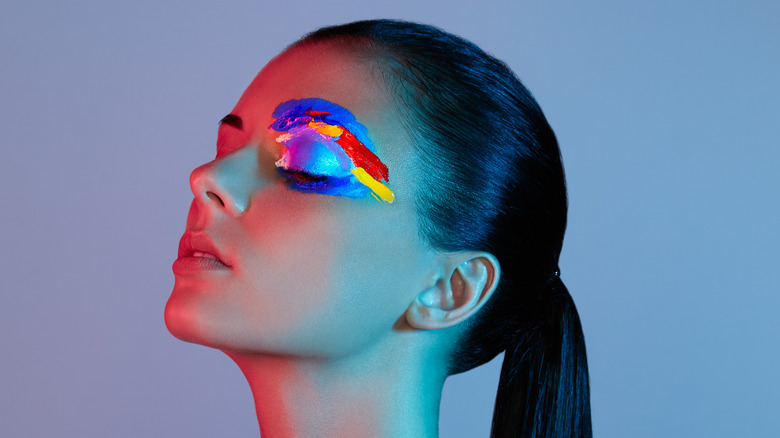 Heckmannoleg/Getty Images
Bright eyes? Check. Bright lips? Check. But what about the face? When it comes to experimenting with bright makeup, we need to make sure that we balance it out with more natural tones on the face, per Byrdie. So use your normal foundation, concealer, and a light contour. Be sure to keep a nice, pinky tint to the cheeks with your favorite blush. 
If you still haven't had enough of the bright colors or sparkles, add a colorful highlighter for some more fun. The opportunities are endless. That's what experimenting is all about!