Bold Colors Are The Summer 2021 Makeup Trend: Here's How To Pull It Off For Your Eyes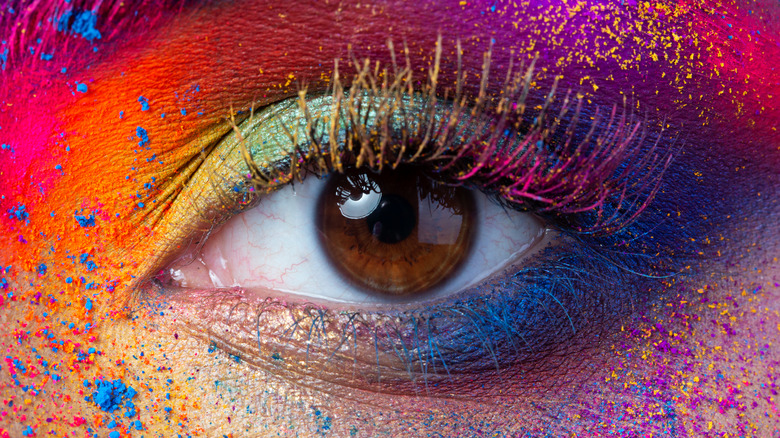 Shutterstock
There's something about summertime that just lends itself so well to bright, beautiful colors. But for many of us, wearing color can be pretty intimidating. Well, we're here to tell you that you can pull off those bold summer colors no matter what. Thanks to some major trends in pop-culture, such as the "Euphoria" glitter makeup and an influx of TikTok makeup looks (via Teen Vogue), there's no getting around it: bold colors are in, and they might even be here to stay past the summer.
But the beauty of this new color revolution is that everyone and their mother appears to be giving it a shot, which is exactly what Doree Shafrir at InStyle noticed. "People like the lawyer and writer Imani Gandy, who is well into her 40s and whose Pride makeup — a rainbow lip, gold and burgundy shimmery eye shadow, and lots of blush — was a revelation," Shafrir wrote. She added that even the iconic makeup artist and influencer Katie Jane Hughes has been absolutely killing it in her bright, multicolored eyeshadow looks.
We love the "no-makeup-makeup" look, but perhaps it's time to try something a bit more daring.
Use a white eyeliner as a base to make colors pop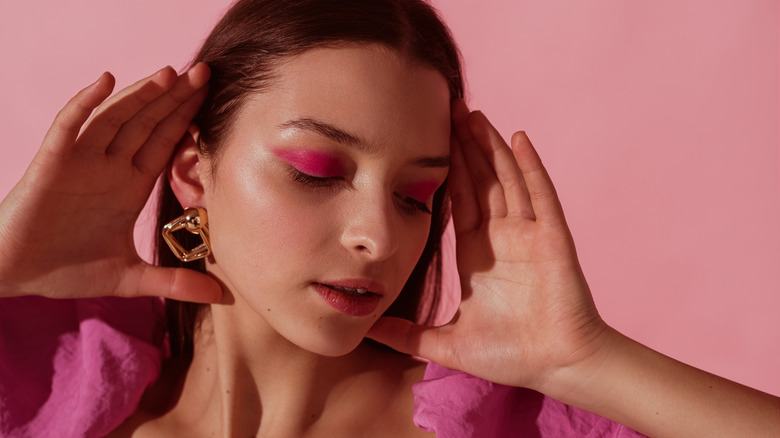 Shutterstock
Wondering how to confidently pull off this bold look? You're not alone. According to Elle, one of the main focuses of a bright summer look will be the eyes (which might be a result of the normalization of heavy eye makeup due to frequent mask wearing, but we digress.) Makeup Forever Pro Artist & Educator, Eddie Duyos, says that the way to go about a bold eye look is through adding texture. You can do so by adding pop art washes of color across the lid, for example, or by layering colorful liquid eyeliners and neon eyeshadows.
To make these dramatic looks pop, Bustle recommends adding a white base to your lids, such as the NYX Jumbo Eye Pencil in Milk which goes for a modest $7. This strategy allows for pigments of your eyeshadow or eyeliners to have a base to cling to and stand out on.
Bustle also shared another top tip that we're going to thank them for later: that is, if you're newly easing into using bold colors, avoid matching your makeup look to your outfit. Doing so might end up coming across a bit too strong, and you might even end up standing out in a way that you're not really looking to. Instead, the outlet recommends opting for a bit more of a neutral 'fit to slowly get used to the maintenance of a bold look.
Here's how to prevent eyeshadow fallout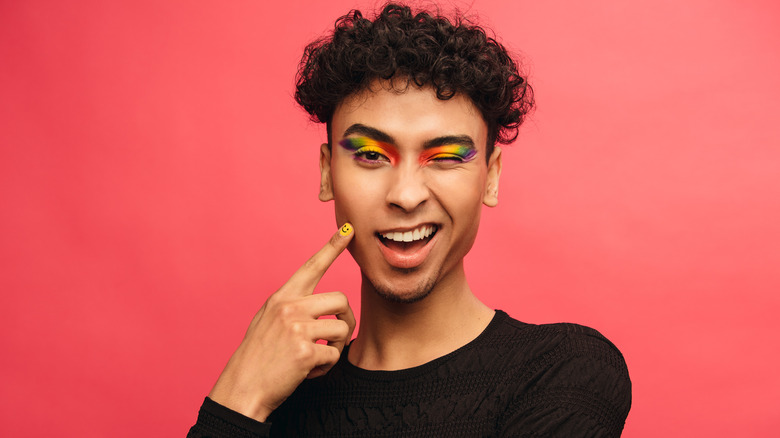 Shutterstock
If you're intrigued by the idea of wearing a colorful makeup look but have questions about the application, check out this next tip. It comes from L'Oreal Paris, and they recommend that if you're going for a pop of color on the eyes, to keep your "upper lash line bare and bring the brightness downward." This would take the form of placing the eyeshadow along your lower lash line instead of localizing it all onto your upper lid. However, if you're going for bright eyeshadow on the lower lid, you might end up dealing with some pesky fallout from the product.
L'Oreal suggests saving your face makeup (concealing, foundation, etc) until after your eyeshadow application. Then, try tapping the excess eyeshadow off your brushes before using them. You can even try dusting some setting powder under your eyes, and then brushing it away after you apply the shadow. This should leave you with the colors everywhere that you want and nowhere that you don't!
We're all beginning to emerge from our COVID-19 induced shells — so why not come out with a bang? Or at the very least, a killer, colorful eyeshadow look.