Can You Perm Your Hair If It's Dyed?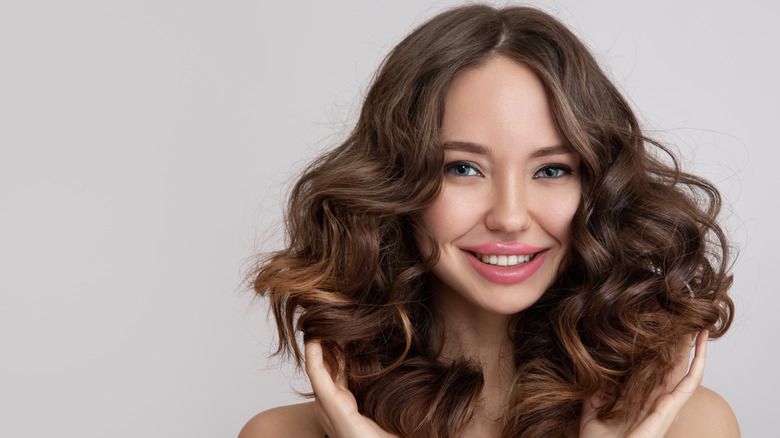 Kourdakova Alena/Shutterstock
When we think of perms, our minds wander to the iconic 1980s curl look. But perms weren't left behind with the rest of '80s fashion. In fact, in 2022, perms came back in a big way, per Refinery29. However, the modern take on the perm is different from the old fashioned perm that often made hair break or dry out. Now, perms focus more on volume and waves and actually leave hair feeling healthier and shinier.
According to Prose, perm is short for "permanent hairstyle," but if you go to get a perm today, it isn't quite as big a commitment. And the best part of a perm is that any hair type can get one — whether you have stick straight hair and yearn for some texture, or already have wavy hair that you want to make more tame. But one thing that hasn't changed about perms is that they work best on hair that has never been dyed or highlighted, and even hair that doesn't touch hot tools often. But if you do have dyed hair and wish to get a perm, you may want to think twice before heading to the salon.
What to know before getting a perm done on color-treated hair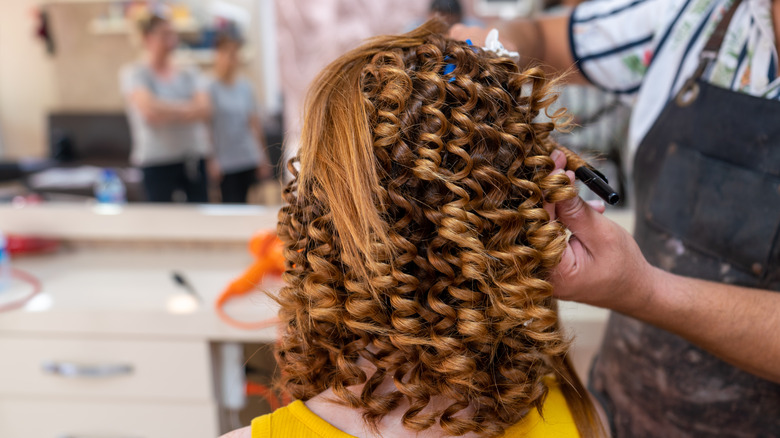 Sonercdem/Getty Images
A perm is a chemical treatment that, if done correctly, is perfectly safe to help you achieve your desired look. But, there are some caveats to this. Damian Santiago, an educational director at Mizu Salon, spoke to Byrdie about the effects of a perm on color-treated hair. He advises those with highlights to avoid a perm unless given the go-ahead by a stylist. This is because highlighted hair likely already has some damage from the coloring agent, and mixing the chemicals from the perm can result in a ton of unwanted frizz and more damage to the hair.
Similarly, those with dyed hair (meaning no highlights, just simple color) should be careful before getting a perm. While it isn't quite as damaging for dyed hair, it can still cause frizz and even change the color of your hair. Santiago recommends a safe zone of about two to three weeks before or after getting a perm to color your hair. But if you really want to get your hair permed and can't forgo your bi-annual highlights, there are certain perm formulas that are gentler and made for those with color-treated hair, per StyleCraze.
What to consider before getting a perm on dyed hair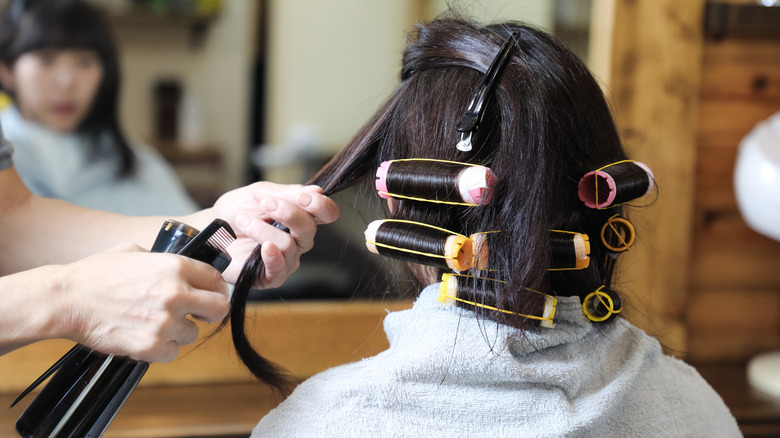 metamorworks/Shutterstock
Getting a perm can have a ton of benefits. According to Martino Cartier, a popular hairstylist, perms can add volume, give you natural-looking curls that last, and offer busy people or those who don't enjoy doing their hair the option to have a wash-and-go hairstyle. If this sounds like something you can't pass up, but you are worried about your colored hair, there are a few things you need to consider. Newer products, like Olaplex, can help your hair be ready and healthy to receive the chemicals applied during a perm, per Softer Hair.
After your perm is done, Good Housekeeping recommends avoiding hot tools as much as possible and instead letting your hair air dry, using a diffuser as needed. If you do want to straighten it or use heating tools, keep the heat low. But the most important way to care for your newly permed hair is with products. The Ouidad Curl Quencher Moisturizing Shampoo and Conditioner are great options for keeping your new curls moisturized and healthy. A good hair treatment is also a must, like the Moroccanoil Treatment, which smooths frizz and will keep your curls looking bouncy and shiny.