The Best Temperature To Straighten Wavy Hair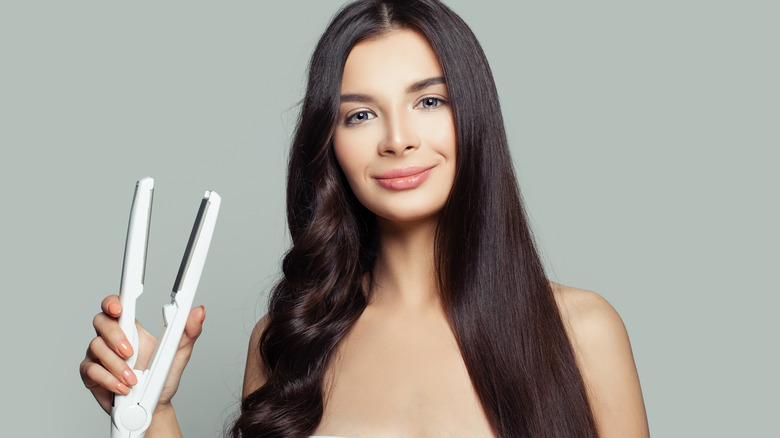 Jnemchinova/Getty Images
Hot tools are a great addition to your hair styling routine as long as you use them correctly. There are many mistakes people make when flat ironing their hair, and those mistakes can lead to irreversible damage. Frédéric Fekkai, a celebrity hairstylist, told Well + Good that using heat on your hair can cause it to break and become damaged, but that doesn't mean you should throw your straightener in the garbage. Instead, he recommends using your hot tools in moderation and to make sure that when you do use them, you are using the right kind for your hair.
If you are shopping for a new straightener, you want to look for ones that have the words "triple-baked ceramic" on them or include tourmaline, which can help keep your hair smoother, per T3 celebrity hairstylist David Lopez (via Self). In addition to buying the right tool, you also want to make sure you use a heat protectant, avoid overuse of hairspray, and never use your straightener on damp or wet hair. But overall, quite possibly the most important detail to pay attention to is the heat setting.
Those with wavy hair don't want to exceed this temperature when straightening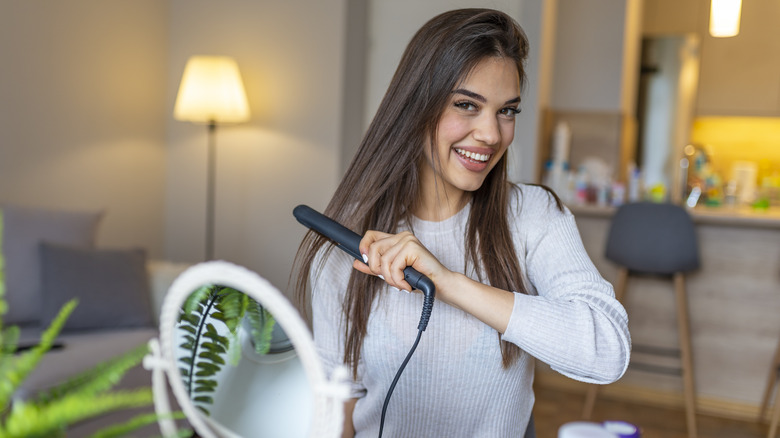 Dragana991/Getty Images
If you are trying to achieve sleek, straight hair, you have likely been prone to hiking up the heat on your flat iron or blow dryer. And while that may get you temporary results, it can also lead to damage and breakage that will be hard to remedy. A low heat setting is the best option for keeping your strands healthy, but if you have thick or wavy hair, the lowest setting may not work for you.
If that's the case, don't fret — according to Lopez, you should keep your flat iron temperature around 375 to 400 degrees Fahrenheit. If your iron doesn't have temperatures, it is usually level 4 out of 5. Mane Addicts recommends those with wavy hair keep it a bit lower, at about 350 degrees Fahrenheit, but advises people with thicker locks to crank it up to about 375. If your hair is wavy and color-treated, you'll want to keep that heat even lower. But the temperature of your flat iron isn't the only thing to consider when straightening your waves.
Make sure you do these things when straightening wavy hair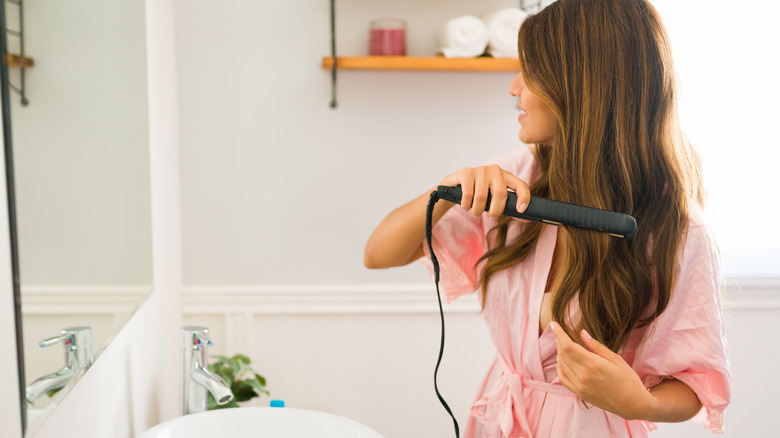 Antonio_diaz/Getty Images
In order to have the hair of your dreams, you must first ensure it's healthy. The American Academy of Dermatology Association recommends using conditioner every time you wash your hair, concentrating your shampoo mainly on your scalp, and using products tailored to your hair type. But if you are looking to create some awesome sleek styles, you'll also need to incorporate hot tools.
To keep your hair protected and healthy even with the use of heat, L'oreal Paris recommends using the right heat protectant. Many heat protectants only protect up to a certain temperature or are geared toward a specific hair type. If you are cranking up the heat to the max recommended temperature (wavy hair girls, remember, that's about 375 degrees Fahrenheit), you'll want to ensure your heat protectant can handle that. This Bumble and Bumble Hairdresser's Invisible Oil Heat & UV Protective Primer protects from heat up to 450 degrees Fahrenheit while also protecting your hair from UV rays. Lopez also recommends wiping your flat iron clean after use to prevent buildup. A good flat iron is also essential. Sure, you can find a flat iron pretty much anywhere these days, but spending a bit more on this tool could save you from years of damage. New York City hairstylist Ryan Tamras told HuffPost that he recommends investing in one from FHI Heat, which, if used correctly, not only gives you the sleek hair you desire, it can also last you an entire decade.