What Are The Benefits Of Barely-There Foundation?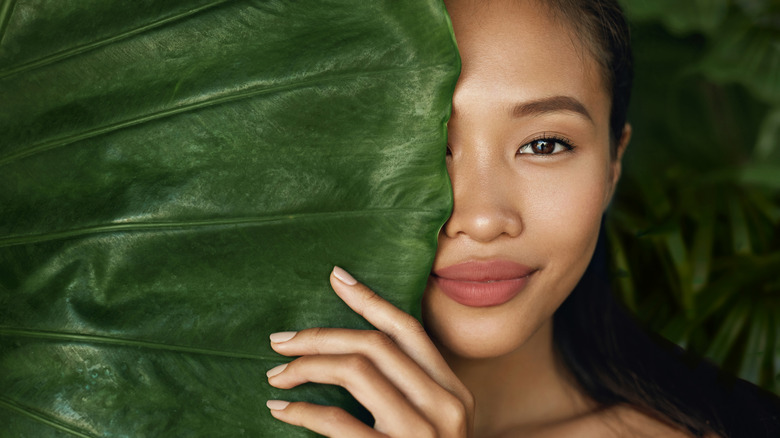 Puhhha/Getty Images
Makeup has come a long way in the past six years, when cake face and block brows were the leading beauty trends in 2016 (per Galore). Now, according to Sephora, the clean girl aesthetic (which centers on a fresh face, fluffy eyebrows, and glossy lips) is in. 
Donni Davy, head makeup artist of "Euphoria," spoke to The New York Times about her long-held preference for lighter-coverage complexion products and Hollywood's shift toward a more natural, realistic style. Davy said, "A lot of these directors nowadays, at least the ones I've worked with, want the real skin texture. They actually hate foundation." While Davy initially had her reservations regarding using skin tints on film sets, she was pleasantly surprised by the final effect it had. "I actually think it adds to the glam makeup and makes it feel more accessible and unapologetic," Davy said.
Makeup artist Leo Chaparro also commented on the "no-makeup" makeup look, telling Allure, "I am seeing less layering and full coverage and more of a natural skin finish." For Chaparro, using a lighter-coverage foundation is the trick to honing in on this glamorous glow. Chaparro told Allure, "While I go a little bolder with the eyes and lips, I love to keep the skin lighter and fresher."
Lighter foundations let your natural glow shine through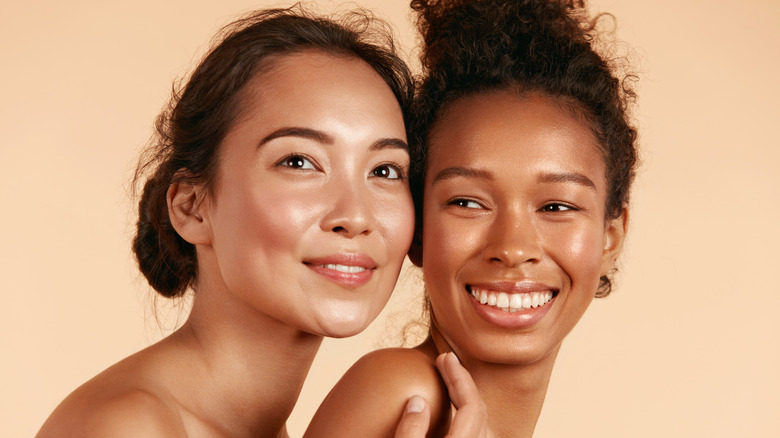 Puhhha/Getty Images
Using a lighter-coverage foundation comes with plenty of benefits. For one, it can even out discoloration while letting your natural radiance come through. Most skin tints will also set to feel like bare skin, rather than becoming cakey and emphasizing texture. Professional makeup artist Carl Ray, who has done former First Lady Michelle Obama's makeup, told Well+Good, "Your freckles will show through, your pores won't be clogged — it's for someone who maybe doesn't like the way makeup feels on their skin."
Makeup artist Leo Chaparro expressed similar sentiments regarding the lighter-coverage foundation trend, telling Allure, "I love this because it allows for us to embrace our skin as opposed to trying to hide it under layers of makeup." This is especially good news for people with a naturally dry dermis, as many lighter-coverage formulas offer a dewy finish. Celebrity makeup artist Brittany Spyksma told Byrdie, "I have dry skin, so I don't ever wear a matte foundation because it makes my skin look dull." Spyksma recommends a glowy, light-to-medium coverage foundation, and suggests that you should look for products with descriptions like dewy or natural. 
One buildable foundation that won't let you down (and that won best foundation in The 2022 List Beauty Awards) is the Beauty Blender BOUNCE Skin Tint ($29), which contains calming beta glucan, brightening niacinamide, and hydrating hyaluronic acid. The Neutrogena Sensitive Skin Serum Foundation ($15) with skin-healing vitamin B5 (per Medical News Today) will give you a similar effect for almost half the price.
Techniques to pull off the fresh-faced look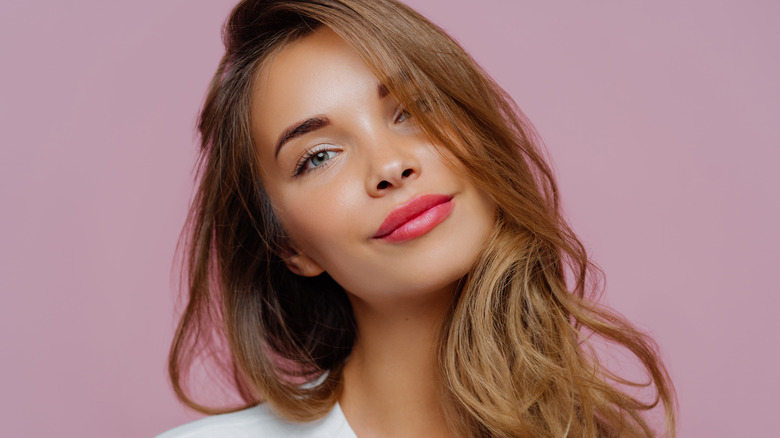 Viorel Kurnosov/Getty Images
According to Her Campus, prioritizing your skincare routine is vital if you opt for a lighter-coverage foundation. Your skin is the blank canvas which your makeup has to be built upon, and making sure you use products with the right active ingredients for your particular concerns can help provide that flawless canvas. With a healthy epidermis, you won't have to worry so much about covering acne marks or discoloration. Using a primer can also help smooth out any texture, as well as bind the makeup to your skin all day.
For a tinted glow, you can try a DIY hack by "Euphoria" makeup artist Donni Davy, who told The New York Times, "I would suggest taking a little foundation or concealer, watering it down with a liquid illuminator or a tinted moisturizer, and applying it all over." If you have blemishes or hyperpigmentation, using a color corrector to counterbalance any shade variation can help you use less base makeup and lend to a naturally flawless look (per Well+Good).
Instead of using a skin tint all over the face, you can also opt to spot conceal blemishes and discoloration with a blendable, medium-coverage concealer that matches your skin color — this will ensure that it blends seamlessly into the skin and does not appear patchy. To really amp up luminosity, Her Campus suggests using cream makeup products like bronzer, blush, and highlighter, which all work to melt into the skin and make you look like you're naturally aglow.