How To Replicate Michelle Obama's Makeup Routine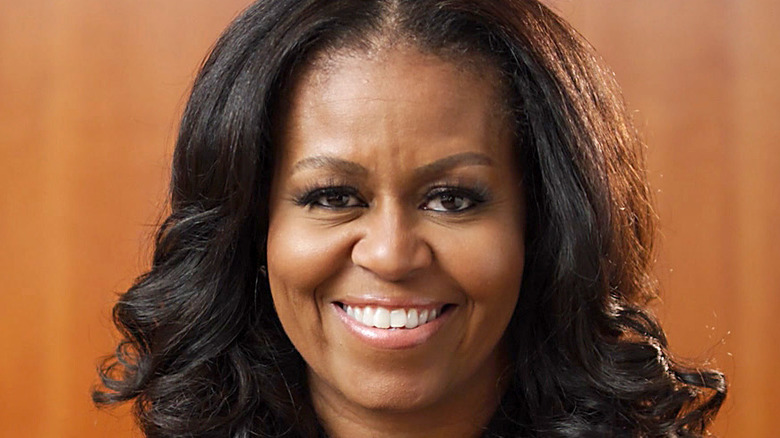 Billboard Music Awards 2021/Getty Images
Michelle Obama embodies too many admirable qualities, we can't list them all: from her philanthropy, to her parenting, to her strength as first lady, she is indeed someone we could all learn many lessons from. But her prowess and skill don't stop when she leaves the office. Perhaps one of the most admirable qualities about Obama is that she operates as a fierce leader, while simultaneously allowing herself to indulge in beauty, fashion, and skincare. She is a powerful example that a successful individual does not have to be single faceted, but instead, can be as multifaceted and bold as they choose.
If you take one look at the former first lady, you'll instantly be drawn in by her flawless skin, beautiful hair, on-point fashion, and of course, those sculpted "Michelle Obama Arms," per Vogue. But if you're anything like us, you're probably buzzing to know what her makeup routine consists of. Keep reading to find out all about it.
The first step to Michelle Obama's makeup routine is self care and healthy choices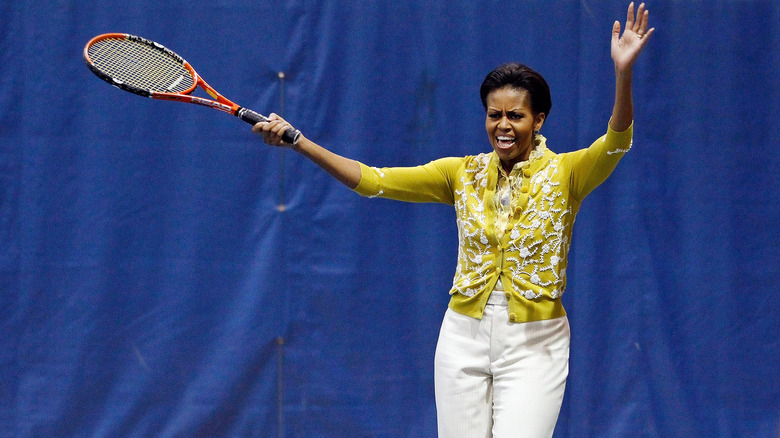 Chip Somodevilla/Getty Images
Many beauty experts will tell you this, and Michelle Obama is no exception — great makeup starts with healthy choices. This is no challenge for the former first lady, as she has famously been a proponent of healthy eating and living an active lifestyle (which probably explains the snatched arms). She began her "Let's Move!" initiative in 2010 while her husband was in office, with a goal of "leading a national public awareness effort to improve the health of our children," per Let's Move!. 
While Obama hasn't spoken directly about her skincare routine, her facialist, Jennifer Brodeur, shared that her dedication to her health and well-being has had one of the largest impacts on her beauty regimen. "She was a true believer of not just a healthy lifestyle and self-care and self-love, but also being as natural as possible and aging gracefully," Brodeur told Refinery29. Brodeur went on to tell the outlet that some of the essential elements of Obama's skincare routine include vitamin Cs, vitamin A, anti-inflammatory oils, and products that encourage hydration.
As for the former FLOTUS's makeup routine, her longtime makeup artist, Carl Ray, had lots to share — and some of the best nuggets of wisdom he shared came from confessing that not all of the products he uses on her are expensive. And in fact, Obama has been known to rock quite the ensemble of affordable makeup products, per Yahoo! Life.
Here are some of the products that Michelle Obama's makeup artist uses on her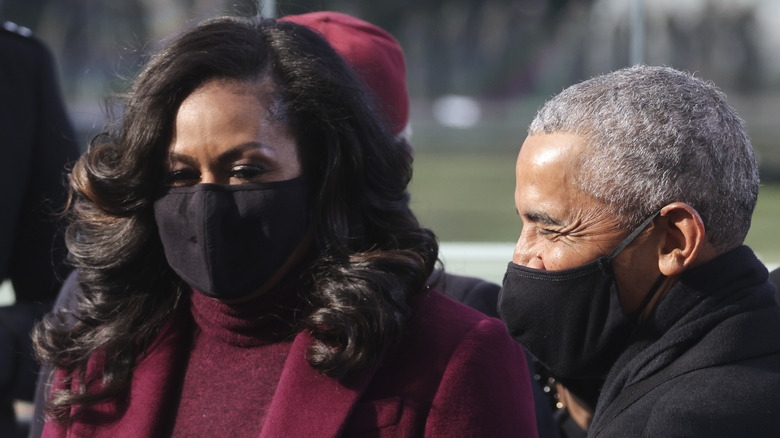 Pool/Getty Images
Carl Ray, Michelle Obama's makeup artist, told Elle in January 2021 that he likes to use the NARS Radiant Creamy Concealer on the former first lady, a product that he'll use on her regularly as well as at special events. You can buy this product from Sephora for $30.
One of Obama's most memorable makeup looks came from the 2021 Inauguration of Joe Biden, where Ray shared that he, "wanted her to have a powerful beauty look that was classy, bold, and confident; but all of that would also need to be achieved through the top half of her face only," of course due to the COVID-19 mask mandate, via NewBeauty.
According to the outlet, Ray used Fenty Beauty Match Stix Matte Skinstick for Obama's contour, Iconic London Illuminator Liquid Highlight for her glow, and Anastasia Beverly Hills DIPBROW Gel and Brow Definer for those bold, on-fleek eyebrows. In addition, for that dramatic smokey eye, he used various shadows from the Viseart Eyeshadow Palette as well as the Pat McGrath Eyedols Eye Shadow for the entire eyeshadow look. For eyeliner, Ray applied Pat McGrath Labs Permagel Eyeliner in Xtreme Black, and then added the Fenty Beauty Flyliner Liquid Eyeliner to finish off the eye look.
But in the end, regardless of the products you use, we recommend following advice from Obama, herself, and making self care your ultimate beauty must-have.