Why Jason And Sam Really Broke Up On General Hospital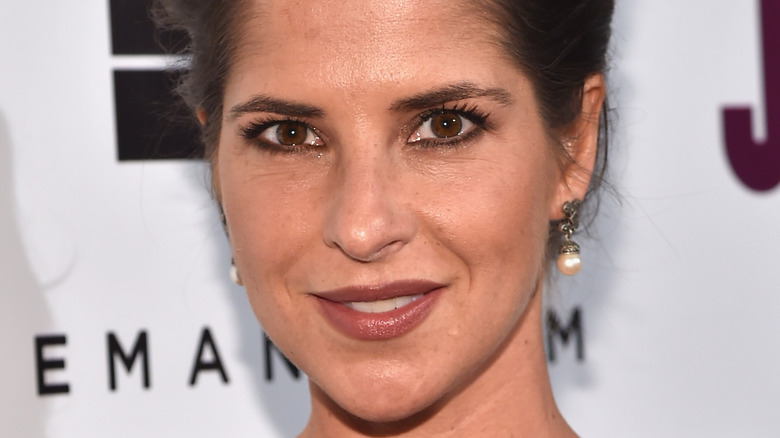 Alberto E. Rodriguez/Getty Images
Mafia enforcer Jason Morgan (Steve Burton) and former con artist Sam McCall (Kelly Monaco) originally met when they were both arrested, on "General Hospital." While there was definitely an attraction between the two, Sam had a fling with Jason's boss, mobster Sonny Corinthos (Maurice Benard). By the time Sam realized she was pregnant with Sonny's child, the don had already rekindled his relationship with his estranged wife, Carly Corinthos (then Tamara Braun). 
However, Jason let Sam stay with him so he could take care of her and he pretended to be the baby's father because he wanted Sonny and Carly to be able to reunite, per Soaps.com. Although the baby didn't survive, this brought Sam and Jason closer, and they would go on to be a super couple on the hit soap. Together, they faced many diabolical threats and even had a child that they named Danny after her late brother. 
Sam also became a PI, partnering with resident computer expert Damian Spinelli (Bradford Anderson). Jason's loyalty to Sonny and Carly was unparalleled, and while many people tried to get him to leave the criminal organization over the years, his commitment was unwavering (via Soap Central). Despite facing countless dangers together, and being soulmates, the love between Sam and Jason just wasn't enough to keep them together.
Sam and Jason had a rocky road to being together
While Jason and Sam were seemingly destined to be together, forces repeatedly conspired to try to break them up. Jason's loyalty to Sonny and Carly would always be first and foremost for him, per Soap Opera Spy. Sam's mother Alexis Davis (Nancy Lee Grahn) was not only Sonny's lawyer, but she saw his world for the dangerous place that it was. Since Jason was Sonny's right-hand man, she disapproved of his relationship with Sam, discouraging her eldest daughter from dating him (via Soaps in Depth). 
However, this wasn't enough to stop the magnetic pull between them. When Sam and Jason split up for a short time, he had an affair with Elizabeth Webber (Rebecca Herbst). Meanwhile, Sam had an affair with Alexis' husband, Ric Lansing (Rick Hearst). Jason and Sam eventually managed to get back together, but things went sideways when she learned that Liz's son, Jake Webber (Hudson West), was fathered by Jason. 
Although she initially pretended that Jake was Lucky Spencer's (Jonathan Jackson), to protect him from Jason's life of crime, the truth eventually came out. A jealous Sam was concerned that Jason and Liz would reunite someday. She even witnessed Jake's kidnapping but kept quiet about it. However, Sam later hired goons to scare Elizabeth and her family and, when Jason discovered everything she'd done, they split, per Soap Central.
Violence was the catalyst for their big breakup
As it turned out, ultimately it was Jason's lifestyle that repeatedly came between him and Sam. It was eventually revealed that mobster Julian Jerome (William deVry) was Sam's father. He and Sonny had become bitter rivals, and the two were constantly at odds. Meanwhile, Julian reunited with Alexis, and they were on-again, off-again for a while. However his crazed sister Olivia St. John (Tonja Walker) forced him to do some heinous things to Alexis, and they broke up. 
Julian tried to renounce his mobster ways and ended up buying Charlie's Pub in an effort to prove to Sam that he had changed and that he wanted to be a better father to her (via Soaps In Depth). By this time, Jason and Sam had got married at a Chinese restaurant. But the evil drug lord Cyrus Renault (Jeff Kober) was encroaching on Sonny's territory. He blackmailed Julian into planting a bomb at a restaurant where he knew Jason would be having dinner, per Soaps.com. 
The bomb went off, killing two people, and destroying the establishment. Jason and Danny were unharmed but, between her father's actions and her husband's continued mob battles, Sam decided it was best to end things with Jason (via Soaps In Depth). Sam would eventually get together with Dante Falconeri (Dominic Zamprogna), while Jason would later be presumed dead when he was caught in a cave-in. Thus, he and Sam will apparently never have a chance to reunite.