The Easy Hack That Transforms Any Bra Into A Racerback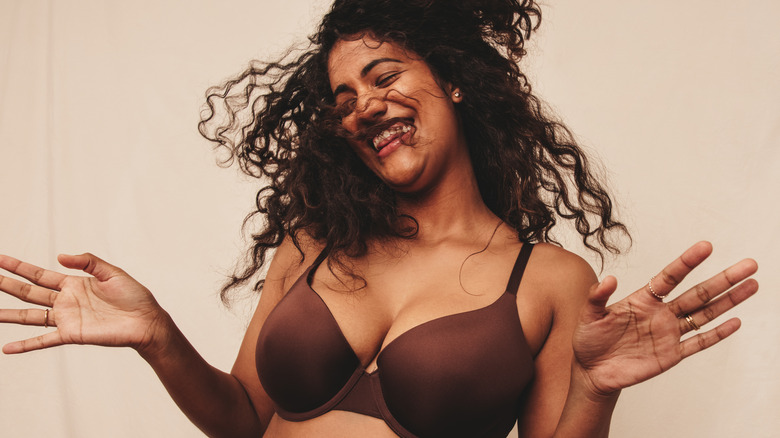 Jacoblund/Getty Images
We may receive a commission on purchases made from links.
It can be a pain to go shopping for bras, especially when there are so many different types out there, including the basic wireless bra, the underwire bra, the strapless bra, the racerback bra — and seemingly endless variations on these basic styles. The opportunities are endless when bra shopping — and they can be pretty expensive.
If you have a top that requires a racerback bra but don't own one, that doesn't mean you have to jettison your OOD. That's because you can literally transform your regular strapped bra into a racerback in seconds. It's easier than you think, and you'll wish you thought of it yourself. All it takes is a hair tie. Why spend extra money on a racerback bra when this hack is so easy?
How does it work?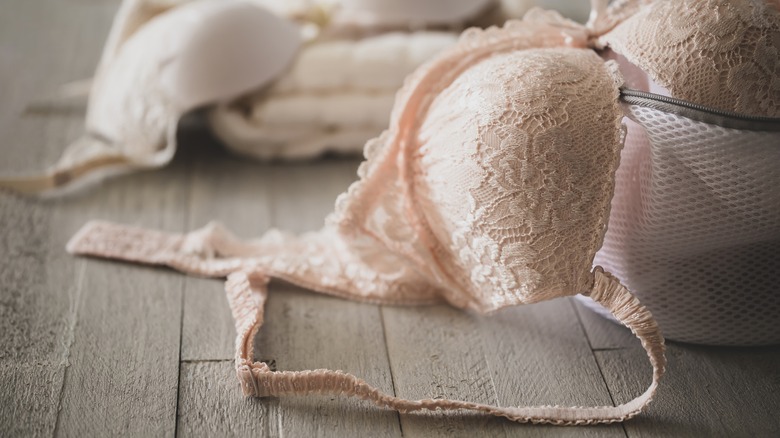 Shironagasukujira/Shutterstock
The hack is rather a simple one, which is the best part! No hassle, no cost, just a hair tie — and who doesn't have a spare hair tie lying around?
Poosh provides this simple technique for hiding annoying bra straps when you're wearing something that requires a racerback bra. All you need to do is take a hair tie and wrap it around both straps of your bra, tying a knot in the center of your back along your spine. It will hide the straps by pulling them inward together, forming that racerback style. 
This hack can be especially beneficial if you're packing for a trip and can only fit one or two bras. It's basically two bras in one! If you're in a real fashion disaster and struggle to tie a knot with the hair tie tactic, you could even invest in a bra clip, which serves the same purpose.
Where to buy a new bra these days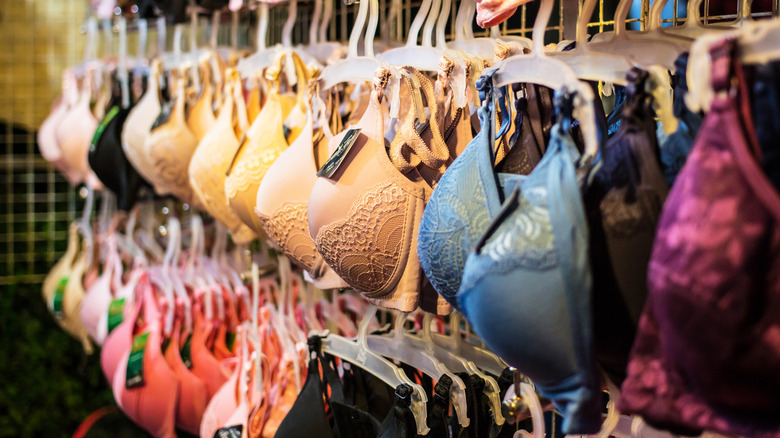 Dekdoyjaidee/Getty Images
If you've been living in bralettes and sports bras since the start of the COVID-19 pandemic and need to invest in some proper bras, you may be at a loss for where to shop. After all, most of us don't want to spend $50 on a bra these days.
According to Today, it's best to skip the specialty bra stores and sites, which sell more expensive lingerie, unless you're seeking the highest quality or even want bras custom-made for your needs. Instead, opt for a store like Target if you're looking for a good deal; they have quality options as low as $10. Because bigger companies like Target and Walmart buy bras in bulk, it drops the overall cost and results in a lower price tag for shoppers.
However, a survey conducted by The List about where women prefer to shop for their bras revealed that participants prefer the tried-and-true lingerie store, Victoria's Secret, which doesn't come to much of a surprise considering it's long been a go-to for high-quality bras. Clearly, even if the Victoria's Secret Fashion Show has fallen out of favor, that doesn't mean the store itself has.