The List's Exclusive Survey Shows Where Women Prefer To Shop For Bras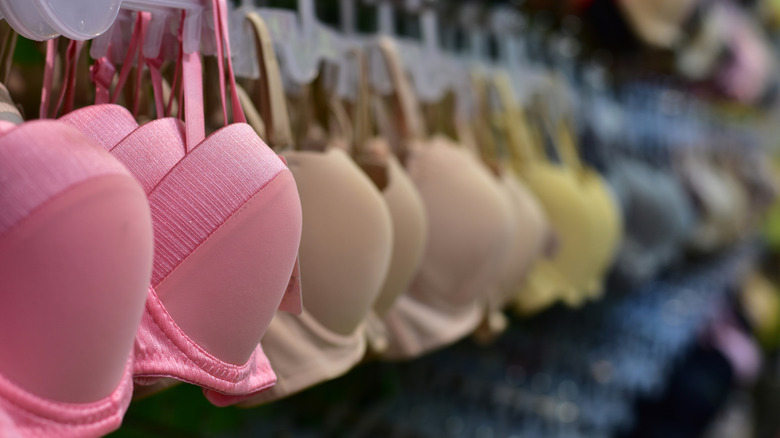 Korkai/Shutterstock
Bras: you know them, you love them, and you can't wait to take them off at the end of the day. Bras have been around for centuries, strapped across our chests, supporting our breasts, and poking into our ribcage all for the sake of beauty. And as the saying goes, beauty is pain: For many of us, searching for the perfect bra is a lifelong struggle against itchy materials, uncomfy wires, and ill-fitting bands.
Any bra wearer knows all too well that bras are so expensive, so buying a new one is a big investment. Going bra shopping can be overwhelming, so it's important to know what size and style you're looking for. To find out which store is the best place for your chest support needs, The List conducted a survey asking 600 people, "Where is your go-to place to buy bras?" The results confirm that one store remains a fan favorite.
It's no secret that this is the most popular place to go bra shopping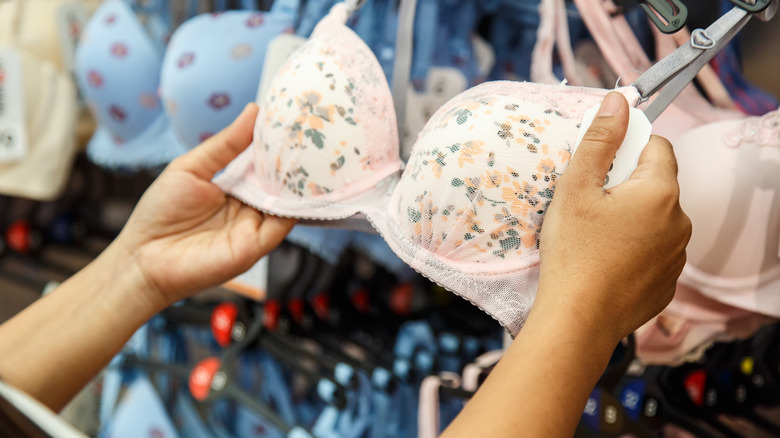 SKT Studio/Shutterstock
According to The List's survey, the most popular place to buy bras is Victoria's Secret.
Unsurprisingly, 33.33% of shoppers favor the popular retailer that specializes in all things lingerie. While they still dominate the market, Victoria Secret's bra sizes are slowly becoming unrealistic for the average shopper. A study by the International Journal of Fashion Design, Technology, and Education found that the average American woman wears a size 16/18. Victoria Secret's bra sizes only fit up to a size 16, and the larger sizes are not usually offered in-store, per Insider. Like many retailers that don't offer inclusive sizes, Victoria's Secret may see continued backlash in the years to come unless they rethink their approach to sizing.
In second place was Amazon with 28.83% of the vote. The online retail giant offers basically anything you can imagine, so it only makes sense that they offer a wide variety of bras that can be delivered right to your door. More than 23% of people said Target is their go-to spot for bras, while another 6.67% think that ordering size-inclusive ThirdLove bras are worth the money. Aerie (3.83%) and Skims (3.5%) received less love, but are still great options for bra wearers who are looking for something cute and trendy.
Most of us are probably wearing the wrong bra size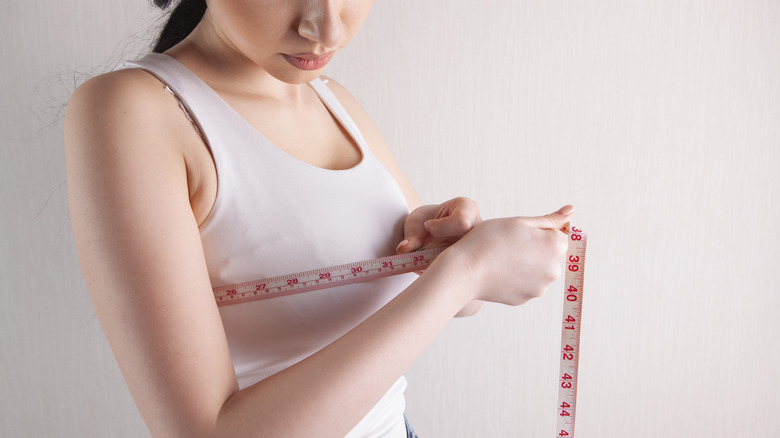 Sasun Bughdaryan/Shutterstock
"The perfect bra" is totally relative: everyone's body is different and will need a different shape, size, and amount of support to provide the optimal fit. According to The New York Times, multiple studies found that a vast majority of women are wearing the wrong size bra; some even say 8 out of 10 women have ill-fitting bras in their closet. When you notice the signs that your bra doesn't fit, it might be time to get measured.
Some of the most popular bra stores like Victoria's Secret offer a complimentary bra measuring service, but shoppers have reported less than satisfactory experiences. One Insider writer visited four different Victoria's Secret stores and was told she was a different size at each store, after being haphazardly measured each time. For those of us who would prefer a more accurate and less awkward encounter, learning to measure yourself at home may be the best way to go.
Find yourself a tape measure and get started by measuring your rib cage for band size, then around the fullest part of your chest for cup size. Cosmopolitan walks you through a bit of math you have to calculate to find the number you'll see in stores. We recommend writing down each measurement as you go, and try not to get hung up on the number: your body is beautiful no matter what size, and deserves a comfy and supportive bra to accentuate that beauty!