The Best Type Of Eyeliner For Oily Lids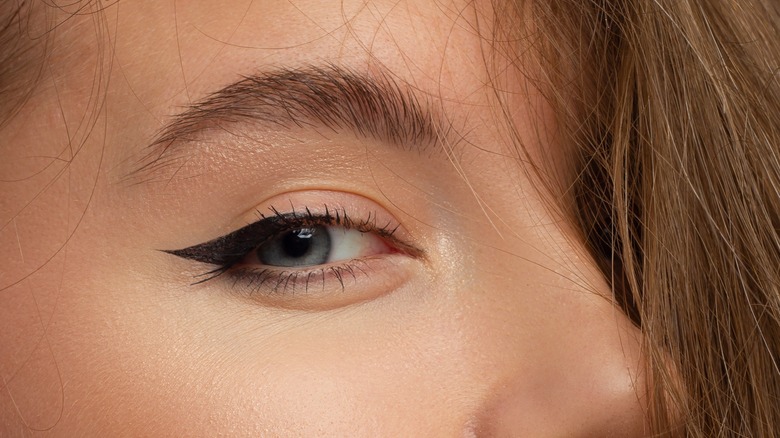 Shtennikova Evgenia/Shutterstock
Compared to finding the ideal skincare routine, putting together a makeup look that doesn't slip and slide around is one of the more challenging aspects of having oily skin. When it comes to hunting for a serum to banish large pores (niacinamide, always) vs. doing the math of how to layer makeup products so you can be grease-free, the latter seems to take up more time. This slip-n-slide effect is due to the natural oils of your face seeping in, explains Makeup Muddle. As the makeup wears on, your face gets greasier breaking down the makeup, the oilier you get. While this makes a great case for oil cleansing, it can be frustrating when your face takes your makeup off before you do.
This grievance translates to the eyes, as well. One second, you're putting on eyeliner, and before you know it, the pigment has dissipated, leaving your eyes looking bare. The disappearing act may make you think that you have to forego winged eyeliner altogether. Thankfully, that's not true.
Create a budge-proof base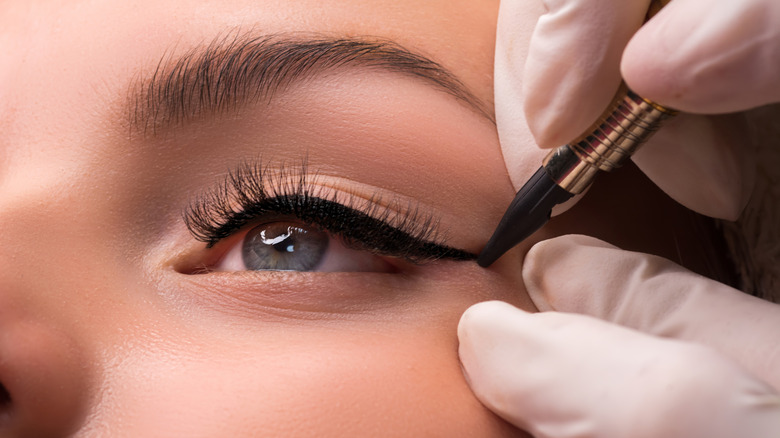 Ludmila Ivashchenko/Shutterstock
Just like any concealer, eyeliner probably won't stay put without the presence of a good foundation. Rather than simply using an eye primer, Daily Vanity suggests using a pencil liner underneath a liquid liner. As a result, the liquid liner will cling to the pencil rather than trying to hold onto oily skin.
Use a pencil, such as the Kulfi Beauty Kajal Eyeliner, a smooth-applying, smudge-proof liner, to map your preferred look. Next, go in with a liquid liner, like the Eyeko Black Magic Liquid Eyeliner, tracing over the pencil you just drew on. When choosing an eyeliner, it's best to spring for a waterproof one. A hydrophobic formula will prevent sweat, oil, or water from messing up your liner, keeping it intact despite having shiny lids.
If you really want to keep your eyeliner in place, use a black eyeshadow and an angled brush to set it into place, banishing oil and sweat that may move it around.
Opt for a waterproof formula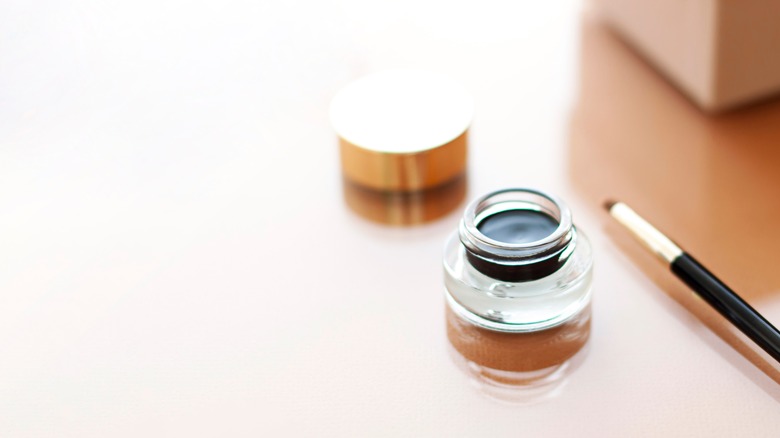 Maria Rom/Shutterstock
According to StyleCraze, gel liner is great for oily skin thanks to its quick-drying, water-resistant formula. Gel eyeliner has a pigmented, waxy finish, so you're able to use a little bit at a time without having to trace over it again and again. The color payoff and finish allow you to create precise lines without having to layer, which can potentially ruin your liner (via Glamour).
Gel liner typically comes in a pot, applied with an angle brush for clean, precise strokes. Although it takes a bit of practice, the results that gel liner delivers are worth it. The MAC Pro Longwear Fluidline provides a highly pigmented liner with a silky, soft finish. The liner is long-wearing, lasting up to 16 hours, and has a matte finish.
For gel liner newbies, the Pat McGrath PermaGel Eyeliner Pencil offers the precision of a gel pot liner with the ease of application that comes with using a pencil. The liner comes in two finishes, matte, and shimmer, with colors inspired by editorial looks. Not as quick-drying as a typical gel liner, this pencil allows you to smudge and clean up the liner before it completely sets.