General Hospital Fans Remain Split On The Sonny And Carly Chapel Confrontation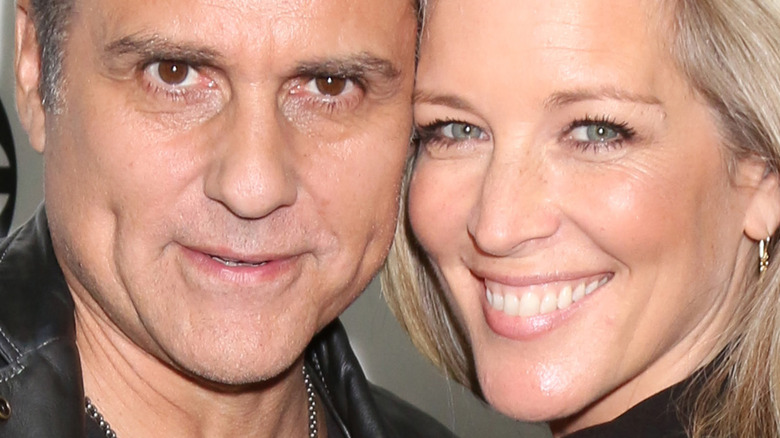 Kathy Hutchins/Shutterstock
Now that the truth has come out that Willow Tait (Katelyn MacMullen) is the long-lost daughter of her bitter enemy Nina Reeves (Cynthia Watros) on "General Hospital," the tension has soared. Everyone has been trying to maintain composure for the dying Willow's sake. Michael Corinthos (Chad Duell) has decided that he now hates his mother, Carly Spencer (Laura Wright), for not revealing the truth sooner. Meanwhile, Carly apologized to Willow, attempting to explain that she kept quiet to protect Willow from Nina's torment. Considering she didn't tell everyone she was dying from leukemia, Willow understood and forgave Carly.
Carly was in the hospital chapel when Sonny Corinthos (Maurice Benard) walked in. He was about to leave, but she reminded him that Willow needed prayers. Sonny then laid into her, stating that he felt this whole situation was the result of Carly hating Nina and wanting revenge. He brought up Nina's anguish about not knowing she had another daughter. Carly denied seeking retribution, citing the fact that Willow wanted nothing to do with Nina, and no one knew she was sick until recently. Carly claimed that, had she known about the leukemia, she would have come clean sooner. She blamed Nina for her own pain. Sonny admitted that he's changed since being with Nina, insinuating that Carly should also change her own ways instead of constantly keeping secrets (via Soaps). 
Their heated discourse has opened the floodgates of fan opinion.
Fans are split down the middle
Per Soaps, Willow is awaiting word on whether Nina is a bone marrow match for her, and the battle lines are drawn as fans continue taking sides between Nina and Carly. A recent tweet from the show's official Twitter account states: "Carly had her reasons for keeping the truth from both Willow and Nina. What is Sonny's take on her decision?" While some fans didn't care about Sonny's opinion, one responded, "I feel bad for Carly because she was only helping Willow because Willow made it very clear (that) she hated Nina." Another cited Nina's history, stating: "It is absolutely ridiculous that these characters are conveniently forgetting what Nina did when she failed to mention that Sonny died and she continued to let her family grieve. It was equally as heinous."
In opposition, a Nina fan offered: "Sonny has a right to have an opinion on the people Carly hurt. God knows he hasn't even been allowed to have a perspective on anything since he came home. Cary needs to shut up and listen this time." Seeing Carly's actions with clarity, someone posted: "Carly's reason was revenge plain and simple no matter how she spins it. Glad Sonny didn't buy it ... good drama!!!! Such great acting from both!!!"
More praise for the actors' performances came from another fan, who applauded the actors behind the characters and wrote, "Even when their characters are mad at each other these two actors (Laura Wright and Maurice Benard) have the best chemistry!"