Try TikTok's Bold 'Aura Blush' Trend For An Ethereal Glow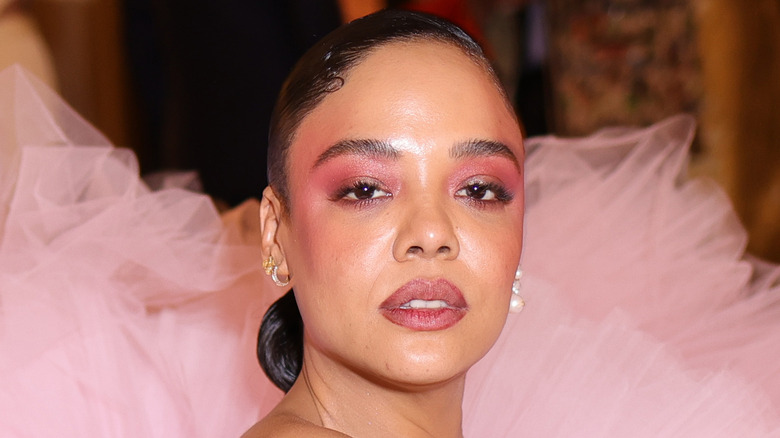 Matt Winkelmeyer/mg22/Getty Images
From cottagecore to barbiecore, coastal grandmother to whimsigoth, viral TikTok aesthetics dominate the world of fashion, even for legendary design houses like Dior to Louis Vuitton, per I-D. Some of these hashtags have evolved beyond style inspiration — they've become lifestyles. For instance, the early months of the COVID-19 pandemic marked the height of cottagecore. "[The trend]  is all about finally feeling comfortable and at peace, even if that peace is fake," one student told The New York Times, with another commenting, "It's like Animal Crossing but in real life." With an emphasis on freshly-baked bread, an abundant rural life, and plenty of gingham, the aesthetic became a form of digital escapism admittedly tricky for the average person to replicate in real life. 
Ethereal makeup emerged under the cottagecore and fairycore umbrellas, with trends like butterfly bridges dominating runways and red carpets alike, per Allure. TikTok's bold "aura blush" technique is the newest viral addition to the world of ethereal makeup. As Christina Lonsdale, a Portland-based aura photographer, informs Insider, "As human beings, we radiate a very low level of electricity that's otherwise known as an electromagnetic field." 
That electromagnetic field, or "aura," is divided into different layers and colors. While a yellowish tone might represent creativity, red could indicate independence, per Healthline. The "aura blush" trend is modeled on this concept and it's truly beautiful. Here's how to replicate the look for yourself and achieve an ethereal glow.
It's all in the layers
To master the viral "aura" look, you'll need three shades of blush. A TikTok tutorial posted by London makeup artist @aoifeartist, thought to be the root of the trend, provides a step-by-step guide on getting the look. The creator blends three shades of Glossier's Cloud Paint, beginning with the lightest, "Beam," and using her fingers to sweep the pigment upward towards her temples. The base layer should take up the most surface area, with the additional colors layered on top in condensed, circular motions. Aiofe uses shades "Eve" and "Dawn" to complete her look. The bottom line? Your blush should resemble an aura, or at least the pop culture image of one.
TikTok's @lookingforlids shows off a different take on the trend, opting for cream-based lipstick instead of blush, and continuing the pigment onto her eyelids with an orange multi-stick. The creator finishes it all off with eye gloss for extra shine. Check out Midnight Shadows Eye Gloss from R.E.M Beauty, or, like @aoifeartist, apply a bonus layer of Glossier's Futuredew. Since unconventional blush colors are trending, take this opportunity to experiment. Try out cooler-toned pigments from Lady Gaga's Haus Labs. The brand's Hy-Power Eye, Cheek & Lip Pigment Paint comes in 20 shades.
'Aura' makeup isn't just limited to blush
Continue "aura blush" up to your eyes to go the extra mile. TikToker Ruby Graham (@ rubyy.graham) demonstrates this method, beginning with a base of symmetrically-placed white dots before adding pops of color. With a brush, the creator seamlessly blends the pigments together. Alternatively, TikTok creator @whos.katrina illustrates a bold, sunset-esque look. Beginning with a bright yellow shadow at the bridge of her nose, she incorporates shades of pink and blue before finishing off the look with bold white liner.
"Euphoria's" lead makeup artist, Donni Davy, is also a fan of what she likes to call "aura eyeshadow." As Davy tells Popsugar, "[It] kicks up a basic eyeshadow look, whether you are going for something bold or something more subtle." Expand the pigment to different areas of your face, bringing it to the bridge of your nose like @whos.katrina or, as advised by Davy, adding pigment above your eyebrows. "I live for experimenting with different color combos, and my favorite way to do this is by choosing unexpected groups of colors, such as silver, terracotta, and periwinkle, or red, lavender, and cobalt," she explains. Best of all, you don't need to be an experienced makeup artist to perfect the look — just blend with the tips of your fingers and you're good to go.