The Hair Care Ingredient You Should Look For If You Have Naturally Curly Locks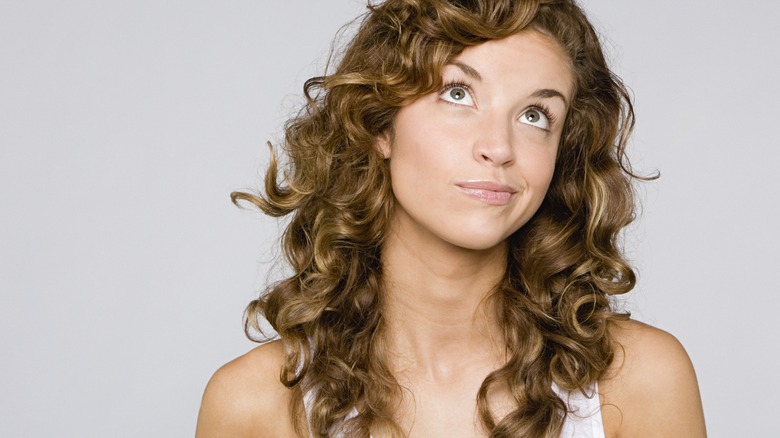 Image Source/Getty Images
Curly hair is having a moment. On TikTok, the #curlyhair hashtag has over 29 billion views, and the videos are full of people learning how to create curls or even bring back their own natural locks. If you were scrolling your own FYP and suddenly discovered that you also have naturally curly hair, you may be on a brand new haircare journey.
Curly hair can be tough to handle, especially if you don't know how to. If you are new to the curly hair world, or finally ready to learn how to care for your natural curls, there are steps you should follow. The American Academy of Dermatology Association recommends only washing your hair when it's absolutely necessary, as curly hair is naturally drier, so overwashing can dry out curls. They also advise curly-haired people to focus on scalp care, use a detangler, and use products that can help their hair stay fresh overnight. But if you are scouring the shelves for the right curly hair product, there is one ingredient you should look for to keep your curls hydrated.
Cetrimonium chloride is a game changer for curly hair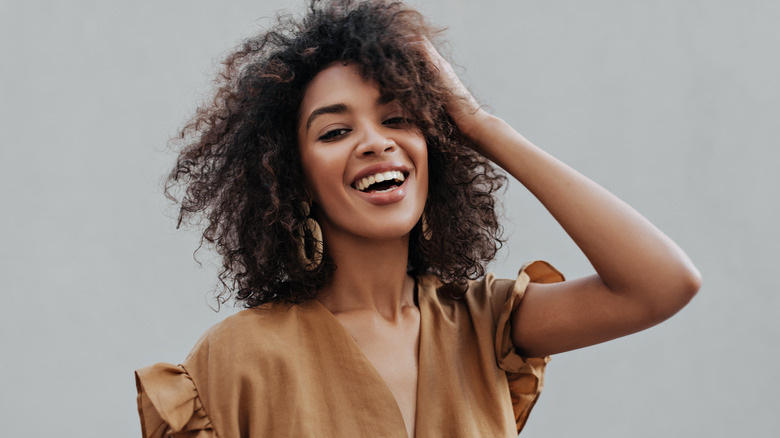 Look Studio/Shutterstock
Whether you are new to curly hair or have had curls your whole life, you have likely discovered that keeping curls healthy is a much harder task than keeping straight or wavy hair fresh. According to the American Academy of Dermatology Association, curly hair is more prone to breaking, dryness, and damage, so using the right products to keep your curls hydrated is super important.
This is where cetrimonium chloride comes in. According to Public Goods, cetrimonium chloride is a must-have for frizzy, dry hair. It works as a conditioner and detangler, improving texture and overall appearance. If you take a look at the products you already have in your house, you will likely find cetrimonium chloride in the mix. It can be found in everything from shampoos and conditioners to hair dye and mousse, per Naturally Curly. Byrdie recommends adding a cetrimonium chloride product into your everyday routine and considering products that you rinse off rather than a leave-in as it can irritate your scalp. These are some must-have cetrimonium chloride products to use to help tame your curls and give you the bouncy, healthy locks of your dreams.
Cetrimonium chloride products your curly hair needs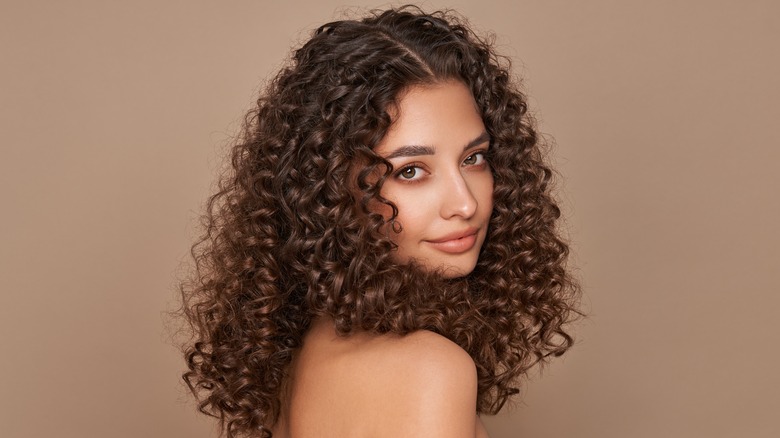 Oleg Gekman/Shutterstock
Before you try out some great curly hairstyles, you need to make sure your curls are taken care of. If you are looking for products containing cetrimonium chloride and are overwhelmed by the options, we get it — the ingredient can be found in a plethora of hair care items, but a few stand above the rest. The OUAI Detangling and Frizz Fighting Leave In Conditioner is a great option as it not only helps control frizz, but also works as a heat protectant. Consider the Amika Hydro Rush Intense Moisture Leave-In Conditioner with Hyaluronic Acid for extra hydration. Thanks to the hyaluronic acid in this product, your hair will be kept super moisturized.
The Oribe Run-Through Detangling Primer is a great option for those on the hunt for a detangler. This product helps get the tangles out without pulling at the hair or scalp, and also works double-duty as a heat protectant if you style with hot tools. Ready to style your curls? Ouidad Advanced Climate Control Featherlight Styling Cream helps hold your curls without that less-than-ideal crunch style of the '90s. It also has a UV filter that creates a barrier against environmental pressures that can hurt your curls. No matter what kind of curls you are hoping for, buying the right products is key to keeping them healthy.